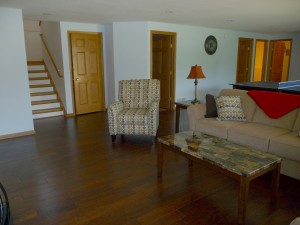 Choosing the right flooring for your basement can be a fun yet challenging experience. There are many variables and options to consider. Finding the right fit for your home is necessary to create a floor that will meet your needs and match your style.
Whether your basement is primarily a storage area or living space, it's important to understand the options available to you.
Let's review some commonly used flooring types, and the benefits and downfalls of each to help you make the right decision for your unique space. When choosing flooring for a basement, there are some general features that are ideal. Typically your flooring will rest on concrete, a porous material. Because of this, moisture from the ground can permeate through. A basement floor makes the possibility of dampness and cold chief concerns. The best solution is a floor which is: (1) Compliant with radiant heating systems, (2) Mold resistant, (3) Easily Replaceable and (4) Non-absorbent.
Basement Flooring Options
Carpet
Based on the above, carpet may not sound like a great option, however if the right materials are used properly, carpet can be a great way to go. A basement that is prone to water or dampness is probably not a good candidate. Even if your basement is dry, it is wise to have flood protection, and a subfloor should be used. Also, by using carpet tiles, any areas that do become a concern are easily replaced. When it comes to comfort and sound deadening, carpet is still the best.
Laminate Flooring
Laminate flooring is a great option for basements. It's a versatile composite material that is naturally resistant to mold. It also will not discolor or warp as easily as natural wood. Laminate is available in many different styles to match with existing décor. It works well with radiant heating systems; just make sure to confirm laminate is recommended with your system. It is generally recommended that plastic underlayment be used. Laminate is simple to install and easy to clean and maintain. The downside is that it is very hard, especially when lying directly on concrete. Another consideration is that laminate cannot be refinished, and while a quality laminate does not wear easily, it is still something to consider.
Vinyl Tile and Linoleum
Vinyl tile and linoleum share many similar traits. They are mold resistant, relatively inexpensive, and are easy to install. A benefit of linoleum over vinyl tile is that there are fewer seams and it does not loosen from the floor as easily as tile. A benefit to tile is that it is easier to customize with a pattern or design. Usually, a subfloor is recommended because any imperfections or unevenness in the floor will show. It is also important that proper adhesive is used to prevent lifting.
Epoxy Coated
Epoxy is one of the most durable options available. Epoxy creates a strong seal that eliminates moisture. It is difficult to damage epoxy and it comes in an increasing number of colors and styles. The coating also acts as a vapor barrier which is great if you plan to cover it with another flooring type in the future. There are different types of epoxy coatings and before choosing one be sure to do your homework.
Ceramic Tile
The final option we will review is ceramic tile. Ceramic is a very durable material that is perhaps the longest lasting option if correctly installed. It does not fade, is easy to clean, and withstands extreme traffic. Tile is resistant to moisture, mold, mildew, abrasion, and slipping. It is cold making it a prime candidate for radiant floor heating. Usually, it is recommended that tile be adhered directly to the concrete. It is important to note that grout is not ceramic and should be properly sealed to avoid trouble.
Without a little knowledge, obtaining your ideal basement flooring can be a painful and expensive journey. A new floor is an investment and nobody wants to invest in something just to find out it doesn't deliver. Our experts will meet with you to discuss your options and provide you with the knowledge and skill to install the ideal flooring for your application. We bring great experience and do the job right the first time. We're passionate about providing you superb service and dedicated to ensuring you are thrilled with the results. Don't just leave it to chance, contact Schoenberg Construction today.
~~~
Want to remodel your basement and get the biggest return on your investment?
Craig at Schoenberg Construction is one of the best remodelers in Central MN. He always gives honest, fair bids with no lowball, fake pricing and there's no sales pressure, EVER! Craig never uses cheap materials and never engages in sloppy workmanship, and his company is known as one of the top remodel companies in the Saint Cloud MN area because he INSISTS on doing every job EXACTLY right!
Give Craig a call today at 320-252-0911 or send him an email to claim your no-obligation consultation.