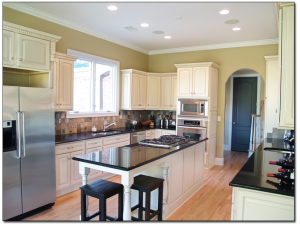 St Cloud, MN Kitchen Backsplash Ideas— 
Because the primary purpose of the backsplash is to protect walls from the splatters and splashes that are inevitable in a kitchen, it's important that you take into consideration what your kitchen means to you, what kind of materials you like, and how you want the backsplash to look (in terms of design).
When thinking about your kitchen backsplash we highly suggest you consider both your needs and preferences.
Kitchen Backsplash Ideas
Needs – How Do You Use Your Kitchen?
When considering backsplash options it's important that you analyze how you use your kitchen. Are you someone who enjoys spending a lot of time in your kitchen and who gives it a run for its money or do you bring home take-out more often than not?
If meal preparation is not your thing, you probably won't want to spend a great deal of time on kitchen backsplash ideas. You might be fine getting some kind of stock, unobtrusive backsplash that's an extension of the countertop.
If, however, you do a good deal of cooking you might want something that's a bit more desirable to look at or is easier to clean. Begin by considering the kind of cooking you do. If you use the stovetop often — frying or making bubbly sauces for example — you want to consider backsplash materials that are easy to wipe clean. If you are incredibly busy, you might not have the kind of time it takes to maintain a specialty material in the backsplash. In this case you'd want a material that's quick and simple to clean and that stays looking that way too!
Preferences – Consider Your Material Options
There are quite a large number of materials that are ideally suited to kitchen backsplashes. Let's consider two popular options.
Options 1: Stainless Steel
In today's kitchens many people are looking for a sleek modern look and stainless steel fills the bill. A stainless steel backsplash can coordinate well with just about any countertop style and blends well with stainless steel appliances, which are so popular these days.
Most stainless steel is easy to clean; it's also durable making it desirable from a maintenance standpoint and and a design one as well (it is good looking!). Because stainless steel is easy to maintain, is heat resistant and looks good for long haul, it is the choice for many commercial kitchens.
However, stainless steel can scratch easily if you're not careful and some foods, like highly acidic foods can harm or stain the steel. Also shop for stainless steel surfaces that are of the "non-fingerprint" variety. But beware because it is possible to exceed your budget if you're not careful as high-grade, high-quality stainless steel can be very expensive.
Option Two: Tile

Tile backsplashes can add a colorful design element to your kitchen. Tile can be bold, subtle, or provide a rustic look to your kitchen backsplash. There are many materials available in tile, including metal, natural stone, ceramic and glass. Tile is heat resistant and also stain resistant. Natural stone, however, is not stain resistant. Mirror tiles are easy to clean and provide an interesting and modern look to the backsplash. They can also make a small kitchen look bigger or a dark kitchen look lighter. One of the great benefits of a tile backsplash is that it is affordable and can be easy to install yourself.
Remember, a backsplash doesn't just protect the walls behind your counters; it also adds character and design to your kitchen. You might decide to be very classic and subdued in other kitchen remodel choices but get really creative and add an interesting element with the backsplash.
When thinking about kitchen backsplash ideas for your central MN home it is essential that you consider functionality and needs as well as your personal style. Taking everything into careful consideration as you explore the many kitchen backsplash ideas and options available to you will result in a good choice that fulfills both your needs and tastes.
~~~
Remodeling costs – from backsplashes to cabinets – are a concern for St Cloud, MN homeowners. A quality Saint Cloud General Contractor is always willing to help you stay on budget for your next remodeling project. Craig at Schoenberg Construction is one of the best remodelers in Central Minnesota.  Give him a call today at 320-252-0911 for your no-obligation consultation.