Understanding the True Value of Your Home (and How Much Value You Can Add with a Remodel)

Do you know the value of your home? The answer might be more complicated than you think. For starters, there are two basic ways you can look at the value of your home:
1. First, there's the actual property value, which generally refers to the amount that an interested buyer would be willing to pay.
2. Then, there's your home's subjective value—a much vaguer metric that takes factors such as how your house suits your family's individual lifestyle into account in order to determine what the home is really worth to you.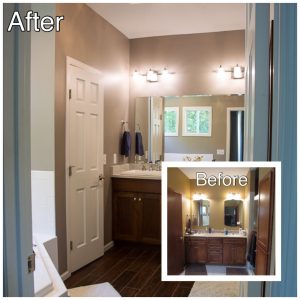 Your home's true value is a combination of both the property value and the subjective value, and as a result, it's much harder to assign it a specific number.
Most people don't think too much about their home's overall value until they're considering moving or they're planning a remodel—but if you are facing one of these big decisions, it's an important metric to keep in mind.
How Does a Remodel Affect the Value of My Home?
If you're thinking about remodeling, you've likely wondered what type of impact the project will have on the value of your home—as you should! Home remodeling projects can dramatically change both the aesthetic and function of your home, and in some cases, may make it feel like an entirely new space.
However, there's a common misconception that leads many homeowners to focus solely on what a remodel means for the home's property value—when really, they should be more focused on what it will do to the home's subjective value.
Here's the thing: a remodeling project absolutely can have an impact on your home's property value—but the size and type of impact it will have is incredibly difficult to predict. Property values are affected by all sorts of outside factors that can fluctuate frequently (and that a remodel may not impact at all), such as the value of other homes in the neighborhood, what shape the rest of the house is in, and local amenities and features.
Furthermore, the choices you make during your remodel may not be the same choices that a new buyer would make—and thus, they may or may not actually improve the property value of your home. However, this is where subjective value comes in—and it's also why subjective value might be a more important metric to consider when you're planning to remodel.
Why Subjective Value Almost Always Matters More During a Remodel
Your home's subjective value is based on how well the property meets your family's needs—which means that if you're thinking about a remodel, your subjective value has the potential to increase exponentially.
To understand how this works, you need only to consider some of the specific improvements you're thinking about making—and then imagine what type of impact those would have on your family's lifestyle. For instance:
What would it be like to have a finished basement that had room for a family entertainment center, a workout room, and a play area for your kids?
Could you better utilize the spare guest bedroom that no one ever stays in as a luxurious walk-in closet?
How would your cooking and entertaining routines change if you had a large, updated kitchen with lots of cabinets, a walk-in pantry, and a beautiful center island?
Though you may not be able to predict exactly what a remodeling project will do for your home's property value, it is easy to see how much you can gain in subjective value, which is why it's almost always a more important metric for homeowners to consider. If you're planning on staying in your home for at least several years to come, the increased subjective value you can enjoy is truly limitless.
~~~
Craig at Schoenberg Construction is one of the best Home Remodel Contractors in St Cloud and Central Minnesota. He always gives honest, fair bids with no lowball, fake pricing. And there's no sales pressure, EVER! He never uses cheap materials and never engages in sloppy workmanship. Plus, his company is known as one of the top construction and remodeling companies in the Saint Cloud MN area because he always insists on doing every job exactly right.
Give him a call today at 320-252-0911 for your no-obligation consultation.
Why Work With Schoenberg Construction
What We Value
Honesty
Integrity
Trust
Satisfaction
What We Do
Specific, Accurate Pricing
Highly Skilled Carpenters
Reliable, Skilled, and Valued Subcontractors
Top, Quality Materials
Unbeatable Customer Service
What You Get
75+ Years of Combined Custom Construction Experience
The Project of Your Dreams for the Price You Were Promised