Breaking Down Remodeling Cost Vs. Value: Why the Numbers Aren't Always What They Seem—
Many homeowners who plan remodeling projects spend a considerable amount of time researching and evaluating their potential future resale value—particularly in terms of comparing it to the overall cost of the project.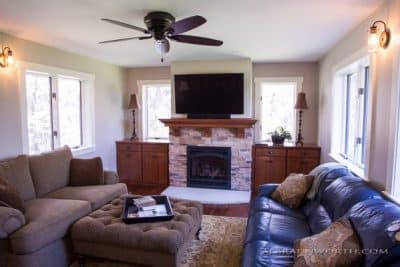 After all, everyone wants to imagine that they will recoup the cost of their project somewhere down the line!
However, while a remodel will likely increase the value of your home, its primary purpose should be to improve the home for you and your family during the time you're living there. You should keep resale value in mind anytime you're making major changes to your home, but you need to be aware that it is not always a reliable measure of what you can actually expect to receive—and more importantly, it may not always match up with the project's cost in the way you anticipate.
Understanding Remodeling Costs
Here are three key reasons why remodeling project cost and resale value numbers aren't always what they seem.
1. Values May Skew High or Low Based on Other Factors
For starters, estimated resale values of a given remodeling project often skew higher or lower than what you may expect—and in many cases, these discrepancies have very little to do with the actual project.
A remodeling project resale value that skews higher than its invested costs may occur in an instance where the home is located in a popular, high-demand area—in which case, the high resale value really has less to do with the remodeled kitchen and more to do with the fact that a property is available in an area where many people want to live.
Similarly, project resale values may skew lower in low-demand areas or in years where there is a buyer's market. In these instances, a remodeled kitchen might bring more eyes to your listing, but it's unlikely to net a much higher price than other similar properties in the area.
2. Overall Project Costs Can Vary Dramatically Based on Individual Choices

When it comes time to look at average project costs, it's also important to understand that these figures can vary dramatically simply based on the homeowner's individual choices. Two kitchen remodels may price out at opposite ends of the cost spectrum based on a few different decisions on items such as flooring, cabinets, and countertops.
Furthermore, project costs are heavily influenced by the builder's rate and the types of contractors he works with. Some builders cut corners by using sub-par materials and workmanship—and though you'll see these differences reflected in the average costs, that doesn't mean that you'll be satisfied with a mediocre job.
The bottom line? When you're evaluating average remodeling project costs and trying to understand their true value, you need to consider what level of quality was included in the project's final price.
3. Resale Value Doesn't Take Subjective Value Into Account

Finally, it's important to note that a project's resale value does not take subjective value into account at all.
Subjective value refers to the idea that a project's overall value is based more heavily on the form and function it serves for your family than on the eventual resale value you may receive for it. This means that a project's given cost versus its overall value is not a simple input-output equation—but rather, that the subjective value of the project must also be weighted into the calculations.
If you keep these key ideas in mind, you'll easily be able to see that project cost and resale values are not always so easy to compare. Instead, you should carefully consider what tangible benefits your family will enjoy from a remodeling project and compare those with the costs you can afford to determine the best plan for your unique situation.
~~~
Craig at Schoenberg Construction is one of the best Home Remodeling Contractors in St Cloud and Central Minnesota. He always gives honest, fair bids with no lowball, fake pricing. And there's no sales pressure, EVER! He never uses cheap materials and never engages in sloppy workmanship. Plus, his company is known as one of the top construction and remodeling companies in the Saint Cloud MN area because he always insists on doing every job exactly right.
Give him a call today at 320-252-0911 for your no-obligation consultation.
Why Work With Schoenberg Construction
What We Value
Honesty
Integrity
Trust
Satisfaction
What We Do
Specific, Accurate Pricing
Highly Skilled Carpenters
Reliable, Skilled, and Valued Subcontractors
Top, Quality Materials
Unbeatable Customer Service
What You Get
75+ Years of Combined Custom Construction Experience
The Project of Your Dreams for the Price You Were Promised