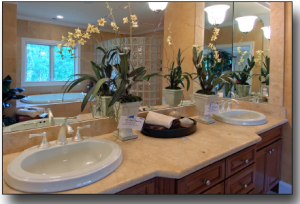 Bathroom Lighting Fixture Considerations — When remodeling any part of your St Cloud MN home it is very important to pay attention to the lighting. Aspects such as practicality, placing, design, and desired mood all need to be taken into consideration. This is especially true in the bathroom.
The bathroom is the place where you spend time and effort grooming, primping, and getting geared up for the day. Poor lighting, or even bad fixtures, can negatively affect your daily morning routine, and could then cause a chain-reaction of ill effects. Therefore, to avoid such things simply start by choosing the right, and quality, bathroom lighting fixtures.
You are now probably wondering where to begin with what could feel like a daunting task — selecting the best bathroom lighting fixtures. Don't stress about it, just stick with the basics and you'll pick out a winner. So let's review some of your options.
3 Bathroom Lighting Fixtures Considerations
#1 — First, keep in mind the size of the bathroom. If it's large, you don't want small lights. If it's small, you don't want large lights. Although you want plenty of brightness, you don't want it to be overbearing, and definitely not inadequate. Try to find a balance between size of space and amount of illumination. Track lighting is a great solution for large bathrooms. Sconce style lighting is a great supplement if there's only one overhead light in the bathroom.
#2 — Next, consider where the lighting will be. It's a very common mistake to put bathroom lights in the wrong place. You may have the right type of light, but if it's in the wrong place it won't do you as much good. A good general rule to follow is to put the lights closer to areas most used. If a lot of time is spent over the vanity or sink, put a little extra there. Also, don't forget about the other areas where a lot of time is spent; the shower and toilet. It may seem unnecessary in those areas, but it will offer a more balanced feeling to your bathroom lighting.
#3 — Last, don't forget about the design, style, or mood you are trying to create. Whether it's modern, traditional, retro, western, elegant, or anything else, you can find any lighting to match it. Thanks to internet shopping, large home improvement stores and wonderful local businesses in the St Cloud MN area, you're bound to find the lights your space needs. They come in just about any color, style, shape, and size.
Bathroom Lighting Options
Now let's take a look at some of the different types of bathroom lighting fixtures.
Bar Lights

One of the many different types of lighting fixtures is called the bar light. These have a series of small torches mounted on a bar that attaches to the wall. They typically have two to six shades mounted on the bar, which is great for over double-sinks since it will eliminate the need for two separate fixtures. Of course, there are plenty of options for the glass shades and the bar. Vanity globes are one variation of this where white glass bulbs completely enclose the light bulbs. This type is popular above mirrors in movie star dressing rooms. Consider globes over a narrow sink or vanity, or in a guest bathroom, but be sure it fits the rest of the decor.
Sconces

Another type are sconces. These are fixtures that only hold one bulb and one shade. They are often very elaborately designed, very simple, or somewhere in between, but the styles are endless. Placing them on either side of a vanity will shine more onto the mirror and is very aesthetically pleasing. Sconces are a splendid way to add just a little more flair to your space.
Recessed Lighting

Recessed lighting is a very popular type for ceiling illumination. These are individual circular bulbs that lay flush with the ceiling, which is great for not collecting dust and condensation. This is a perfect way to spread light throughout the space, and better yet looks modern and classy. Due to the fact that they are inside the ceiling, it may make installation a bit more difficult and you may need to hire a professional.
No matter what type of bathroom lighting fixtures you decide on, also consider installing a dimmer switch. You'll be glad you did on the days when you need your bathroom to turn into a calm, relaxing spa. Keep all of this in mind as you pick out your bathroom light fixtures and you're destined to not only find the perfect ones, but create your desired environment.