You can discover how to determine how much a bathroom renovation will cost you. Yes, it's true. Read on to learn how to price your bathroom remodeling dreams.
Changing anything in your home, such as your bath, will always cost you something be it money, time, energy…
This is the case for everything in life and is the case as well when renovating your bathroom. There is simply no way around it except to leave your bathroom as it is (but that's no fun!). In this article, we explain what you can get for your money when you update your bath.
Ok…
It's time to get into the details and answer your questions. Scroll on to see more.
How to Estimate Bathroom Renovation Costs
Knowing how much your whole renovation will cost takes some effort. (But, you can ballpark your costs.)
The key is to have clarity about what you want your bathroom to become.
Planning is very important in remodeling. The outcome of a remodeling project depends on it and so do the final, total costs of your construction project.
When undertaking a renovation you need to plan.

Then, you need to make choices.
And adjust your choices.
You land on a vision and a budget that makes you happy.
Keys to Planning Your Renovation
When planning your bathroom remodel project, you need to choose what level of renovation costs fit your budget.
To help you determine how much you want to spend on your bath remodel, answer these two questions:
What do you want to achieve with the upgrades?

How much do you prefer to spend?
(As we proceed, keep your answers to these questions at the top of your mind.)
Time to start planning…
Most people find that they have a limited amount of money to commit to their desired home improvements
.
This is why the cost of a home renovation project matters so much to the typical homeowner.
It is also why determining the price of a bathroom remodel is important. And doing so before you proceed is paramount. This will ensure you make good financial decisions and choices.
(Wouldn't unlimited budgets be wonderful? It's always fun to dream!)
So, how much will your bathroom reno cost? Let's explore the cost levels.
Cost Levels for Renovations
Cosmetic Upgrade ($1,500 – 5,000)

Budget ($5,000 – 8,000)
Standard ($8,000 – 15,000)
Upgraded ($15,000 – 40,000)
Premium/Luxury ($45,000 +)
Our guess is these bath price cost levels were higher than you had in mind.
There's no need to worry.
Instead, keep the answers in mind about what you want to achieve and spend.
For now, you want to focus on the factors that fulfill the vision you have in mind for your bath remodel.
And, ultimately, your goal here is to decide if the cost is worth it to you.
Bath Remodel Cost Factors
Now it's time to explore the factors that affect the cost of a renovation. Here is a list of the major cost factors when renovating a bathroom:
Labor

Plumbing
Flooring (FYI, tile can get VERY expensive!)
Shower/Bath Enclosure
Toilet
Vanity
Lighting
Bath Fixtures & Accessories
For each of these cost facts, answer the following questions:
How extensive is the work needed for this factor?

What level of materials do I want to use for it?
On a scale of 1 – 10, how important is this cost factor to the vision I have for my renovation?
Give Me the Numbers!
According to the 2020 Cost vs. Value Report (found here), a mid-range bathroom remodel costs about $21,377.
A mid-range bathroom remodel
typically
means smaller changes in the bathroom such as:
Removing and moving walls

Moving the plumbing
New flooring (standard to upgraded product selection)
Replace the vanity (standard to upgraded)
Standard materials for toilet, lighting, and fixtures
Ok, now let's explore a few more bath project costs…
Meanwhile, an upscale bathroom remodel costs $57,106 an average.
As you may have guessed, the much higher cost is due to choosing upgraded features such as ceramic tile floors and shower, glass shower doors, and custom vanity.
A luxury bathroom remodel refers to big or massive fixes or changes in the room. Bathrooms of this caliber can easily cost in excess of $60,000 which can include selections such as:
Re-arranging all aspects of the bathroom including the tub, shower, and vanity

Repositioning the plumbing
Installing specialty flooring
Opting for an extra-large ceramic tile shower with glass doors or a specialty tub (as shown in the photo below of a bathroom Schoenberg Construction built).
Selecting upgraded accessories (toilet, fixtures, and so forth).
Holy Costs!
If the mid-range to luxury bathroom renovation price tag takes your breath away…
We understand. (Sometimes it even takes ours away.)
But, truly, it comes down to priorities.
If it is important and worth it to you, you'll build it.
If not, you won't.
And remember…
There are some surface changes that you can do that cost less. These cosmetic upgrades can give your bath a new, fresh look and save you money. They include:
Affordable but pretty, new flooring

Paint
New, standard fixtures
A new tub liner
Upgrading/Replacing the shower door
You have total choice and control over the bathroom remodel options to pursue.
The key is to

prioritize
and choose according. Doing so will help you find the bathroom cost budget that works best for you.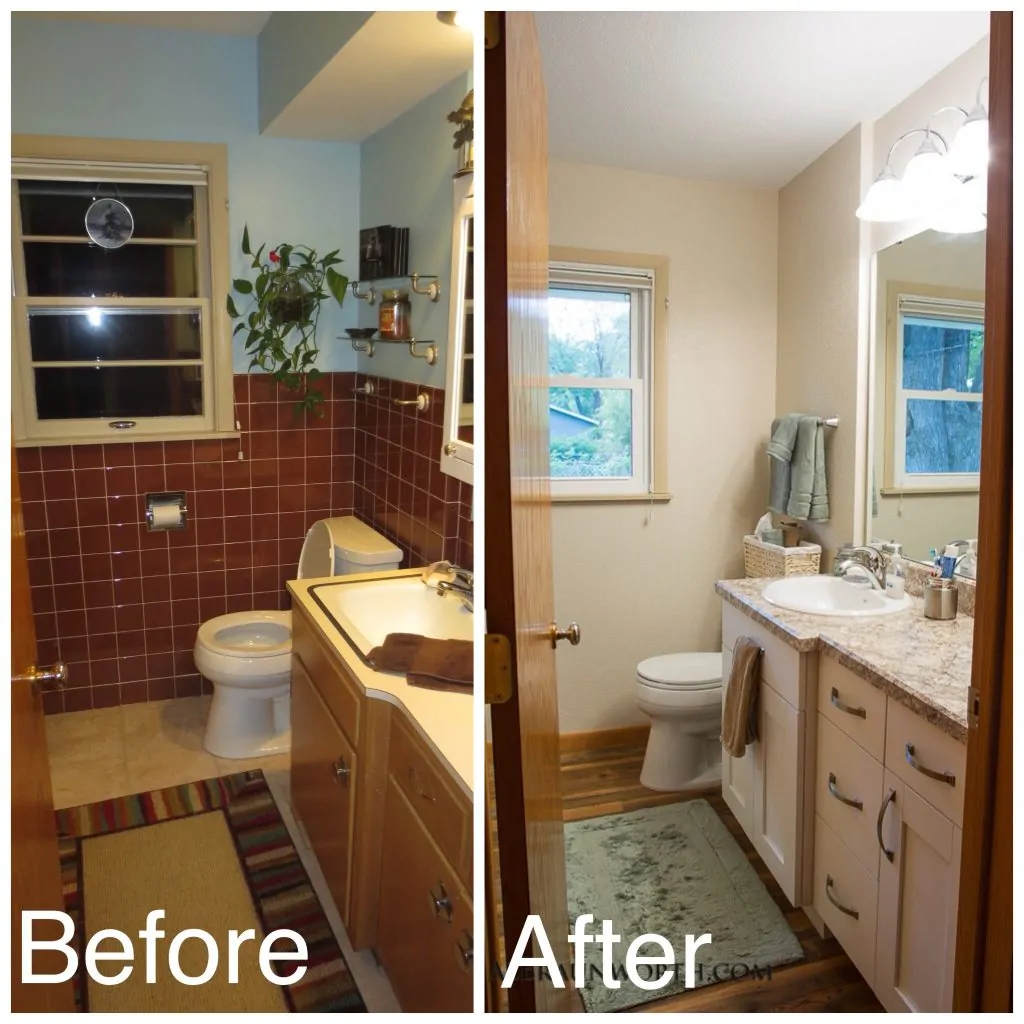 Here are a few more details to consider when determining bath remodel costs:
The size (in square footage) of the bathroom matters. (Yep… bigger bathrooms mean more costs.)

The scale of the project. Is it a mid-range remodeling, an upscale remodeling, or some simple resurfacing.

Your choice of materials matters, BIG TiME! Pick

quality yet affordable

bathroom selections and fixtures that fit your budget yet fulfill your vision.

The final bathroom renovation cost factor is how the project will get done. Will you hire a professional contractor or do the work yourself?

(NOTE: Please avoid one-day bath remodeling companies and here is why.)
Closing Thoughts
Even when armed with good information, bathroom remodeling costs can be complex. And if you want help determining the specific costs of the bathroom renovation, you should hire a pro.
This is especially true for those homeowners who do not understand the components of home renovation
. (If that's you… you're not alone and there is help.)
Consider hiring a General Contractor to assist you. He or she can help with the planning of your bathroom renovation. And a good contractor will keep your project within your budget.
In our view, a quality remodeling contractor is your best option. You get a beautiful bath for a fair price.
Think through your options.
Make the decisions that best suit your needs and your budget. That's our best bathroom renovation cost advice.
Until next time…
Why Work With Schoenberg Construction
What We Value
Honesty
Integrity
Trust
Satisfaction
What We Do
Specific, Accurate Pricing
Highly Skilled Carpenters
Reliable, Skilled, and Valued Subcontractors
Top, Quality Materials
Unbeatable Customer Service
What You Get
75+ Years of Combined Custom Construction Experience
The Project of Your Dreams for the Price You Were Promised