How Much Does a Bathroom Renovation Cost— Changing anything in your home, such as your bath, will always cost you something be it money, time, energy… This is the case for everything in life and is the case also when renovating your bathroom.
When undertaking home improvements to your bath, there will always be a "bathroom renovation cost" that will show up in that "expenses list". There is simply no way around it (except to leave your bathroom as it is, but that's no fun!).
For wealthy people, renovating a bathroom or even a whole house is not a problem in terms of finances, but this is not the case for some. Homeowners who earn an average or typical income may find that they have a limited amount of money to commit to their desired home improvements. This is why the cost of a bathroom renovation matters a lot to the typical homeowner. It is also why knowing the price of getting a bathroom remodeled is really important in order for you to make good financial decisions about your home improvement choices.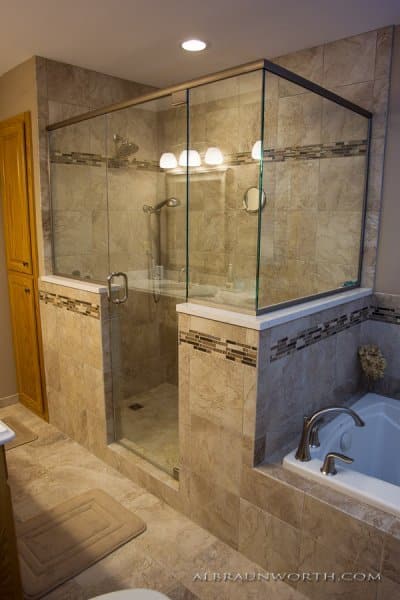 Bath Renovation Costs
So, how much does a bathroom renovation really cost? The figure will vary, as there are many factors that affect the cost of a renovation. According to one source (2008-2009 Cost vs. Value Report of Remodeling Magazine), a mid-range bathroom remodel costs about $16,142 while an upscale bathroom remodel falls at $52,295. You should note, however, that there are some surface changes that you can do to a bathroom that cost less and still give your bath a new, fresh look.
A mid-range bathroom remodel refers to smaller changes in the bathroom such as moving a wall or two, changing the flooring and replacing the plumbing. On the other hand, an upscale bathroom remodel refers to big or massive fixes or changes in the room such as installing specialty flooring, repositioning the plumbing and virtually re-arranging all aspects of the bathroom including the tub, shower, and vanity.
Simple surface changes to a bathroom such as new flooring, paint, and a new tub liner are even less costly and may work for your budget if the mid-range and upscale bathroom renovation price tag takes your breath away. Call Craig at 320-252-0911 for more information about any of these bathroom remodel options.
Bathroom Renovation Cost Factors
As mentioned earlier, there are several factors that affect the bathroom renovation cost.
First, the size (in square footage) of the bathroom matters. Obviously, bigger bathrooms mean more costs.
Second is the scale of the project – whether it is a mid-range remodeling, an upscale remodeling or some simple resurfacing.
Thirdly, the homeowner's choice of materials – so be sure to pick quality but affordable bathroom furniture and fixtures.
Fourth and last bathroom renovation cost factor is the contractor's quote.
How to Estimate Bathroom Remodel Costs
Knowing how much the whole renovation will cost is not that difficult as long as the homeowner has clear plans as to what he/she wants the bathroom to become.
Planning is very important in remodeling. The outcome of a remodeling project depends on it and so do the total costs of your renovation.
When undertaking a bath renovation it is essential for a homeowner to properly plan their bathroom remodeling project in order to accurately determine the total costs of the bathroom renovation. Many homeowners do not understand all of the components to home renovation, which is why you might want to hire a Central MN General Contractor to assist you with the planning of your bathroom renovation.
The truth of the matter is that a quality remodeling contractor is your best option when it comes to estimating the cost of the whole project and your return on investment. Besides, home improvements are always much more enjoyable for you when working in partnership with a professional!
Think through your options, do some research and make the decision that best suits your needs and your budget. That's really the best advice.
~~~
You want to know exactly what you'll get for your money and at Schoenberg Construction we are happy to tell you by offering you specific, accurate pricing that fulfills your vision at a price that works for you. We value honesty, integrity, trust, and customer satisfaction and proudly pass these core values on to every one of our clients.
Are you looking to hire a bath remodel contractor in the St Cloud MN area? If so, you need to know that Craig Schoenberg — owner of Schoenberg Construction, Inc of Saint Cloud MN — is one of the best Home Improvement, Remodeling, and General Contractors in Saint Cloud and Central MN. He always gives honest, fair bids with no lowball, fake pricing, and there's no sales pressure, ever! He always uses quality materials and never engages in sloppy workmanship. Plus, his company is known as one of the very best construction and remodeling companies in town.
Give Craig a call today at 320-252-0911 for your no-obligation consultation.
Why Work With Schoenberg Construction
What We Value
Honesty
Integrity
Trust
Satisfaction
What We Do
Specific, Accurate Pricing
Highly Skilled Carpenters
Reliable, Skilled, and Valued Subcontractors
Top, Quality Materials
Unbeatable Customer Service
What You Get
75+ Years of Combined Custom Construction Experience
The Project of Your Dreams for the Price You Were Promised