Building a home shouldn't remain just a dream for most people, rather it should be realized somehow. However, there is a question that needs to be answered before one decides to construct a dream house – how much does it cost to build a home?
When constructing a home, you have to consider the factors related to the costs of building it. Below are some factors that can affect the cost of building your dream house. Consider them all carefully before you finalize the design for your dream house, as this is an essential step in the budgeting process and in determining the final costs of building your new home.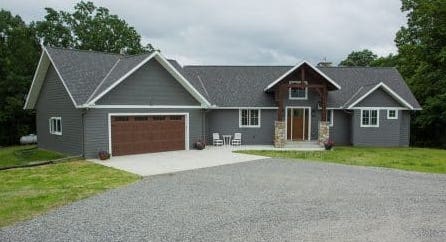 How Much to Build a Home Factors Affecting the Costs of New Construction

One factor that affects the cost of house building is the plot of land. Before building a house, the price of the land should be considered. In luxurious and high-end areas, expect to spend a lot of money. On the other hand, if you choose land in the outskirts of the city or in a rural region, the price would be cheaper than lands near the heart of the city.
The cost of a house also depends greatly on the cost of manpower and construction materials, which may differ from time to time and place to place. According to a number of real estate market surveys, the cost of home building ranges between $90 to $200 per square foot. So if the design you have is for a 2500 square foot house, then it would cost you anywhere between $225,000 and $500,000. These costs will depend on your choices and preferences, of course.
The cost of building a home will increase if you employ a professional builder in Central MN to do the work for you, but the final result of a home build by a quality St Cloud MN general contractor is well worth the money. If you want to know why just contact your local real estate agent and ask him the difference in the value of a home built by a professional versus one built by a do-it-yourself enthusiast.
As everybody knows, land price and cost of construction materials are lower during a recession and increase when the economy is good. Therefore, the timing of when to begin a construction project is also important in determining the total cost to build a new home. For more accurate pricing information on land and construction material costs, it is helpful to consult with dependable contractors who knows the market fluctuations related to home building. This is the best way to get an accurate idea of the current home building costs and expenses in central MN.
The cost of building a house also depends on the type of home you want to construct. Log homes, which are becoming more in demand now because of their cool appearance, can cost around $100 to $120 per square feet. So, if you plan to build a large bungalow with an area of 2000 sq feet, you will have to spend from $200,00 to $240,000, and this is a conservative number even in today's market.
The shape of the house also determines the cost of building your house. It is believed that dome and rectangular shaped homes are cheaper than homes of any other shapes. So, if you are on a tight budget, choose either one of these shapes. Hopefully, this article has given you some useful information on how much it costs to build a home.
~~~
You want to know exactly what you will get for your money, and Craig is happy to do so by offering you specific, accurate pricing that fulfills your vision at a price that works for you. He values honesty, integrity, trust, and customer satisfaction and proudly passes these core values on to every one of his clients.
Craig Schoenberg — owner of Schoenberg Construction, Inc of Saint Cloud MN — is one of the top General Contractors in Central Minnesota. He always gives honest, fair bids with no lowball, fake pricing, and there's no sales pressure, ever! He always uses quality materials and never engages in sloppy workmanship. Plus, his company is known as one of the very best construction and remodeling companies in town.
Give him a call today at 320-252-0911 for your no-obligation consultation.
Why Work With Schoenberg Construction
What We Value
Honesty
Integrity
Trust
Satisfaction
What We Do
Specific, Accurate Pricing
Highly Skilled Carpenters
Reliable, Skilled, and Valued Subcontractors
Top, Quality Materials
Unbeatable Customer Service
What You Get
75+ Years of Combined Custom Construction Experience
The Project of Your Dreams for the Price You Were Promised