Shower Remodel Guide to Details and Options— Remodeling your bathroom in St. Cloud can seem to be a huge task, but with the right planning, and a good general contractor, the process can be pain-free. A proper strategy can save you a ton in time and money. The shower is a focal point of the bathroom, so it should definitely have a matching style. There are little details that go into choosing just the right tone that can really set off the wall colors or flooring.
Shower Remodel Options for You to Consider
Choose the Hardware Finish
Hardware is the trim element that brings the other elements together in the bathroom. When you choose your new shower enclosure, keep the finished look of the room in mind. The fixtures and faucets should compliment the color of the shower doors, hinges, and other hardware. The choice of finish should really set the look of the colors you use everywhere else in the room.
Silver is a finish that matches well with many of the older chrome fixtures, although modern designers are leaning more towards brushed nickel and oil-rubbed bronze.
Find the Right Glass Door
The metal look may be going to the land of obsolescence, but new doors are a little more pricey because of it. In order to remain stable, the glass is much thicker. The choices available in modern patterns are as numerous as the fish in the sea. If you prefer to have privacy without a bunch of geometric lines, obscured glass is the way to go. Of course, classic clear glass will let anyone who wanders into your bathroom see what great taste in fixtures you have.
Showerhead Makes All the Difference
The newest showerheads are not only stylish and elegant but water-efficient and able to deliver strong water pressure. Many people find the removable handheld sprayers very convenient. The vertical shower spa is also becoming very popular, and customers are raving about how luxurious they feel.
For a whole new level of clean feeling skin, install the ultimate in luxurious showers, a combination system that has an overhead shower, vertical sprayers on the walls, and a hand-held sprayer.
All of the Little Accessories
Once the main hardware finish choice has been made and all of the other big decisions ironed out, it is time to settle on your choices for things like towel bars and shower door handles. Most manufacturers of water delivery systems for showers (i.e. showerheads) produce what they call "suites" of products that are supposed to match the showerhead for a very put-together look.
A bathroom remodeling project is not complete without a new shower. A licensed St. Cloud general contractor must be hired to do work as extensive as removing an old shower enclosure and creating the new one. Like any other home improvement, the outcome is what really matters, and the small amount of discomfort is worth it.
Shower & Bath Remodel Before and After Photos
Bathroom and shower remodels are one of the most popular types of home renovation projects, and with good reason—your family spends a lot of time in the bathroom each day getting ready, and the space should be one that is convenient and enjoyable to use.
Check out this lovely bathroom and shower remodel we did recently in St. Cloud, MN to see what's possible and what Schoenberg Construction can do for you.
Wow! This bathroom was not as old-fashioned to start with as some that we've seen, but the new space is a clear improvement that is fresh, modern, and more luxurious-looking.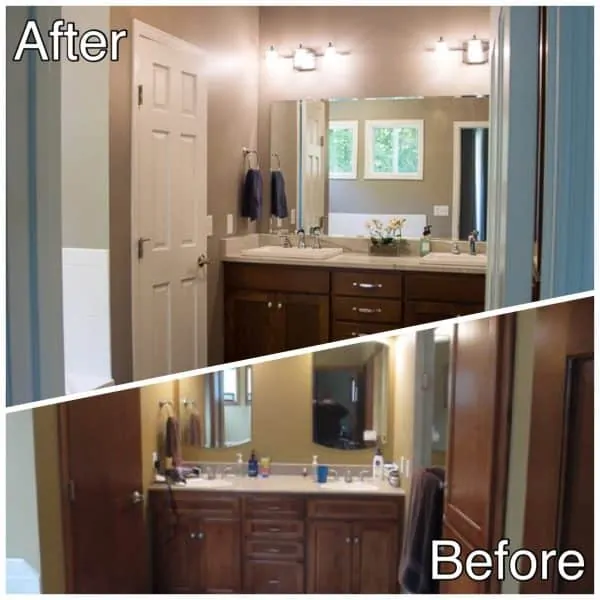 Let's take a closer look at a couple more before and after images and then discuss some of the updates we made: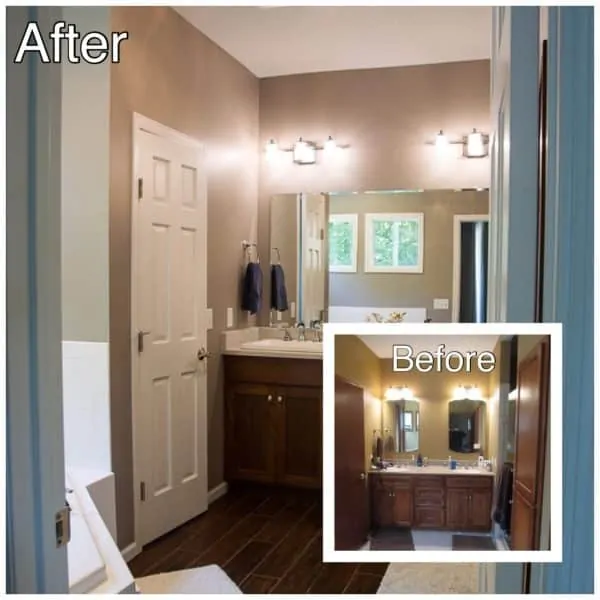 Some of these changes are subtle and some are much easier to see, but they all add up to pack a major punch in this beautiful remodel.
Bathroom and Shower Remodel Updates
Here are just a few of the updates we made—look for them and see if you can imagine how similar renovations could improve the aesthetics and function in your home!
His and hers mirrors became one large mirror that brightens the room and makes the space appear much larger.
New lighting fixtures (above the sink and the mini chandelier over the center of the room) modernize the entire room.
Though the cabinets are still a similar shade, the style of the new cabinets with crisp silver hardware and less beveling feels lighter-weight in the room.
Similarly, the new doors (now white and with inset panels!) are much fresher and feel lighter.
The new flooring is a beautiful statement piece in this room—and one that adds significantly to the luxury feel.
Shower Remodel St Cloud MN
Now, let's take a look at the incredible shower remodel we built for these very happy homeowners.
This brand new shower has a much cleaner design and feels more modern than it's predecessor. From the glass door that now opens on the more intuitive side to the recessed shelf for shower products, this design is more functional and enjoyable for the family to use each day.
The crisp white wall tiling and the updated gray shower floor tiling also coordinate nicely with the rest of the new bathroom's design, maintaining a sense of clean simplicity throughout.
Shower Remodel Links & Resources
Are you looking to hire a home improvement contractor in the St Cloud MN area? If so, you need to know that Craig at Schoenberg Construction is one of the best Home Remodeling Contractors in St Cloud and Central Minnesota. He always gives honest, fair bids with no lowball, fake pricing. And there's no sales pressure, EVER! He never uses cheap materials and never engages in sloppy workmanship. Plus, his company is known as one of the top construction and remodeling companies in the Saint Cloud MN area because he always insists on doing every job exactly right.
Give him a call today at 320-252-0911 for your no-obligation consultation.
Why Work With Schoenberg Construction
What We Value
Honesty
Integrity
Trust
Satisfaction
What We Do
Specific, Accurate Pricing
Highly Skilled Carpenters
Reliable, Skilled, and Valued Subcontractors
Top, Quality Materials
Unbeatable Customer Service
What You Get
75+ Years of Combined Custom Construction Experience
The Project of Your Dreams for the Price You Were Promised