Your master bathroom should be a tiny oasis of calm in your home where you can go to relax and pamper yourself (or even just go to get away from the kids for a few moments!). But it's much harder to relax when the space is outdated, inconvenient, or simply not up to your aesthetic tastes.
Many homeowners come to us looking for a way to incorporate modernized style with at-home luxury into their master baths. We love working on these projects and bringing new life into an often-overlooked space.
Here is the beautiful new master bathroom that one Little Falls, MN family is enjoying after we remodeled their space: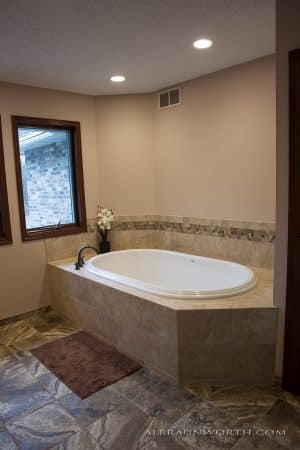 Doesn't this spa-like style look like a relaxing place to take a long bath after a tough day? Of course, to truly appreciate how much this family must be enjoying their new space, we have to take a look at the comparison between what it looked like before and after!
First up is the tub: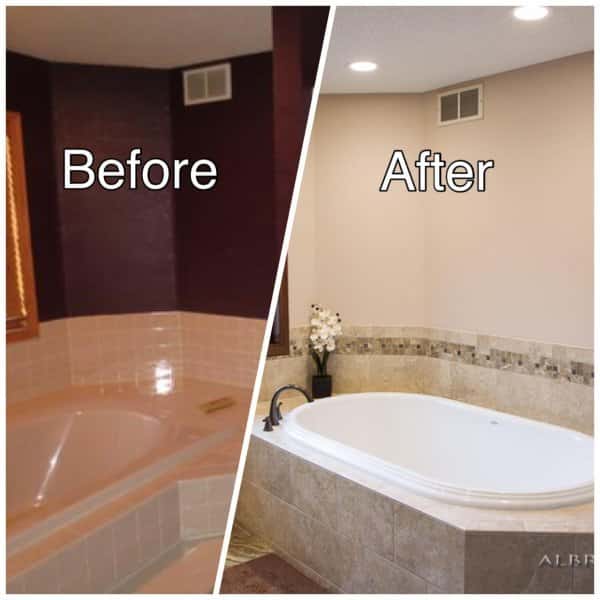 We love the new tub they chose, as well as the beautiful detailed tiling at the base and on the wall above it. The lovely marbled shades and mosaic tiles are far more interesting and modern than the simple white tiling they had before.
The wall color was also a dramatic change in this room. Before, the dark walls made the room feel heavy and small. The new, subtle cream color is fresh and light and really opens up the room.
The shower coordinates with the tub nicely and also saw a major upgrade:
This walk-in shower is larger and much more luxurious than the previous shower. The spacious built-in bench, recessed shelving, in-shower lighting, and wall-mounted showerhead all add style and extra function to the space.
And of course, we couldn't resist updating the cabinets, too:
This update packs a dramatic punch. New cabinets in a more modern shade and style (along with updated lighting fixtures) tie in to the rest of the bathroom's design and add a little extra luxury. You can also see the updated flooring in this image—we love the new flooring this family picked, and it's easy to see what an improvement it is over the old, generic tile they had previously!
Are you looking to hire a trust-worthy contractor in the St Cloud MN area for your remodeling project? If so, you need to know that Craig at Schoenberg Construction is one of the best Remodeling and General Contractors in Saint Cloud and Central MN. He always gives honest, fair bids with no lowball, fake pricing. Plus, there's no sales pressure, EVER. Craig and his staff never use cheap materials or engage in sloppy workmanship, and his company is known as one of the top construction companies in the Saint Cloud Minnesota area because Craig always insists on doing every job exactly right!
Give him a call today at 320-252-0911 for your no-obligation consultation.
Why Work With Schoenberg Construction
What We Value
Honesty
Integrity
Trust
Satisfaction
What We Do
Specific, Accurate Pricing
Highly Skilled Carpenters
Reliable, Skilled, and Valued Subcontractors
Top, Quality Materials
Unbeatable Customer Service
What You Get
75+ Years of Combined Custom Construction Experience
The Project of Your Dreams for the Price You Were Promised