Remodeling projects can be stressful for anyone involved, but they may be particularly challenging for kids. A remodel marks the end of the familiar surroundings they are used to, and your children may be uncertain about how they'll feel in the new space.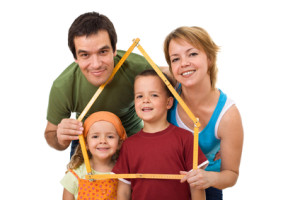 Reassure them and show them that everything will be okay by allowing them to get involved in the remodeling process. We've put together six easy ways to make your kids a part of the process.
How to Involve Kids in the Remodeling Process
1. Let Them Choose Materials
One of the best ways to get kids involved in the remodeling process is to allow them to participate in choosing some of the materials for your project. Give each child one material selection to be in charge of, or put the decision up to a popular vote. This measure gives your kids some control during a time when they may be feeling powerless—and you'll also get to smile and remember their happiness every time you look at the paint color or cabinet hardware they chose.
2. Allow Kids to Decorate Their Rooms
If you're getting a full remodel down to the kids' bedrooms, consider allowing the children to decorate their own rooms. Kids will be delighted to get to choose their own carpets, paint or wallpaper, lighting fixtures, and new furniture. Give your son or daughter the opportunity to express his or her self in a brand new room.
3. Get Them Involved in Family Areas
Will there be a new room in your remodeled home that is for the whole family to enjoy? Then make the remodeling choices a family decision! Allow each family member to choose one aspect of the brand new room design so that the finished product has a touch of everyone's influence. This idea is also a great way to control the most important design elements on your own while still allowing your kids to feel involved with some of the smaller decisions.
4. Give Your Kids the Final Say
Having trouble choosing between a few final material selections? Give your kids the final say! Even if you're not comfortable giving your kids full power over choosing an element of your home, you can still give them a say in the decision by selecting between a few choices that you've narrowed down.
5. Ask for Their Help
Though kids should stay away from the actual construction zones in the home for their own safety, you can give them a fun DIY project so that they can feel like they're a part of the remodeling process. Set them up with the supplies they'll need to create a special new vase or some hand-decorated dishes—and then don't forget to give their creations a place of honor in your remodeled St. Cloud home!
6. Set Up a Fun Space
During some parts of the remodel, you may not be able to access particular areas of your home. Instead of allowing this situation to disrupt your kids' normal routine, make it into a fun opportunity to go "camping" at home! Set up a makeshift kitchen where everyone can enjoy dinner seated in a circle on the ground or lay out sleeping bags for the whole family. A remodel can be a fun opportunity to bring the family closer together.
~~~
Craig at Schoenberg Construction is one of the best Home Remodeling Contractors in St Cloud and Central Minnesota. He always gives honest, fair bids with no lowball, fake pricing. And there's no sales pressure, EVER! He never uses cheap materials and never engages in sloppy workmanship. Plus, his company is known as one of the top construction and remodeling companies in the Saint Cloud MN area because he always insists on doing every job exactly right.
Give him a call today at 320-252-0911 for your no-obligation consultation.
Why Work With Schoenberg Construction
What We Value
Honesty
Integrity
Trust
Satisfaction
What We Do
Specific, Accurate Pricing
Highly Skilled Carpenters
Reliable, Skilled, and Valued Subcontractors
Top, Quality Materials
Unbeatable Customer Service
What You Get
75+ Years of Combined Custom Construction Experience
The Project of Your Dreams for the Price You Were Promised