St Cloud Building Contractor Hermitage Project— Now and again a highly unique new construction project comes along, and last year we were fortunate to have one come our way. And what an amazing project it was to build!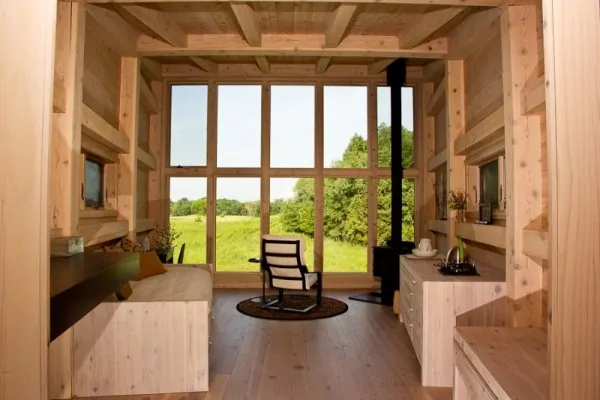 The task was to construct a hermitage in Avon MN on private property located near St John's University in Collegeville, MN. The design was like nothing we had ever seen before, so we knew that the building process would be creative, interesting and fun.
Because of the unique design, this building project demanded outstanding carpentry skills and excellent coordination from the building contractor. With our highly skilled and experienced master carpenters, Marty and Chuck, and with Craig's exceptional general contracting skills, we just knew we were the right builder for the task.
A hermitage is a secluded residence or private retreat, and the design of this one is certainly something special. The stunning interior of the structure consists of cedar timber frames, cedar flooring, and custom made cedar furniture, all of which were crafted by our highly skilled carpenters. Pine siding covers the exterior, and the windows on the front of the building create a simply spectacular view from the interior.
To add to the uniqueness of the structure, it has no electricity nor running water. The bathroom is an outhouse located in the woods. This bare-bones style of living supports the purpose of a hermitage and assists the individuals who stay in it to go deep into the retreat experience. Just imagine how peaceful it would be to spend a long, luscious, quiet weekend inside this beautiful building!
Here are a few more photos of this project in the photo gallery below. Take a look!
~~~
Craig at Schoenberg Construction is one of the best Building Contractors in St Cloud and Central MN. He always gives honest, fair bids with no lowball, fake pricing. There's no sales pressure, EVER! And, Craig and his staff never use cheap materials or engage in sloppy workmanship, plus his company is known as one of the top General Contracting providers in the Saint Cloud Minnesota area because Craig always INSISTS on doing every job EXACTLY right!
Give him a call today at 320-252-0911 for your no-obligation consultation.