Schoenberg Construction, Inc. St Cloud MN Contractor — Before we delve into our company history, we would like to give you a brief overview of who we are today. You see, we specialize in delivering outstanding construction services – from home remodeling to custom homes – to all of our customers, every time. You want to know exactly what you will get for your money, and we are happy to tell you by offering specific, accurate pricing that fulfills your vision at a price that works for you.
Moreover, we refuse to cut corners and never engage in shoddy workmanship. We abhor high-pressure sales. Above all, we do not engage in dishonest building practices that trick customers into buying something they don't want, need or possibly can't afford. We value honesty, integrity, trust. and satisfaction, and we proudly pass these core values on to every single one of our customers.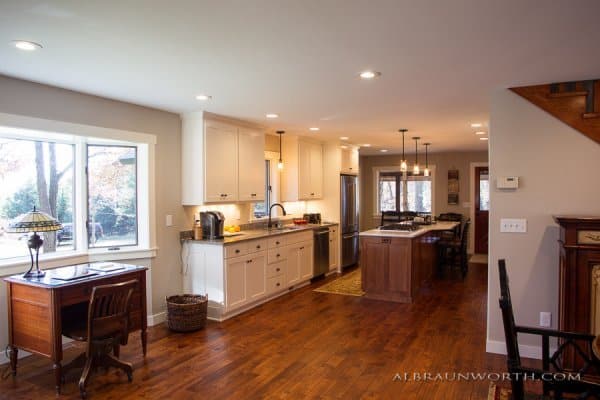 How We Started
Jerry Schoenberg, Craig's father, began his construction career in 1964 at Admiral Wood Products in Minneapolis as a cabinetmaker. He later became not only a cabinetmaker but also a foreman at Miller Construction Company, St. Cloud, MN.
In 1974, Jerry and his partner, Maurice Sauve formed Sauve & Schoenberg Construction. The Company specialized in all phases of remodeling including kitchens, bathrooms, decks, family rooms, additions and light commercial. On January 1, 1984, Jerry formed Schoenberg Construction upon the dissolution of the partnership. Since then, Schoenberg Construction, Inc. has continued its stellar reputation as an excellent and leading construction company in Central Minnesota.
Craig Schoenberg's Background
Craig joined Schoenberg Construction as a carpenter's helper while still in high school. He then worked as a cabinetmaker at a local company before returning to work for Schoenberg Construction as a carpenter.
After becoming a journeyman carpenter and learning all the field aspects of the business, Craig "went into the office" to learn even more about the construction process, including estimating and project management. In 1999, he became a co-owner of Schoenberg Construction along with Jerry and his wife, Anne.
Our Current Structure
In 2006, Jerry retired from Schoenberg Construction and Craig went from part to full owner of the company. His cousin, Marty Rengel, his wife, Danette Schoenberg, and his sister, Jill Schoenberg, work with him, along with a talented team of estimators, carpenters, and subcontractors.
As you can see, Schoenberg Construction is a family owned and operated business, and we are proud of it.
We are also very proud of our relationships with all of our fine subcontractors and suppliers. Local and respected companies are an integral part of the quality work we offer our valued customers.
In 2004, we moved to our new office located at 3040 36th Avenue SE in St. Cloud. Call us
at 320-252-0911, visit us at our office, or contact us by email. For directions to our location, click here.
Schoenberg Construction, Inc.
3040 36th Ave SE
Saint Cloud, MN 56304
(320) 252-0911