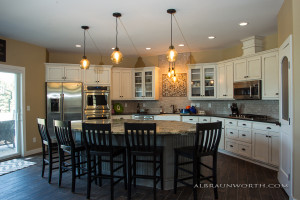 Tired of looking at the outdated cabinets in your kitchen or the old tile floors in your bathroom?  Does your family need the extra space of a finished basement or a home addition? No matter what your family's needs are Craig Schoenberg would be honored to help you complete your next construction project.
From the quality and craftsmanship of the finished product to the joy and fulfillment you'll experience for years to come after your building project is complete, your satisfaction is Craig's top priority. Schoenberg Construction serves customers throughout Central MN in cities such St. Cloud, Sartell, Waite Park, Sauk Rapids, Rice, Foley, and Saint Joseph.  It would be a pleasure to work on your new home or home remodeling project.
What We Offer You
In order to achieve outstanding results for our customers during each project, we offer you:
Exceptional Communication
Detailed Budget Management
Efficient Construction Schedules
Effective Change Control and Management
On-going Bill Monitoring
Superior Quality Control, Ongoing Inspection, and Safety Monitoring
We are confident in our ability to serve your project needs with integrity, honesty, and quality.  To ensure a final product that completely fulfills your vision, we properly and professionally manage every phase of the construction process of your project. We've offered warranties on all of our work since 1974—and we'll do the same for you.
How Working with Us Benefits You
Construction projects are complex endeavors, so it is critically important to work with a contractor who fully understands your goals and works to make them a reality.  It's also essential to find a contractor who works to control costs and manage risks at every stage of your construction project.  When you work with Schoenberg Construction, you'll enjoy the benefits of consistent communication and a supportive relationship with your contractor.
Our commitment to great communication allows us to offer you the best possible project bids and schedules free of surprises.  We'll cover every detail necessary to make your project a success with our comprehensive construction management services.  Our service to you includes detailed project planning before work begins—and outstanding coordination and management while it is completed.
Once your construction project is finished, we always take the time to wrap up all those little details that ensure your complete, 100 percent satisfaction with our work.  As one of the most qualified and respected builders in central Minnesota, we remain committed to offering exceptional construction services and professional onsite management.
4 Key Reasons to Choose Us for Your Next Construction Project
To summarize, here are some key reasons to choose Schoenberg Construction for your next building project:
Experienced Comprehensive Construction Management Services
Dependable Risk and Cost Management
Outstanding, Consistent Communications
Guaranteed On-Site Professional Management Services
When you contact Craig about your new home or home remodeling project, he'll provide you with expert advice to ensure that your project is completed according to your family's needs.  Get started building your dreams today.
Remodeling and New Construction Photo Galleries

Click here to view before and after photos of some of our most recent construction and home remodeling projects in Central MN.
Custom Built Homes Photo Galleries