Bathroom Remodel Contractors St Cloud MN: Quick Bath Remodeling Companies Save Time But Carry Hefty Cost in Quality
Quick bathroom remodel contractors and companies are targeting customers everywhere with the promise of one-day jobs and simplified contracting projects. For homeowners who have other concerns and responsibilities on their minds, one-day projects are an attractive solution to a bathroom in need of a makeover.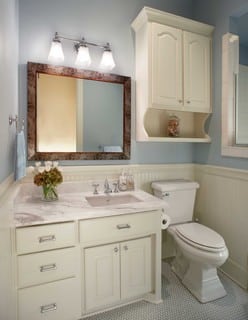 One-day companies market their services by highlighting their quick completion time. Because they offer a limited number of remodeling options, it is also much easier for a consumer to make a decision and to begin the project immediately.
However, homeowners often find out afterward that they could have had more work done at a similar price point by choosing a St Cloud MN general contractor instead of a 1-day Bathroom Remodel Company. While the work might take a few extra days to complete, the quality of work and materials used is typically much higher than the services available from one-day bathroom remodelers.
Many consumers are unfamiliar with standard home remodeling costs, so it can be tough to discern how expensive a one-day remodeler really is. Professional contractors encourage homeowners to get quotes from at least two companies before making a decision. The cheapest quote is not necessarily the best option, as a poorly done job can lower a home's overall value and cost more in repairs down the road.
To evaluate the quality of a prospective contractor's work, homeowners should always ask to see examples of previous projects. Contractors can also provide information about the types of materials they will use and their level of experience.
Don't Overpay Bathroom Remodel Contractors
Though one-day bath remodelers often charge higher prices than professional contractors, they typically use materials of a lower grade. The remodel work may be completed more quickly but, in many cases, it is completed with less attention to detail. Sometimes the work is even downright sloppy. (Just do a google search on reviews of 1-day bathroom remodeling companies and see what you find. We think you'll be very surprised!)
The idea of a simple, one-day project that is completed with minimal hassle and a small time investment is ideal for many homeowners. However, the short-term time savings can, unfortunately, have dramatic repercussions down the line. Professional general contractors often need a few extra days to complete a project, but a reliable company will provide an upfront time estimate in advance. Your contractor can accommodate your schedule to make sure that the project is convenient for you.
At the cost of a few extra days, homeowners who work with professional general contractors in central MN generally enjoy work on larger areas of their homes. Many homeowners undertaking a bathroom remodel are able to have work done on additional square footage and could even receive extra services such as new tiling or an updated shower installation for the same cost of a one-day project. Quick bath remodelers charge more for their speedy service, while general contractors set their prices based on the amount of work to be done and the quality of materials used.
Though many people believe that a faster project is better, contractors encourage homeowners to consider the importance of reliable materials and durable construction. A bathroom remodeling project is a substantial investment, and homeowners deserve the highest quality of work available for their money.
~~~
Want to remodel your bathroom and get the biggest bang for the buck?
Craig at Schoenberg Construction is one of the best Saint Cloud MN General Contractors. He always gives honest, fair bids with no lowball, fake pricing and there's no sales pressure, EVER! Craig never uses cheap materials and never engages in sloppy workmanship, and his company is known as one of the top remodel companies in the Saint Cloud MN area because he INSISTS on doing every job EXACTLY right.
Give him a call today at 320-252-0911 or send him an email to claim your no-obligation and no sales pressure home improvement consultation.