Bathroom Renovation, Saint Cloud MN—
As you prepare to remodel your bathroom, you might find yourself overwhelmed by the number of choices you'll need to make. From selecting new fixtures to choosing a décor style, a remodel requires decisions through every step of the process.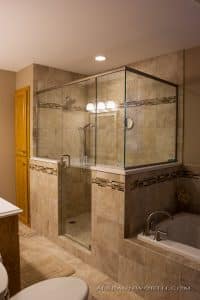 Fortunately, there are some bathroom remodel ideas that are designed to make your life a little easier. The following five tips help you simplify renovation by reducing your costs, time investment, and overall stress.
5 Ways to Help
Simplify a Bathroom Renovation
1. Make a Thorough Plan
You should have a pretty comprehensive plan in place before you begin remodeling. Though you'll probably have to make a few decisions once you get into the process, an advance plan simplifies your life by getting the hardest part of the project out of the way from the start. A detailed plan also helps you keep your costs and time investment in line. As you put together your bathroom renovation ideas, list "necessities" separately from your "wants." The final project should ideally include everything you need while still allowing you to incorporate a few extras.
2. Keep Major Fixtures in Place
While you might have to move major fixtures around if you're trying to create more space or fix a poor layout, it's generally simpler to keep walls and plumbing where they are. You can still update the way a room is used by purchasing furniture or fixtures like shelving, cabinets, and laundry bins that will make your bathroom more efficient. Maintaining the general layout of your bathroom cuts down significantly on your overall expense.
3. Create a Clear, Specific Budget
Of course, you'll also need to create your budget before you can get started. This is where your list of necessities and wants will come in handy. Figure out which items you can realistically afford and look for money-saving options like purchasing restored cabinets or handling your own paint job. Keep in mind that you should typically allot an additional 10-15 percent to cover unexpected expenses that can crop up as the project goes on.
4. Choose Available Products
While the idea of ordering custom pieces or unique, one-of-a-kind items might be appealing, it's usually much simpler to purchase in-stock products from local suppliers and stores. Rare pieces are perfectly acceptable if you're willing to wait for delayed shipments or pay additional shipping fees, but homeowners who are interested in simplifying their renovations typically choose from what's already available. With the right design ideas and a little creativity, you'll find plenty of beautiful products to choose from that suit the renovated bathroom you've been imagining.
5. Work with a Professional Contractor
Depending on the scale of your project, a bathroom remodel can be an enjoyable do-it-yourself project. However, for major renovations—or to simplify your remodeling experience—it's best to work with a professional contractor. Your contractor will understand the process and potential concerns associated with your bathroom remodeling ideas and can help to guide you in the right direction. A professional contractor also works carefully to ensure that your finished bathroom is designed in a way that is satisfying and guaranteed to last for years to come.
~~~
Planning to remodel your bathroom? Then you must know that Craig at Schoenberg Construction is one of the best Saint Cloud MN Bathroom Renovation Contractors. He always gives honest, fair bids with no lowball, fake pricing and there's no sales pressure, EVER! Craig never uses cheap materials and never engages in sloppy workmanship, and his company is known as one of the top remodel companies in the Saint Cloud MN area because he INSISTS on doing every job EXACTLY right.
Give him a call today at 320-252-0911 or send him an email to claim your no-obligation and no sales pressure home improvement consultation.