Kitchen Layout Tips: How to Choose the Right Kitchen Layout for Your Family
The kitchen is the heart of your home—the place where people gather to cook, chat, and make memories together. Whether you're helping the kids with homework as you cook dinner or baking Christmas cookies with Grandma, so many of life's special little moments take place in the kitchen.
On a daily basis, it's also one of the rooms in your home where you'll spend the most time. From making lunches in the morning to doing dishes in the evening, you're in and out of the kitchen multiple times each day.
For these reasons and more, many homeowners put a lot of emphasis on choosing the right kitchen layout when they are remodeling or building their new home. Everyone uses their kitchen differently, and what works well for one family might be inconvenient and troublesome for another.
With that in mind, we've compiled six key questions you should consider to find the right kitchen layout for your home. Take a look at these kitchen layout tips before you finalize your kitchen design plans.
Kitchen Layout Tips
1. How Much Storage Space Do You Need?
It's easy to see a kitchen with a bunch of cabinets and think you'll have plenty of storage space—until you begin putting everything away and realize there's just not enough room.
To choose the best kitchen layout for your family, make a list of all the different types of items you have to store, including dishes, glassware, cooking utensils, pots and pans, food, paper products, and so on. Consider whether or not you should allot some of your square footage toward a walk-in pantry, which can easily serve as multi-functional, floor-to-ceiling storage space.
2. Where Should Everything Be Located for Maximum Convenience?
In addition to making sure there's enough space for everything, it's also essential for everything in the kitchen to have a designated home.
To determine where you should store your kitchen essentials, consider your cooking and food prep processes.
For instance, do you prefer to keep utensils in a drawer within easy arm's reach of the stove, or will they be stored in a crock on the countertop? Should dishes go in a kitchen cabinet or in a formal display case in the dining room? Do you like to keep large products like paper towels and cases of water bottles in the garage or inside the house in the kitchen pantry?
When your kitchen is designed so that everything is right where you need it, you'll find that cooking and meal prep becomes a much faster and more seamless experience.
3. What Appliances Will You Need?
Of course, before you begin imagining a room with a large pantry and all kinds of cabinets and drawers, you also need to remember to leave room for your appliances! Start by figuring out which appliances you need—and then you can determine where each one should go.
For most families, the basics will include a refrigerator and freezer, stovetop, oven, dishwasher, and microwave. Some people may also want to allot space for extras like a deep freezer or a wine fridge.
Once you've determined which appliances you want, think about the types of features you need in each one in order to determine their approximate size and potential locations.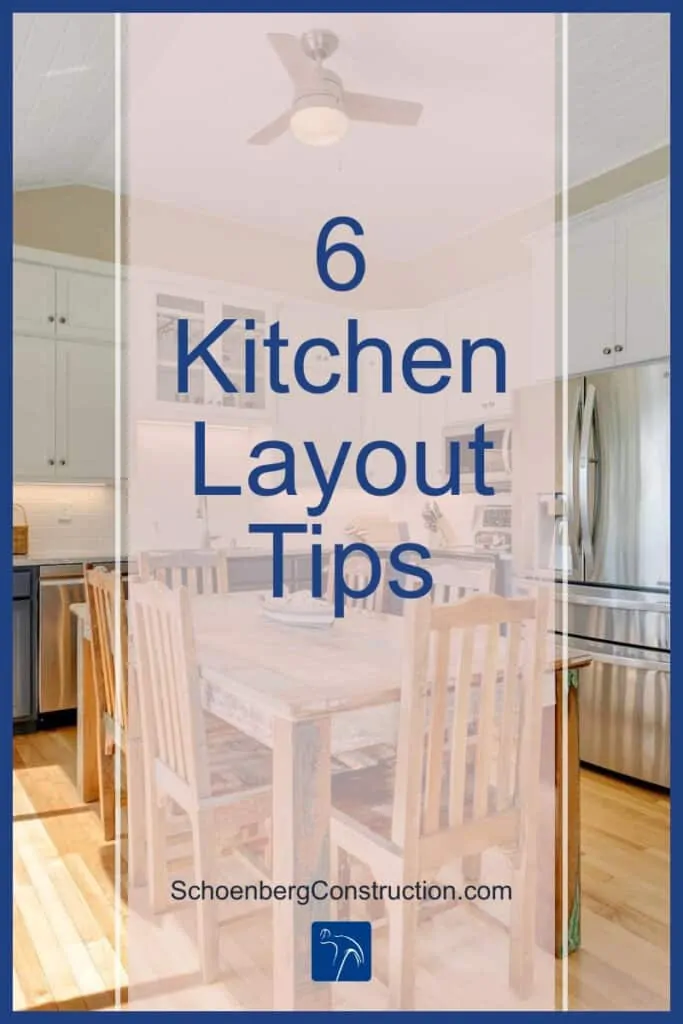 Consider these questions and kitchen layout tips:
Do you prefer a stacked refrigerator/freezer combo, or one with side-by-side doors?
Do you want a built-in microwave or a standalone model that simply sits on a countertop?
Do you like the look of a stove that is built into the countertop or do you prefer a more traditional stove and oven combo?
4. How Much Countertop Space Do You Need for Food Prep and Storage?
The next step in designing the right kitchen layout is an important one: countertops!
To determine how much countertop space you need (as well as what type of countertop surface will be best for you), consider your cooking habits and how you prefer to prepare food. If you like to cook a lot or if you frequently prepare meals for large groups of people, you'll likely want more countertop space.
You may also want countertops that are part of a kitchen island, or perhaps countertops that include a built-in chopping block. If you plan to have counter area seating, make sure there's enough room for people to sit without being in the way of any food prep that may be going on at the same time!
5. Should There Be Room to Eat in the Kitchen?
This next question is a fairly simple consideration, but it can make a big difference: Do you plan for your family or guests to eat any meals or snacks in the kitchen?
You may be able to get by with a smaller kitchen layout if the room will be used solely for food prep and all eating will take place in the dining room or living room. However, many families decide to put a breakfast nook in the kitchen that has enough room for a small table that seats four to six people.
If you're short on space but still want the flexibility of eating in the kitchen, you can always add barstools to a kitchen counter or island—or you may consider an island with built-in booth seating.
6. Do You Want Any Special Features in Your Kitchen?
In this kitchen layout tips series, our final tip for you is we suggest you determine whether or not there are any extras you'd like to add to your kitchen design.
Many families choose to integrate space for a small desk or a television in the kitchen so that people can hang out in the room together while dinner is cooking. If you're interested in making the room a little more luxurious, consider upscale features like a fireplace or built-in bar area as well!
With a room that gets as much use as a kitchen does, it's worth the time it takes to make sure every detail is carefully considered and designed to suit your family's needs. With a little extra thought and planning, you can be sure that you'll enjoy the right kitchen layout for many years to come!
Kitchen Layout Links & Resources
You want to know exactly what you will get for your money, and Craig is happy to do so by offering you specific, accurate pricing that fulfills your vision at a price that works for you. He values honesty, integrity, trust, and customer satisfaction and proudly passes these core values on to every one of his clients.
Craig Schoenberg — owner of Schoenberg Construction, Inc of Saint Cloud MN — is one of the top General Contractors in Central Minnesota. He always gives honest, fair bids with no lowball, fake pricing, and there's no sales pressure, ever! He always uses quality materials and never engages in sloppy workmanship. Plus, his company is known as one of the very best construction and remodeling companies in town.
Give him a call today at 320-252-0911 for your no-obligation consultation.