House Maintenance Schedule for Your Saint Cloud MN Home—
Your home is one of the most important investments you'll ever make—and it's essential to protect it with all the love and care it deserves. Regular inspections and maintenance keep your home in good condition and ensure that you aren't surprised by a major problem down the line.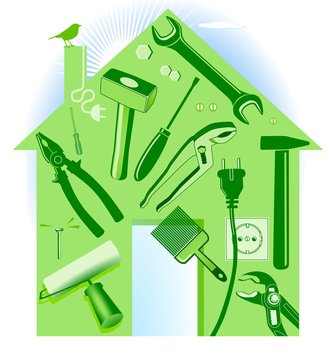 Most contractors and maintenance providers recommend keeping a regular schedule for home repairs and upkeep. Many jobs can be completed seasonally, though there are also some tasks that should be completed all year long. We've put together a simple home maintenance schedule to help you keep your Saint Cloud MN home in great condition.
Seasonal
Home Maintenance Tasks
SPRING
Spring is the best time of year to give your home a fresh, clean start. Assess any damages from the winter season and make a list of necessary repairs. You may need to replace damaged spots on your roof, fix up sticky windows and ripped screens, or fill in sidewalk cracks. Clean your deck or patio so that it will be ready when warm weather arrives. Call a heating and cooling repairman to service your air conditioner.
SUMMER
Summer is a great time for outdoor projects. Check your garage door, start a landscaping project, or repair damaged siding. If your home needs a fresh coat of paint or if you're thinking about adding a swing set to your backyard, summer is the perfect time to tackle the project. Watch carefully for signs of rain damage both inside and outside your home, and be sure your gutters work properly throughout the season.
FALL
During the fall, you should start preparing for winter. Examine insulation all throughout the house and be sure that you'll be keeping heat inside efficiently. Check your chimney for any debris or obstructions that could prevent smoke from getting out. Have a professional service your furnace and make sure your water heater is warming properly.
WINTER
While you're stuck inside during the winter, examine and clean your appliances thoroughly. Check caulking and grout in the bathroom and make sure your shower tiling is clean and fully intact. Look carefully all throughout the house for potential problems and make repair plans for the spring.
Year-Round House Maintenance
Some house maintenance tasks for your Saint Cloud MN home should be completed year-round. You should regularly check the four following areas:
1. Air vents should be clean and free of debris. Be sure to look at both indoor and outdoor vents.
2. Look for safety hazards like raised floorboards, bumps in the carpet, broken smoke detectors, bowing steps, and loose handrails. These types of problems can come up suddenly and could pose a danger to your family and visitors.
3. Test electrical outlets each month with the small test button. If the reset button pops out, the outlet is in working order. Additionally, be sure to keep safety plugs in the outlets if you have small children in the house.
4. Disinfect surfaces, vacuum, and scrub showers and toilets regularly to prevent the growth of bacteria and germ buildup. While you're at it, be sure you're also washing sheets, bedding, and towels regularly.
Regular house maintenance for your Saint Cloud MN home is essential to keeping the property in good condition and to protecting your family from health risks and dangerous situations. While you can handle some house maintenance concerns yourself, it's important to hire a professional, experienced contractor or other service providers to take care of difficult tasks and jobs that require expert knowledge.
If you're not sure whether or not you can take care of something or if you don't have the right equipment, don't be afraid to call your contractor to schedule a job. Your house maintenance provider is happy to help you protect the value of your home and will be willing to take on any project. You can also make notes of areas to monitor or take pictures of things you need advice on. By caring for your Saint Cloud MN home with regular house maintenance, you can ensure that the property will enjoy a long and happy life alongside your family.
~~~
Craig at Schoenberg Construction is one of the best General Contractors and Home Improvement Advisors in Saint Cloud Minnesota. Craig always gives honest, fair bids with no lowball, fake pricing. There's no sales pressure, EVER! Plus, he never uses cheap materials and never engages in sloppy workmanship, and his company is known as one of the top construction companies in the Saint Cloud MN area because he INSISTS on doing every job EXACTLY right.
Give him a call today at 320-252-0911 for your no-obligation consultation.