Gorgeous Custom Home Featuring Timber Beam Accents— This gorgeous custom home features decorative timber beams, a custom kitchen, lovely hardwood floors, an open floor plan, and a three-season porch. As you can see, this home is truly incredible—and we are proud to say that our stunning workmanship and competence are a result of training, experience, and good old-fashioned hard work.
Craig Schoenberg, General Contractor and Owner of Schoenberg Construction, and his talented master carpenters, Marty and Chuck, offer you over 75 years of combined experience. It's tough to find that kind of expertise in today's day and age—but the bottom line is our extensive construction knowledge and experience make us one of the most competent construction companies in central Minnesota.
Craig and his team put their expertise to good use when they designed this incredible custom built home in Kimball, MN.
Custom Built Home
by Saint Cloud Contractor, Craig Schoenberg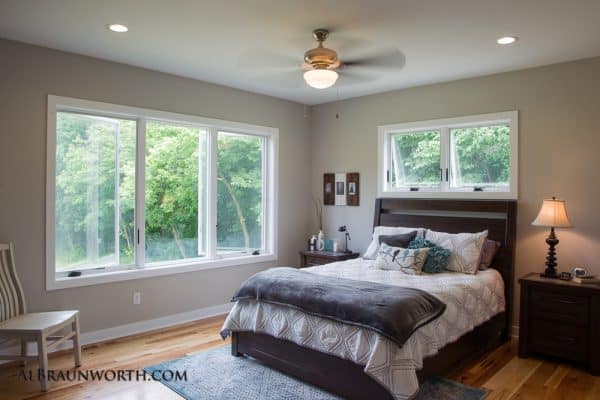 Full Photo Gallery of a
Lovely Custom Built Home in Kimball MN
As you view the photo gallery below, you'll notice a number of beautiful features and custom designs that truly make this home a unique space, such as: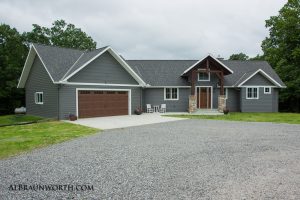 Custom Windows Throughout the Home: We added custom windows that allow tons of natural light to pour into the home. In particular, the floor-to-ceiling living room windows are a real showstopper that open up the room—while also offering an incredible view of nature outside. The casement windows in the master bedroom are also a unique and luxurious choice that gives the room a light, airy feeling that is both inviting and calming.
A Beautiful Custom Kitchen: There are few things more pleasing in a home than a well-designed kitchen, and this one definitely fits the bill! We love the open layout, spacious kitchen island, and all of the little details like the farmhouse sink and under-cabinet lighting. Aided by the beautiful wood floors (that extend through most of the home), this kitchen manages to be comfortable, practical, and beautiful all at once.
Decorative Timber Beam Accents: We really love the decorative timber beams in this home, as they frame the kitchen nicely and add personality to the home. The lovely dark wood adds to the natural, earth-toned aesthetic that carries throughout the entire space—and the beams also add visual interest that breaks up the open floor plan without making the room feel smaller.
A Three-Season Porch: The three-season porch facing the backyard gives the homeowners a pleasant place to dine, relax, or entertain—and it can be used during the majority of the year.
A Comfortable and Spacious Master Bathroom: The master bathroom might not appear that large in these photos, but when you look closer, you'll see just how much space there really is! This custom design features a large walk-in shower, a tub, and plenty of space to move around and get ready in—as well as a substantial floor-to-ceiling cabinet that offers plenty of room for storage.
A Large Custom Shed: The house itself is a beautiful custom design all on its own—but these homeowners also needed some extra space outside! To address their outdoor living needs, we built a large custom shed behind the house. Take note of the tall garage door, multiple entry points, and the large driveway.
Ready to get a closer look at these amazing features and everything else inside? Click on any photos in the gallery below to get a look at this incredible custom built home!
Wow… what a stunning home! Can you imagine living in a beautiful custom space like this one that is designed to meet your family's needs?
There are so many features about this home that we really love, but our favorite thing of all is just how well it suits the homeowners and their lifestyle. Throughout the planning process, we worked closely together with them to come up with a design that matched their vision as closely as possible—all while being sure to adhere to their practical needs as well.
In the Homeowner's Words
We believe the beautiful results you see here truly speak for themselves but there's no need to take our word for it. Here is what the homeowners had to say about our new home building construction services:
Before we even started construction, we worked exclusively with Craig and our architect for over a year through many design iterations to ultimately design the house we wanted within our budget.
Craig, his key guys (Marty and Chuck) and all of his subcontractors were extremely professional, easy to work with and PATIENT. As we met with the various material suppliers and told them we were working with Schoenberg Construction, we always heard: "Oh, they're good to work with."
With any large construction project, you always run into unforeseen issues – ALWAYS! What counts is how those issues are resolved. We, of course, had our share of unexpected issues, and Craig and his subcontractors always worked to resolve the issues in a prompt, fair and equitable way.
Craig also worked very closely with our bank throughout the construction process to provide the detailed financial records now required by banks from the start to completion of construction. We highly recommend working with Craig and his team.
~ Bill & Mary, Homeowners
It was our pleasure to build this beautiful home. We loved working for Bill and Mary and love working with all of our clients to build and develop the homes of their dreams—and in many cases, a custom home design is the best way to achieve those goals.
If you're interested in seeing what Craig Schoenberg and the rest of our team here at Schoenberg Construction can do for you, please contact us today at 320-252-0911 for a free consultation. We look forward to hearing from you!
Why Work With Schoenberg Construction
What We Value
Honesty
Integrity
Trust
Satisfaction
What We Do
Specific, Accurate Pricing
Highly Skilled Carpenters
Reliable, Skilled, and Valued Subcontractors
Top, Quality Materials
Unbeatable Customer Service
What You Get
75+ Years of Combined Custom Construction Experience
The Project of Your Dreams for the Price You Were Promised
You want to know exactly what you will get for your money, and Craig is happy to do so by offering you specific, accurate pricing that fulfills your vision at a price that works for you. He values honesty, integrity, trust, and customer satisfaction and proudly passes these core values on to every one of his clients.
Craig Schoenberg — owner of Schoenberg Construction, Inc of Saint Cloud MN — is one of the top Custom New Home Contractors in Central Minnesota. He always gives honest, fair bids with no lowball, fake pricing, and there's no sales pressure, ever! He always uses quality materials and never engages in sloppy workmanship. Plus, his company is known as one of the very best construction and remodeling companies in town.
Give him a call today at 320-252-0911 for your no-obligation consultation.