Any home renovation requires extensive planning and consideration—but the needs of your project can be different depending on how long you plan to stay in your home. Many homeowners today who plan to stay in their current locations through retirement are renovating with universal design features in mind.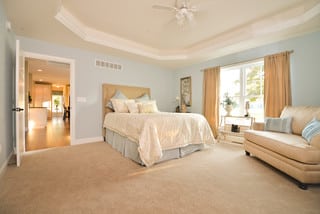 Universal design features make life easier and safer for everyone. They are designed especially to enhance convenience and safety for seniors living on their own who may be impaired in the future by conditions related to age or medical disorders. Homes with universal features are a great choice for anyone who has found a retirement property. A renovation with universal design features is also practical for homeowners who are interested in increasing the value of their properties.
What are Universal Design Features?
As people age, families often face tough decisions regarding senior care. Many seniors are unable to live safely in their own homes because steep staircases, narrow passages, and tall countertops pose hazards. It's difficult to give up the home where you lived and raised a family for decades, and many seniors suffer from a sense of loss and dependence when they are forced to move into retirement homes. Fortunately, universal design features offer an alternative option. A home that is built or remodeled with universal design features in mind may continue to act as a safe environment while still retaining the comfort and familiarity of home.
The following features are some of the most popular aspects of universal design.
Wide Doorways
Average-sized doorways are fine in middle age, but many seniors need more space as they get older. Elderly people may be afflicted by medical conditions that require the use of walkers, canes, or wheelchairs—aids that may not fit comfortably through standard doorway sizes. However, homes that are designed with wide doorways offer comfort and convenience as homeowners age.
Minimal Stairs
Staircases pose an obvious risk to seniors and disabled individuals, so many universally designed homes feature minimal stairs. Homeowners may choose to keep their homes to a single level to create easier access as they age. It's also important to keep in mind the number of stairs used both inside and outside the home. Walkways and any steps that are used should be kept in good condition and maintained for safety.
Large Bathrooms
Spacious, large bathrooms are a mark of luxury—and they also offer increased safety for aging homeowners. Tiny spaces can be difficult to maneuver and may pose an extra safety risk in a room like a bathroom where wet floors and humidity are common. Designing a home with a large bathroom in the first place is one of the best ways to plan for the future.
Adjustable Heights for Storage and Workspaces
Storage areas and workspaces made with adjustable height options are another popular universal design feature. Many storage units and countertops can be made to include convertible shelving. As homeowners age and encounter difficulty reaching the same heights that were once comfortable, a storage unit or working area with adjustable features is much appreciated and offers greater safety.
Why Should I Implement Universal Design Features in My Home?
Though it can be tough to imagine yourself needing universal design features in the future, it's important to consider their benefits before renovating, remodeling, or building your home.
Universal design features allow you to continue living comfortably in the same home as you age. Few people are eager to give up the memories and sense of independence that comes from living in their own homes. A property that is designed with universal safety and convenience in mind can allow seniors to enjoy the rest of their years living in familiar spaces.
Universal design can increase your home's value. Even if you're not sure whether or not you'll continue to live in your home through retirement, universal design features are a smart investment. Older homeowners and families who are looking for the perfect retirement spots are interested in homes that cater to their needs. Implementing universal design features into your home is an investment, but it's one that can have substantial rewards if you decide to sell the property.
Universal design features provide convenience and peace of mind. In many cases, the greatest benefit of universal design features isn't even the additional security they offer. It's the peace of mind you and your family will enjoy. Families of seniors frequently worry about their loved ones getting hurt or falling down the stairs—but a home with universal design features offers a safer space for elderly homeowners with reduced mobility. For many homeowners, the investment is well worth the cost when they know that they will be safer in the future and their loved ones won't have to worry.
~~~
Thinking about building a new home? Craig at Schoenberg Construction is one of the best Saint Cloud MN Home Builders and General Contractors. He always gives honest, fair bids with no lowball, fake pricing. Craig never uses cheap materials and never engages in sloppy workmanship, and his company is known as one of the top remodel companies in the Saint Cloud MN area because he INSISTS on doing every job EXACTLY right!
Give him a call today at 320-252-0911 or send him an email to claim your no-obligation and no sales pressure home improvement consultation.