The Benefits of Custom Home Designs, Saint Cloud MN— A custom home designed exactly to meet your family's desires may sound like a lofty dream—but it's actually well within your reach. Plus, the many years of joy and satisfaction you get out of a custom built home are priceless!
Custom homes can be planned and built in less than a year. They can also be an attractive alternative to remodeling or purchasing an existing home. Check out a few of the top benefits of building a custom home in Central MN for your family.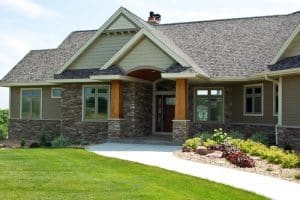 St Cloud MN Custom Home Design Benefits
1. Makes An Economical Choice
Without a doubt, custom home design is definitely an investment. However, a custom home doesn't necessarily have to break the bank. For some homeowners, custom homes can actually cost about the same amount as what they would otherwise spend on a new property or on a very large remodeling project.
If you're purchasing a cheap property that will require extensive remodeling, you may be better off starting from scratch and designing your own home. You'll also save yourself from the stress of having contractors coming in and out of your house constantly while you're living in it.
2. Suits Your Lifestyle
Custom home designs also give your family greater flexibility. You can design your home to suit your lifestyle exactly, choosing the number of bedrooms, bathrooms or additional spaces that will give you the greatest comfort. Many families also enjoy the opportunity to install special features like in-floor heating, under-cabinet lighting, and energy-efficient appliances.
If you've ever dreamed of having something specific in your home, a custom home design makes it a possibility. Remodeling, on the other hand, may prohibit you from moving ahead with some plans because you'll have to consider the locations of existing structures. A custom design is the best way to get exactly what you want out of your property.
3. Enhances Your Property's Value
If you choose to sell your home down the line, the chances are good that a custom-built home will retain greater value than a property that has aged further while you lived in it. Your custom home may include additional features that other houses in the area simply don't have. You can also vouch for the quality of the materials and provide close estimates of the age of everything in the home.
Finally, your custom home will be unique and personalized in a way that other homes are not. Properties with custom home designs in Saint Cloud, MN typically have a higher value than their cookie-cutter counterparts.
4. Provides an Assurance of Quality
You'll also enjoy a total assurance of quality when you build a custom home. When you move into an old house, you might not be able to tell where all the materials came from or how much life they have left in them.
By building your own home, you can choose the level of quality you want for each aspect. You'll know exactly how good each material is, and everything will be in new or otherwise great condition. A custom home provides peace of mind and the security that comes from choosing your own materials.
Craig at Schoenberg Construction is one of the top Custom Home Builders in St Cloud MN. Craig always gives honest, fair bids with no lowball, fake pricing. There's no sales pressure, EVER! And, he never uses cheap materials and never engages in sloppy workmanship, and his company is known as one of the top construction companies in the St Cloud Minnesota area because he INSISTS on doing every job EXACTLY right.
Give him a call today at 320-252-0911 for your no-obligation consultation.
Why Work With Schoenberg Construction
What We Value
Honesty
Integrity
Trust
Satisfaction
What We Do
Specific, Accurate Pricing
Highly Skilled Carpenters
Reliable, Skilled, and Valued Subcontractors
Top, Quality Materials
Unbeatable Customer Service
What You Get
75+ Years of Combined Custom Construction Experience
The Project of Your Dreams for the Price You Were Promised