Custom Home Floor Plans that Suit Your St Cloud MN Lifestyle
When you're ready to build a custom home, you'll need to start considering a floor plan before you can do anything else. However, browsing for sample plans online can be a bit intimidating. There are countless choices, and you may not be sure where to begin. Before you can get started, you need to take a few key steps.Consider what elements you need, what features you would like, how your family will grow and change over time, and what layout will best suit your family's lifestyle.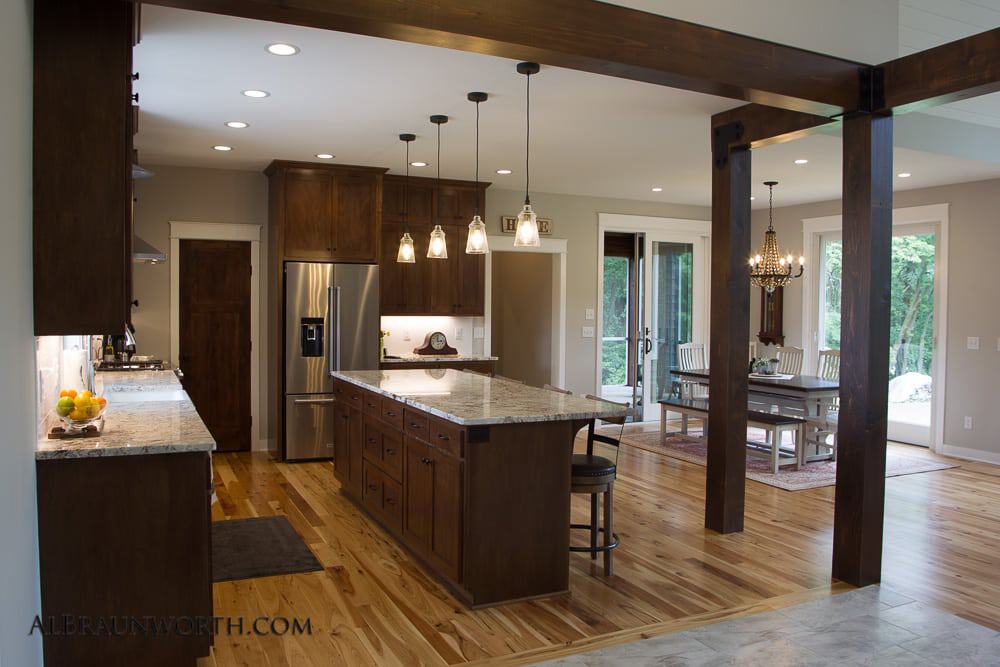 Determine What You Need
First, you'll need to start thinking about what elements your new home truly needs to have. Figure out how many bedrooms, bathrooms, and additional spaces your family will need—and include rooms such as the kitchen, living room, dining room, basement, or office. Don't forget about features like a garage, driveway, or closets. Be sure to prioritize each space and keep your list as minimal as possible. The key here is to really focus exclusively on your needs.
Think about What You Want
Now that you've figured out what you need, it's time to think about the features you want. Building a custom home is exciting because you have endless possibilities. If you can imagine it, the chances are good that we can build it. Dream big and include specific details such as granite countertops, hardwood floors, a backyard deck, or a deluxe walk-in closet. While you probably won't be able to include all of these items in your finished floor plan, considering what you want can help you start to think about which elements are really most important. The best custom home floor plans in Saint Cloud, MN include all of the features that families need in addition to several of the most important items that they want.
Designing with Growth in Mind
Consider how your family will change over the years. Most people who build custom homes plan to stay in them for many years. Whether this is your first home or a retirement home, your custom floor plan should grow with you and allow you to continue enjoying the property in the future. Think about your family's changing needs—will you have more kids, or will your kids get older and need their own bedrooms? Will you ever need an office at home or a third garage with room for "toys" or the kid's cars? Is there an easily accessible entrance in case you or your spouse has difficulty walking during your senior years? Before finalizing a floor plan, make sure your custom home is flexible enough to fit your family over time.
Consider Your Layout
Finally, think about the ideal layout for your family's situation, considering details like the locations of bedrooms, bathrooms, and closets. Some families prefer to have the children sleep upstairs and the parents sleep downstairs, while other families opt to keep all bedrooms on the top floor. Think about where you'd prefer to entertain guests—in a living room, dining room, or downstairs finished basement. Should the kitchen lead into the living room or dining room? Is it more convenient to have your storage area located upstairs or downstairs? Which bedrooms should have their own bathrooms, and where should guest bathrooms be located? It's important to make sure your floor plan includes space for all the rooms your family needs—but you should also be sure that you'll be comfortable with the flow of the layout.
After thinking about these important aspects of your new home, you'll be in a much better position to look over potential floor plans and figure out which ones will and won't work for your family. As you find potential designs, you can bring them to our team at Schoenberg Construction. We'll help make changes and adjustments to your custom home floor plan to give you the home of your dreams at a price you can afford.
Craig at Schoenberg Construction is a top Home Remodeling Contractor in St Cloud and Central Minnesota.
Why Work With Schoenberg Construction
What We Value
Honesty
Integrity
Trust
Satisfaction
What We Do
Specific, Accurate Pricing
Highly Skilled Carpenters
Reliable, Skilled, and Valued Subcontractors
Top, Quality Materials
Unbeatable Customer Service
What You Get
75+ Years of Combined Custom Construction Experience
The Project of Your Dreams for the Price You Were Promised
Craig Schoenberg — owner of Schoenberg Construction, Inc of Saint Cloud MN —  is one of the Custom New Home Builders Contractors in St Cloud and Central Minnesota.  
You want to know exactly what you will get for your money, and Craig is happy to do so by offering you specific, accurate pricing that fulfills your vision at a price that works for you.He values honesty, integrity, trust, and customer satisfaction and proudly passes these core values on to every one of his clients.
He always gives honest, fair bids with no lowball, fake pricing, and there's no sales pressure, ever! He always uses quality materials and never engages in sloppy workmanship. Plus, his company is known as one of the very best construction and remodeling companies in town.
Start building your dreams today—call Craig Schoenberg at 320-252-0911 or send him an email.