Construction Cost Estimate Saint Cloud MN: The Step-by-Step Guide to Getting an Estimate— Whether you're building a custom home, remodeling, or considering an addition, home construction is a complex process with many moving parts. A little organization and a lot of preparation can simplify your project and ensure that you get the home of your dreams without straying from your budget. Use this step-by-step guide to learn more about the process of getting a construction cost estimate for your St. Cloud, MN home.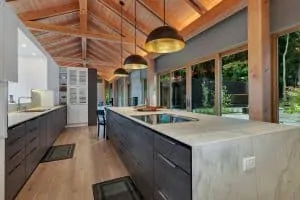 1. Think about Features You Might Want
Before you can get an estimate for your project, you'll need to start thinking about some of the features you might want. If you're building a new home or an addition, how many rooms will you need? Do you want bedrooms located upstairs or downstairs? Does your family need a finished basement? Once you have a general idea of what the home needs, start thinking about more specific features such as the types of flooring, windows, and cabinets you prefer.
If you're not sure where to begin, try browsing some sample floor plans online. Check out actual building plans, real estate websites, and home magazines to find inspiration and to get a better idea of what's available. Also, you can attend the St Cloud MN Tour of Homes (hosted every March). Keep in mind that you don't need to make any final choices right now. You should simply be thinking about what you like so that you'll have a general place to start when you meet with your contractor to discuss the estimate.
2. Meet with Your Contractor
Once you've started to get a general idea of what you want, schedule a meeting with your contractor to start planning. Your contractor will discuss various options with you and help you find other factors that you might still need to consider, such as the idea of making choices that will allow the home to grow with you over time. Though your contractor won't be able to give you a final construction cost estimate at this point, he can help you figure out whether or not the features you're thinking about fall near your budget.
3. Wait to Get Your Estimate
After meeting with your contractor, you can sit back and relax for a bit while you wait for your estimate. During this time, your contractor will work on creating a detailed budget that includes material and labor costs, subcontractor fees, permits, and licenses. If everything is still on track, he'll then start working on getting estimates from suppliers, electricians, and plumbers who will be providing additional materials or work. Once your contractor has collected all of this information, he'll put together an accurate and comprehensive construction cost estimate for your St. Cloud, MN home.
4. Refine the Plan
When you receive your estimate, you'll have a better idea in mind as to whether or not you're close to your budget. From this point, you can start refining the plans in order to make sure you can afford everything and that the project is still as close to what you want as possible. While it might be hard to cut out features you really wanted, your contractor can help you sort through your wants and needs and make recommendations so that the final plan is both affordable and satisfying.
You want to know exactly what you'll get for your money and at Schoenberg Construction we are happy to tell you by offering you specific, accurate pricing that fulfills your vision at a price that works for you. We value honesty, integrity, trust, and customer satisfaction and proudly pass these core values on to every one of our clients.
Are you looking to quality building contractor in the St Cloud MN area? If so, you need to know that Craig Schoenberg — owner of Schoenberg Construction, Inc of Saint Cloud MN — is one of the best Home Improvement, Remodeling, and General Contractors in Saint Cloud and Central MN. He always gives honest, fair bids with no lowball, fake pricing, and there's no sales pressure, ever! He always uses quality materials and never engages in sloppy workmanship. Plus, his company is known as one of the very best construction and remodeling companies in town.
Give Craig a call today at 320-252-0911 for your no-obligation consultation.
Why Work With Schoenberg Construction
What We Value
Honesty
Integrity
Trust
Satisfaction
What We Do
Specific, Accurate Pricing
Highly Skilled Carpenters
Reliable, Skilled, and Valued Subcontractors
Top, Quality Materials
Unbeatable Customer Service
What You Get
75+ Years of Combined Custom Construction Experience
The Project of Your Dreams for the Price You Were Promised