Functional Design for Young Families— Though some people buy their first home with the idea that it will be a "starter home," others prefer to stay put and want to raise their families in the same place.
There are certainly clear benefits to moving to a larger space, but there's also a lot to be said for the simplicity and sentimental value of sharing years of memories in a single home.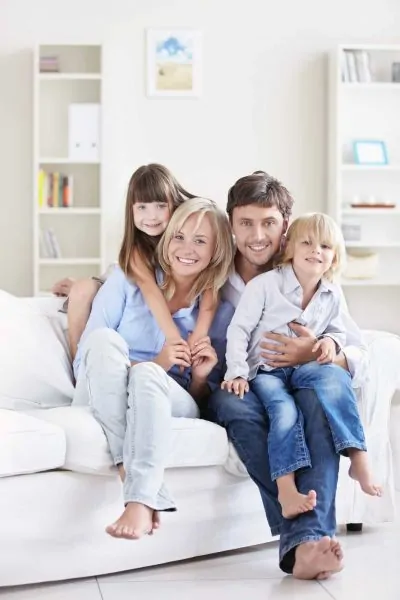 If this sounds appealing to you, you should know that with a little bit of careful planning, you can easily maximize the space you have so that you won't need to move to a larger property down the line.
What's the secret to making sure you can stay in the same home as your family grows? Well, it all comes down to focusing on functional design and setting your house up in such a way that it can easily transition as your family ages.
Read on to learn more about a few key functional design aspects that will help you remain in the same home for years to come.
Four Key Functional Design Aspects
1) Determine How Many Rooms You Really Need
The toughest part of staying in one home as your family grows is making sure you have enough rooms for everyone to have plenty of space. When your kids are young, they can easily share bedrooms—but as they age, they may need the privacy and additional space afforded by having separate rooms.
Unless you're starting out with a large, spacious home that has enough bedrooms for each child at the outset, you may need to get a little creative with your planning. For instance, you may be able to convert an office into a bedroom for a child—or perhaps you can build a bedroom or separate living space in a finished basement. Though it may seem unnecessary to plan so far ahead, it's important to consider these decisions as a part of your functional design plan if you truly wish to stay in the same place as your family grows.
2) Create Multi-Functional Lifestyle Space
Another great way to plan for the future through functional design is to build several multi-functional living spaces into your home. The goal here is to design individual rooms with enough flexibility so that they can be adapted to other purposes as your family's needs change.
For example, a finished basement that serves as a play area for the kids when they're young can easily be transitioned into an entertainment center and hangout spot when they reach the tween and teen years. Similarly, you may be able to transition a guest bedroom into a full-time bedroom for a child when it's time to give the kids their own rooms.
3) Organize Bathrooms for Strategic Sharing
Next, consider how many bathrooms your home has—and which ones can easily be shared as your kids get older.
Many modern homes are built with shared bathrooms between two adjoining bedrooms, which can work well as your kids get older. Some of these designs even have separate toilets for each room, with a shared sink and shower space located in between.
If you're purchasing a new home, be sure to also consider where in the house the bathrooms are located. A listing that advertises 3.5 bathrooms may not be as useful as you're imagining if 1.5 of the bathrooms are located downstairs or in a finished basement, as opposed to upstairs where all of the bedrooms are. If you'll still live in this house when the kids are going through their teenage years, you'll likely want plenty of bathroom space so that no one has to fight while getting ready in the mornings.
4) Add Flex Spaces Throughout the House
Finally, try to add a few multi-purpose spaces that everyone can use into your functional design plan in order to save space and valuable square footage for more important needs. For example, you can likely get by without having a full office if you instead develop a small workspace in an upstairs landing area or corner of the basement.
Similarly, you can have two young kids share a bedroom and use another empty room as a playroom—and then convert the playroom into a second bedroom when the kids are older and need their own space.
Or, consider designating a small area in the living room or kitchen to serve as a playroom. When the kids get older, you can put a desk there instead and they can use it as a homework space.
Functional design is all about making the most of the space you have—and with a little bit of planning, it can help you and your family enjoy your home for many years to come.
~~~
You want to know exactly what you will get for your money, and Craig is happy to do so by offering you specific, accurate pricing that fulfills your vision at a price that works for you. He values honesty, integrity, trust, and customer satisfaction and proudly passes these core values on to every one of his clients.
Craig Schoenberg — owner of Schoenberg Construction, Inc of Saint Cloud MN — is one of the top General Contractors in Central Minnesota. He always gives honest, fair bids with no lowball, fake pricing, and there's no sales pressure, ever! He always uses quality materials and never engages in sloppy workmanship. Plus, his company is known as one of the very best construction and remodeling companies in town.
Give him a call today at 320-252-0911 for your no-obligation consultation.
Why Work With Schoenberg Construction
What We Value
Honesty
Integrity
Trust
Satisfaction
What We Do
Specific, Accurate Pricing
Highly Skilled Carpenters
Reliable, Skilled, and Valued Subcontractors
Top, Quality Materials
Unbeatable Customer Service
What You Get
75+ Years of Combined Custom Construction Experience
The Project of Your Dreams for the Price You Were Promised