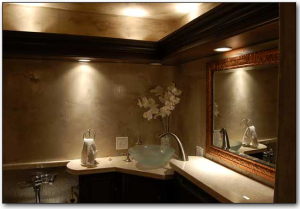 Recessed lighting is a simple cost effective way to enhance the decor of any room in your home, outdoor living environment, or house exterior.  In fact the sheer functionality of recessed lighting allows you to quite literally see things in a whole new light.
The application and utility of redirecting light has been used since roman times to enhance how we perceive dimensions, space and form. Before modern conveniences (i.e. recessed lighting) people relied upon the sun, and the manipulation of its rays to affect a certain feel and look of any given room. This was achieved by bringing light into a room by means of an oculus set into a ceiling, or windows that allowed light to enter from the side.
Colored or stained glass was another another technique used years ago to change the lighting hue or tone in a room.  The ability of light to create subtle change and/or enhance the appearance of the interior of a home has been with us through the centuries and has carried through to modern times, but with updated technologies of course.
Recessed lighting is a perfect lighting solution for our modern times, and thankfully it is now possible to truly control light in a way that is non-obtrusive, subtle and variable.  Consider that all manner of effects can now be brought to light a home with a simple flip of a switch or turn of a dial. The vast array of modern fixtures, color combinations, and bulbs of varying intensity and luminosity brings about a nearly infinite combination of possibilities, especially in regards to recessed lighting choices. Limitations of the recent past are no more. Dull, drab fluorescent bulbs or glaring inefficient incandescents no longer need to hide within a fixture, which in themselves present a certain unavoidable element to your decor.
The beauty of light that seems to emanate from within, aka recessed lighting, does so in part thanks to the freedom from being ensconced within a fixture.  Recessed lighting is perfect choice for office space, kitchens, retail showrooms, and outdoor environments such as patio, porch, and pool areas. (The enhancement and use of outdoor living areas has come into vogue.) Pool and water elements are all given a make-over by the application of shimmering light achieved through recessed lighting. Outdoor kitchens benefit from such treatment as do reflecting pools, and landscaping can be easily rendered anew by application of recessed lighting whose fixtures no longer detract from the desired aesthetic.
The application and use of recessed lighting can truly change, and enhance the way we perceive the look and feel of any room or outdoor living space. Rooms that for many reasons cannot be remodeled could benefit from the addition and proper application of recessed lighting. The latest addition to find favor is L. E. D lighting. The durability and longevity of L. E. D lighting is equally matched with it's efficient use of energy.
Wiring and the safe installation of recessed lighting and electrical fixtures is a science, and as such safety, as well as state and local laws dictate the use of a qualified electrician. Creating a mood or achieving a specific look is an art. For this reason, consider employing the services of a lighting architect or a interior designer as they understand the purpose and principles and desired effects sought by you, the Central MN home owner.
~~~
A quality St Cloud MN General Contractor is always willing to help you make the best choices for your next remodeling project. Craig at Schoenberg Construction is one of the top remodelers in Central Minnesota.  Give him a call today at 320-252-0911 for your no-obligation consultation.