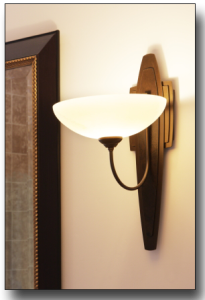 Wall Sconce Lighting —
Lighting plays a crucial role in the ambiance of your home; as a matter of fact, the light fixtures used in a specific area of your home can often make or break the effect of the decor. So, it's imperative to choose wisely when confronted with the assortment of light fixtures available in the market today. Although the choices range from sterile fluorescent tubes to ornate chandeliers, an all time favorite among home owners is sconce lighting.
Often called wall lights, wall sconce lighting fixtures are elegant, available in a myriad of designs that will do justice to any type of decor theme and above all they cast a smooth and warm glow in the room as opposed to flooding it with harsh light. Here is a look at the different types of wall sconce lighting choices available to you and some reasons why you should choose sconce wall lights for your home over other light fixture options.
The Different Types of Wall Sconce Lighting
The English Tudor style wall sconce lighting option:
The characteristic design comprised of narrow pleated glass flutes that point downwards instead of upwards as in the case of other sconce fixture designs. The light cast from this type of a lamp is dimmer but is ideal for the bedroom to create the perfect romantic and cozy setting. An assortment of materials and designs are used to create the wide variety of inverted sconce wall lights available in the market.
Storybook style wall sconce lighting option:
As the name suggests, this type of lamp is reminiscent of old English novels particularly those authored by Charles Dickens. They are made through the use of metal encasing and usually crafted from cast iron or black metal that holds a contrasting yellow shade with an oblong bulb inside. The look works very well with antique decor themes. These lamps are ideal for use as porch lights and are also suitable when placed on the outdoor walls, to the side of the door.
Craftsman style wall sconce lighting option:
This is another design that is created through the use of cast iron; the design consists of a single or multiple sconces made through the use of black metal with a variegated white globe; usually opaque that is held out, away from the wall. The effect is a bright warm glow that is just right for outdoors and dim hallways.
Colonial style wall sconce lighting option:
This is another typical design that can be spotted from a mile away. The extremely functional and utterly gorgeous fixture will usually have an "s-shaped" hook in the assembly that is used to suspend the glass shade creating the look of a bluebell bud.
Sheffield style wall sconce lighting option:
While not as popular as some of the other designs of sconce wall lights, the Sheffield Style has its own allure. It's extremely ornamental and looks like antlers projecting out of the wall with a dangling light fixture at its end. While the shades have a typical tulip shape and flared rims that add to the appeal of the fixture, the central plaque usually has a sunburst or sunray design.
Tiffany style wall sconce lighting option:
The definitive look created by Tiffany sconce wall lights can be attributed to the use of stained glass in the assembly. Available in eclectic designs where the sconce is held close to the central plaque without an arm suspending it, the design is perfect for small spaces or even Spartan walls that need a dash of color.
Art Deco Porcelain wall sconce lighting option:
If you are a fan of art Deco, modern style architecture and would like to own a piece that recreates the neo-modern 1950's appeal, the art deco style sconce light will be perfect for you. The style first emerged in Miami South Beach almost 6 decades ago and has been a hit since then; the angelic pure white porcelain used in the design is the remarkable aspect of these lamps.
Art Deco style wall sconce lighting option:
This design will usually include frosted glass cups, engraved with stunning designs that are held in an assembly that resembles a hand mirror.
Simple porcelain wall sconce lighting option:
These lights can form the perfect gateway for your creativity; if you are itching to flex your artistic muscles, try buying simple porcelain sconce that can be painted to reflect your personality. You would be surprised at the memorable pieces that can be created with a few colors and brushes in hand.
Why use wall sconce lighting in your home?
Variety of Styles and Colors: This is one of the primary reasons why wall sconce lighting have stood the test of time; whether you prefer the vintage, classic or contemporary look; chances are that you will easily find wall sconce lights that will suit your taste.
Easy to install and maintain: Unlike chandeliers, sconce lights do not have intricate pieces that can be a pain to clean and maintain. Installing sconce lights is not particularly tedious if you have an electrical point already made for the purpose.
Versatile: Wall sconce lighting options are among the most versatile light fixtures; they can be used indoors as well as outdoors and in just about every area of the house.
Affordable: The significant styles and varieties and designs of sconce lights make it simple to find one that will suit your budget and taste. As a matter of fact, wall sconce lighting can be a vital part of your energy saving plans. They provide the requisite amount of light in an area without having to switch on all the light fixtures in the room.
~~~
Craig at Schoenberg Construction is one of the best General Contractors in St Cloud. Craig always gives honest, fair bids with no lowball, fake pricing, plus there's no sales pressure, EVER.  He never uses cheap materials and never engages in sloppy workmanship, and his company is known as one of the top home renovation companies in the Saint Cloud Minnesota area because he INSISTS on doing every job EXACTLY right.
Give him a call today at 320-252-0911 for your no-obligation consultation.