Designing Your Perfect Outdoor Living Space – Warm weather is on the way—and we don't know about you, but we're feeling ready to get outside and start enjoying the sunshine once again!
Before spring officially arrives, now is the perfect time to get your outdoor living area ready for the upcoming season.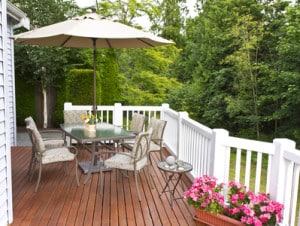 Here are six elements of a beautiful outdoor space you should be thinking about so that you can get ready to enjoy the upcoming warmth of spring and summer. Explore, enjoy and have a blast dreaming about spending some time on your newly constructed outdoor living area this year.
6 Elements of a Beautiful Outdoor Space
1. Patio
Up first is your patio! If you don't have one yet, it's time to think about adding one to your backyard—and if you do have one, you'll need to spend some time cleaning it and getting the space ready to be used again. Our St. Cloud outdoor construction team can help you design and build the patio of your dreams. We'll help you select the right ground material, layout, and design options to develop a functional, enjoyable space before spring arrives.
2. Balcony or Deck
Some homeowners opt for the comfort and convenience of a private balcony or deck over or in addition to their patio space. If a balcony or deck feels like the right option for you, consider where you'd like the area to be. While many people prefer decks that open up off the kitchen, some homeowners prefer balconies leading off their bedrooms so they can sit outside in the evenings or early morning light.
3. Plenty of Seating
If you're planning to use your outdoor space for entertaining, it's important to make sure you'll have enough room for plenty of seating—and a plan as to what type of furniture you'd like to have. Some homeowners opt for traditional patio furniture and outdoor chairs, while others prefer lounge seating and recliners. You may also want to consider installing a bench that goes around the perimeter of the outdoor area for extra seating space.
4. Pond
Have you thought about adding a small pond to your backyard? Whether you're looking for a place to keep koi and small fish or you'd like the ambient noise of a running fountain, a small pond is a beautiful way to enhance your outdoor living space.
5. Fire Pit
Fire pits are one of the most popular new additions to outdoor living spaces, as they offer a relaxing space to sit around on warm summer nights and a bit of added comfort on the cooler evenings during the spring and fall. There are all sorts of styles for fire pits available, so ask your St. Cloud contractor to help you choose the best design for your family's outdoor lifestyle.
6. Outdoor Accessories
Finally, don't forget the outdoor accessories! Though these elements don't necessarily fit into your outdoor construction plan, they will be an important part of the way you enjoy your new backyard entertaining space. When you're planning out your budget for the outside area, be sure to include new items you may need like a grill, patio furniture, patio umbrella, tiki torches, outdoor lighting, dinnerware, and more.
Links & Resources
~~~
Craig at Schoenberg Construction is one of the best Home Remodeling Contractors in St Cloud and Central Minnesota. He always gives honest, fair bids with no lowball, fake pricing. And there's no sales pressure, EVER! He never uses cheap materials and never engages in sloppy workmanship. Plus, his company is known as one of the top construction and remodeling companies in the Saint Cloud MN area because he always insists on doing every job exactly right.
Give him a call today at 320-252-0911 for your no-obligation consultation.