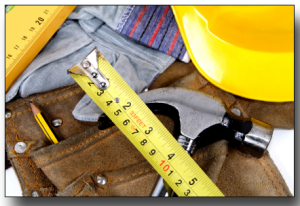 The key to a successful remodeling project is understanding that remodeling costs are fluid, and that you can't set a specific budget and expect it not to change (because it absolutely will). This is exactly why it's critical that you have a project budget and that you understand when to make adjustments.
How can you control your remodeling costs? One thing is for sure: Remodeling costs can often grow quickly, but they need not get out of hand.  Keeping your building costs under control by understanding and managing your budget is the best way to ensure that your project doesn't break the bank!
Of course, remodeling costs vary by region, by job and by any number of other factors like materials chosen, the cost of the skilled laborers doing the work and other choices you make. But there are some common factors to budgeting that you should know about before beginning your next remodeling job.
Remodeling Cost Guide
for Central MN Homeowners
Keep a Budget
Many homeowners know generally how much they want to spend on a remodeling project, but don't set a specific budget. Not setting a specific budget is the a sure way to invite cost overruns. So be sure to set a target budget for your project.
Now, depending on the remodeling project, it might be acceptable to look at the budget as a whole and adapt spending so that you don't incur overages. Most remodeling projects will require a more detailed budget which is why we suggest that you  have a budget for each item in the remodel job. You'll need to determine exactly how much you want to spend on flooring, on cabinets, lighting fixtures and so forth.  This information will guide your purchasing decisions.
You can always make adjustments by reducing one budget line item in order to accommodate an increased budget in another area. By having a detailed budget and watching the costs of each line item, you can assure that there will be no budget surprises. Remodeling costs can easily get out of control if you aren't vigilant about establishing a budget and sticking to it.
Track your budget
Depending on the size of your remodel project, you might be able to track the costs of the job on a piece of paper and with a pencil (though keep an eraser handy) but as the job gets bigger so do the remodeling costs and there's greater amounts of information to track.
If the remodeling job is more than a small job, you'll want to have a good system for tracking the costs and making adjustments. You might create a small spreadsheet for this purpose or there are many software programs that are designed for tracking remodeling costs and these can help you to quickly and easily see where the money is going, determine if you need to make cutbacks or help you alter one budget category in order to accommodate another.
Some people will take naturally to this part of the remodeling job, but others will need the help that a software program can provide. You might also consider letting a trusted St Cloud general contractor handle this for you.
Know when to make adjustments
When tracking remodeling costs, you might find that something is out of line. There's too much money going in one direction and not enough in another direction. If your budget is fairly firm you might not know how to make adjustments, or feel that you can't make adjustments or are stuck with the numbers as they are. This could mean that some part of your project ends up not getting done in order to accommodate the expenses. This is a common mistake that do-it-yourselfers often encounter. Avoid this if at all possible!
If you are remodeling a bath, for example, you might discover the new cabinets and cabinet installation is going to cost 30 percent more than anticipated. This doesn't mean that you can't have the new flooring also, but maybe instead you choose a slightly less expensive flooring material. Or if you decide that you must have the flooring you originally chose, you might need to adjust the expectations you have for the cabinets and choose a less expensive wood or fixture.
The concept of 'remodeling costs' can be scary to many homeowners, but with a little planning and foresight, keeping track of these expenses doesn't have to be overwhelming, unwieldy or impossible to handle. Just remember that budgeting is key.
Remodeling costs are a concern for homeowners, and you know this already if you've ever overseen a remodeling job in your St Cloud, MN home.   Of course a quality Saint Cloud Contractor is always willing to help you stay on budget for your next remodeling project. Craig at Schoenberg Construction is one of the best remodelers in Central MN.  Give him a call today at 320-252-0911 for your no-obligation consultation.