Begin Prepping for a Long Winter with a Roof Inspection — We've been talking a lot about winter lately, mainly because it's creeping up on us. A look at the 10 day forecast shows that we're gonna be continuing to dip down below freezing into the evening. That's a bit of a downer considering that we've only just hit the Halloween season and we might start to feel the effects of snow. With an early winter potentially coming to St Cloud, it's a good idea to put some of those general home improvement projects on hold and ensure that your home is really ready for the cold winter season.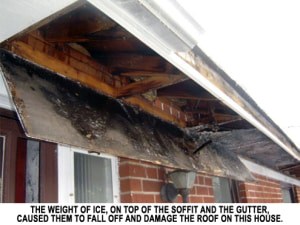 When it comes to home improvement projects, most homeowners want to save as much money as possible. On bigger projects like having a St. Cloud general contractor work on the roof, most of us would rather avoid it altogether.
…we don't even like the thought of replacing our own roof.
Unfortunately, like all things, it has to be done eventually but you can take steps to increase the lifespan of your own roof. When you're preparing for winter, one of the first things you should tackle is the gutter system around your home. With all the leaves and debris from trees that are "shedding", you'll end up with a lot of debris unless you have appropriate guards. It's important to clean those gutters to keep them from getting backed up.
During the winter, ice and snow regularly thaws and drains from your roof. If the gutters are blocked even a little, that drainage could back up. If the back up becomes severe, the water will pool and could back up under the shingles of your roof into the sheeting. When it refreezes during the next storm or temperature drop, the expanding ice can severely damage the flash, sheeting, soffit, and shingles of your roof.
As this continues to happen over the course of a harsh winter like we sometimes see in St Cloud, you could wind up going from a nice roof in good shape to a catastrophe by spring – one in which you'll be forced to seek out a St. Cloud general contractor for roof repair and installation. As much as we love working with the homeowners in our community for minor and major remodel projects, we certainly don't want those in our community to suffer unnecessary damage that can be easily prevented.
And that roof damage can be a great concern for your safety as well. On older homes in St Cloud and across Minnesota where a roof may be reaching the end of its life, soft spots developed over years of moisture could give way if water backs up into the roof and freezes.
The sheer weight of ice and additional fallen snow could cause the roof to collapse into the attic and/or the rooms of a home. Catastrophes like this can damage a home beyond repair and put the lives of you and your family at risk.
If you do not have covered gutters on your home, take the time to ensure that your drainage system works properly.
If you're not certain how, or you're not able to do, you can contact a general contractor that can come out to inspect your drainage and gutter system as well as your roof.
This is an excellent time to complete a roof inspection in St Cloud with a general contractor, especially if you aren't certain of the age of the roof on your home.
Likewise, if the roof is showing signs of age now may be the best time to get some roofing repair done at the last minute.
Roof Inspection Links & Resources