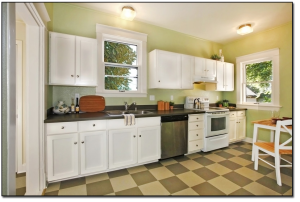 If you love to cook but seem to have lost the appetite to spend time in the kitchen, you haven't necessarily lost your touch. As in most cases of kitchen burnout, cooks lose their motivation because the kitchen is literally cramping their style. In other words, the place has become too dull or unwieldy that they'd rather phone for pizza delivery than prepare their favorite home-cooked recipe.
Indeed, just like any workplace, the kitchen should put you in a good mood and looking forward to preparing the next meal. If buying a new house with a big kitchen is out of the question, you can make your existing space more conducive to cooking through a well-planned kitchen remodeling. Below are some practical tips to make your small kitchen more convenient, fully functional, and looking, well, yummy.
7 Small Kitchen Remodeling Tips
Kitchen Remodeling Tip #1: 'Think 'Deep'
More than just being a venue for cooking, the kitchen is a place to store the things used for preparing food. Understanding this fact is important because it will guide the kitchen remodeling design towards ensuring that adequate storage space is created. Doing so prevents clutter which makes a small kitchen appear even smaller.
One way to maximize storage space is to use deep counters that can accommodate more items and provide a wider work area. Another solution is to use tall cabinets that can hold more volume while freeing up floor space. The upper drawers can keep the seldom-used gadgets while the lower ones can house the kitchen staples.
When it comes to choosing the sink, it is more practical to install a large one, especially if you have big pots and pans to clean.
Tip #2: Color it Right
One trick to small kitchen remodeling is to use light and bright colors because they make a kitchen appear bigger. You'd be surprised how simply using white, beige, light green, or yellow, among others, can create an illusion of space. Installing pastel or light-textured curtains and blinds also achieves the same effect.
When deciding on the colors and patterns for the walls, floor, and ceiling, use your imagination and don't be shy to use bold combinations that brighten up the space as well as your mood. Just remember to make them complement and not clash with the colors of the appliances, cabinets, and other kitchen elements. Your choice of paint finish should also be grease resistant and easily washable.
Tip #3: Lighting is Everything
Even a small kitchen appears big with adequate and creative lighting. Always keep the area bright with recess lights which are a good alternative to fluorescent lamps. Put halogen lights under the cabinets or counters for a more dramatic feel.
Modern kitchen remodeling techniques also incorporate reflective materials like stainless steel appliances and countertops as well as glass cabinet doors which amplify light and create a sense of space. Aside from ambient lighting, provide natural light by installing bigger windows which should always be kept clear to allow daylight and provide an outdoor view that helps take away the feeling of confinement.
Tip #4: Get the Hang of It
A smart way to free up cabinet space is to hang your cooking utensils. Your kitchen remodeling design can incorporate an area where you can put up hooks for your pots, pans, strainers, etc. Apart from being easily accessible, they add a certain charm and functionality to the work area.
Tip #5: Avoid Duplication
Your kitchen remodeling can avoid drastic and costly alterations simply by doing away with superfluous fixtures or appliances. You don't need two microwave ovens, a couple of trash bins, or mechanical and manual mixer all competing for space in an already cramped area. Putting the redundant or seasonal items elsewhere will ease the congestion.
Tip #6: Make Every Square Inch Count
The objective of small kitchen remodeling is to make every available space useful. This can be done by customizing features that conform to the physical characteristics and limitations of the area. Things like fold-up or tuck-in tables, or appliances that can be placed inside or underneath cabinets are good examples.
Let overhead cabinets extend to the ceiling, avoiding gaps that could fill with dust which are difficult to clean. You can also hang aprons, gloves, mitts, and other kitchen utensils behind cabinet doors.
Tip #7: A Small Kitchen Can be Ideal
Having a small kitchen is not a handicap if you can make it more efficient according to your needs. Small kitchen remodeling should therefore make use of the appropriate design ideas to create optimum storage, countertop, and floor space. It should also incorporate other aesthetic elements like lighting and color to enhance the kitchen's overall appearance.
Craig at Schoenberg Construction is one of the best Kitchen Remodeling Contractors in St Cloud. Craig always gives honest, fair bids with no lowball, fake pricing, plus there's no sales pressure, EVER. He never uses cheap materials and never engages in sloppy workmanship, and his company is known as one of the top home renovation companies in the Saint Cloud Minnesota area because he INSISTS on doing every job EXACTLY right.
Give him a call today at 320-252-0911 for your no-obligation consultation.