Lighting Ideas for Your Saint Cloud Home—
It doesn't matter where you are, nothing sets the mood quite like having the right lighting.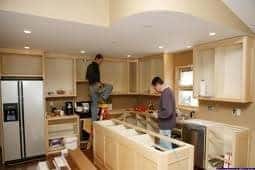 A common area that is overlooked in St Cloud homes during periods of home improvement is the lighting. That's not to say that people completely ignore it, as they may install a new style of light but rarely do people consider the potential of working with an electrician or St Cloud general contractor to completely refresh the style of lighting in their home.
Home Improvement Ideas to Brighten Your Home this Winter
With winter around the corner, it's a great time to start thinking about the lighting in your home. The sun has already started rising later and setting earlier. Our daylight is shrinking and that leads to a major issue of Seasonal Affective Disorder for some people. Getting the right amount of light on a daily basis can help curb that dull, melancholy feeling that comes with gloomy winter weather.
There's only so much the holidays can do, but you can take it to the next level with a few minor tweaks around your home. If you've already got some interior remodeling scheduled to keep you busy then this is the perfect home improvement idea to have a general contractor tackle for you on the side.
Recessed lighting is one of the more popular choices for the home. The major benefit is that you can bring in additional light sources to an area without creating a blinding effect as the bulbs won't be shining directly into the eyes of family and visitors. This type of hidden lighting is a great project for a general contractor and can be done in any room throughout your home.
If you're not keen on recessed lighting (it always comes down to style and preference), there are numerous other forms of "hidden" lighting that can be installed behind faux support beams that wrap the room at the ceiling level. Behind these wood beams are numerous lights that cast their glow at the wall which will, in turn, reflect the light back out into the room.
As winter approaches people often revise their remodeling lists to target areas within the home, and one of those target areas ripe for a good remodel is the kitchen. For many homes, the kitchen receives very little attention in the way of lighting – most of which is overhead. When you're working in the kitchen, no amount of large overhead lighting centered in the room is going to make a kitchen in St Cloud comfortable. No matter where you stand you'll be casting shadows on your work area.
When you're remodeling your kitchen space, consider taking the time to work with a general contractor to flesh out the lighting here as well. Under-cabinet lights attached to a dimmer with individual switches can be helpful, as well as track and/or recessed lighting over a variety of work areas. If you fancy some custom designs to your cabinets and cupboard you can have soft glow lighting installed in cabinets and drawers that radiates when you open them. For those of us with aging eyes, these St Cloud home improvements are a godsend.
~~~
Craig at Schoenberg Construction is one of the best St Cloud Home Improvement Contractors in town. Craig always gives honest, fair bids with no lowball, fake pricing, plus there's no sales pressure, EVER. He never uses cheap materials and never engages in sloppy workmanship, and his company is known as one of the top home renovation companies in the Saint Cloud Minnesota area because he INSISTS on doing every job EXACTLY right.
Give him a call today at 320-252-0911 for your no-obligation consultation.