Kitchen Remodeling Saint Cloud, MN— You have a vision for your new kitchen—and now all you need is a plan. While the idea of remodeling your kitchen might sound complicated, it doesn't have to be. The key to a simple and enjoyable kitchen remodeling experience is to begin from the most important starting point: your dreams.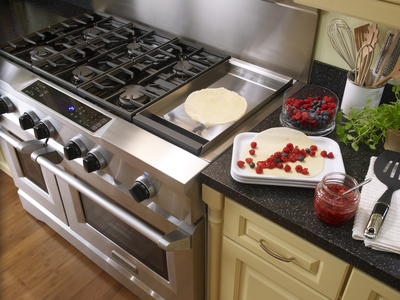 A dream of your new kitchen is most likely what led you to the choice to remodel, so it's essential to consider what you really want and imagine in the redesigned space.
In this guide to beginning kitchen remodeling, we'll take a look at some of the choices you'll need to make and help you find the best ways to plan your project.
Kitchen Remodeling Tips on Where to Begin
1. Defining Your Dreams
Before you begin planning anything specific, take some time to consider your dreams. Don't worry about the practical constraints of space or costs; instead, allow yourself to picture your ideal kitchen. Do you picture an island for food prep or granite countertops? Do you want a sitting area for your family to enjoy coffee or space for a wine cabinet? Are you interested in updating the space to make it more child-friendly for growing toddlers?
In the early stages of planning for your kitchen remodel, focus on figuring out what you hope to gain from the project. With an understanding of your ultimate goals and a clear picture of what you hope to achieve, it will be easier to make specific choices down the line.
2. Separating Wants and Needs (and Finding Space for Both)
Once you've determined what you want to obtain from your kitchen remodel, it's time to begin breaking down the components of your dream kitchen into wants and needs. Most items on your list will be easy to categorize, but some will demand greater consideration. To decide whether a kitchen component is a want or a need, try thinking back to your image of the ideal kitchen. Does the item help you meet one of your remodeling goals, or is it an extra luxury? There is no right or wrong answer. Only you can determine what components are vital to your family's dream kitchen.
The most successful remodeling projects strike a balance between including wants and needs in the finished kitchen. Naturally, needs must be included in order to meet your remodeling goals—but it's just as important to consider what will bring joy and pleasure to your home and your family. There is almost always space to include both wants and needs in the remodeling process. In many cases, you can find ways to save on less-important necessity items in order to find room in your budget for the things that will bring you happiness.
3. Working Toward Your Vision
With a clear picture of what you want in your kitchen and an understanding of the items you'll need, you'll have developed an overall scope for your project. With that in mind, you can begin finding solutions for your home. Through the lens of your dream kitchen and with a balanced perspective on your wants and needs, you can narrow the field of choices substantially.
Your Saint Cloud general contractor is a key resource throughout remodeling, helping you find solutions to each aspect of your project. From locating durable, high-quality products to choosing the most suitable energy-efficient appliances for your home, your contractor will be there to guide you through each choice of the remodeling process. Together, you and your contractor can devise a plan that will fulfill all of your remodeling goals and allow you to experience the kitchen of your dreams.
Craig at Schoenberg Construction is one of the best Saint Cloud MN General Contractors. He always gives honest, fair bids with no lowball, fake pricing and there's no sales pressure, EVER! Craig never uses cheap materials and never engages in sloppy workmanship, and his company is known as one of the top remodeling companies in the St Cloud MN area because he INSISTS on doing every job EXACTLY right.
Give Craig a call today at 320-252-0911 for your no-obligation consultation, or tell him about your home improvement project here.