St Cloud MN Home Builders—
For the few of us that have the determination or the luck to be in a position to choose new custom home construction, but it can really be a dream come true. There is a lot more effort required on your part as far as decisions regarding not only the plans and materials but also the finished style of the home. You must learn to rely on your general contractor and designers to be your partners in this process; your relationship must be an amicable one.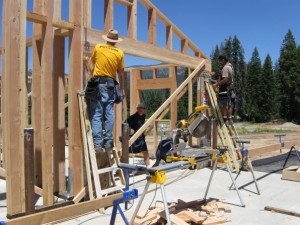 We have experience dealing with some of these issues, and we feel it is our duty to do our best to inform you of them.
Custom Home Construction Do's and Don'ts
DO have a professional architect draw up the plans for your home. All too often a homeowner will try to save a few bucks by having a friend of a friend draw up the plans for a new custom home project to save a few bucks and end up with a disaster in the middle of the construction when the flaw in the plans reveals itself. It is better to spend the money to do it right the first time because it will cost more than double if you try to skate by with something cheap.
DON'T sacrifice quality materials to stay on budget. Unless you want your new home to fall apart in a few years, you need to invest in construction materials that will stand the test of time and be safe for your family in the future.
DO monitor the construction progress. Talk to your general contractor regularly, no less than once a week, to discuss progress reports, budget concerns, and all of the other things that are necessary when building a structure from scratch. If you do not understand what your contractor is telling you, politely ask them to break it down for you into simpler terms, a general contractor may not know how familiar (or unfamiliar) you are with construction work.
DON'T let the stress get to you. You have a lot riding on the success of the home construction project, so it is common to be very emotional. You must remember that clear, logical communication is the only way to properly voice your opinions and concerns. If your contractor speaks to you in tones that you find disrespectful, then you should probably find another one because such unprofessionalism should not be tolerated.
DO enjoy picking out all of the details that will go into your home. That is the really fun part for the homeowner. A home isn't really yours until you have added all of the little touches that reflect your unique creativity and style. Work with your designers to come up with plans for all of your beautiful new rooms.
New custom home construction can be both nerve-wracking and unhealthy for your bank accounts, but it is worth it in the end to have a home that is not only stunning to the eye but also yours in every sense of the word.
~~~
Craig at Schoenberg Construction is one of the best St Cloud Home Construction Contractors. Craig always gives honest, fair bids with no lowball, fake pricing, plus there's no sales pressure, EVER. He never uses cheap materials and never engages in sloppy workmanship, and his company is known as one of the top home renovation companies in the Saint Cloud Minnesota area because he INSISTS on doing every job EXACTLY right.
Give him a call today at 320-252-0911 for your no-obligation consultation.