Remodel Advice for You. You followed all the right advice when it was time to hire a remodeling contractor. You checked references and chose someone you trusted.
In the beginning, everything was great. Your contractor seemed to understand what you wanted. He stayed in touch with you and gave you regular updates on the project.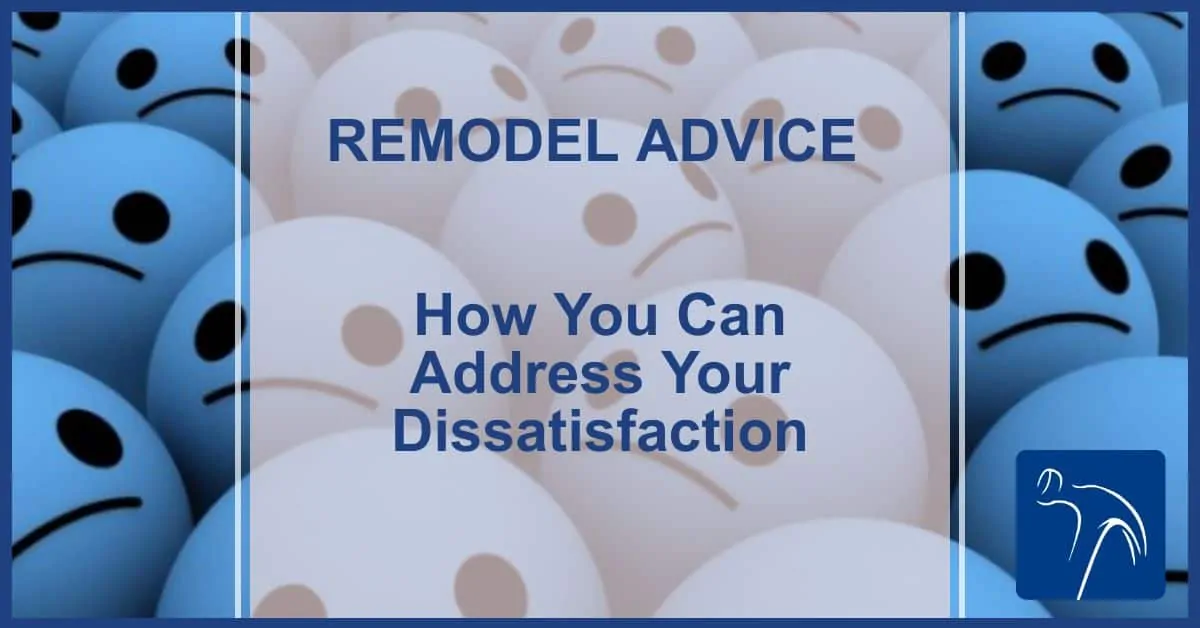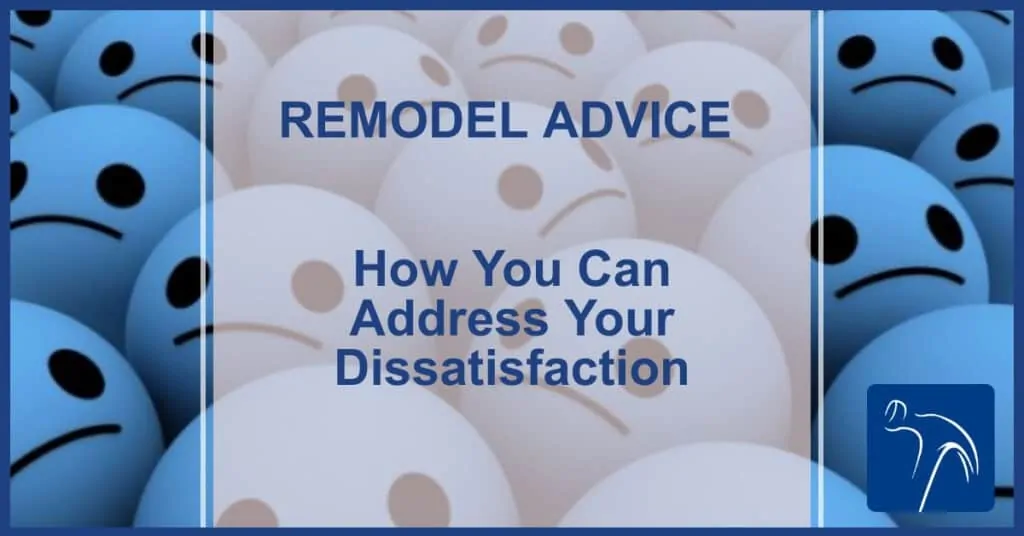 Even better, he made sure that each phase of the project stayed within your budget. Plus he responded to your concerns in a professional and timely manner.
Yet, somewhere along the way, something went wrong—and now you're unhappy with the contractor's work.
Perhaps the kitchen countertops don't look the way you imagined. Or maybe the new island the contractor installed seems a little larger in the room than he had said it would be.
You know that construction work isn't an exact science, so you're not angry, but you do want the work fixed. You just don't know how to bring it up.
It's time for you to learn how to tell your contractor you're dissatisfied. We are here to help you do that.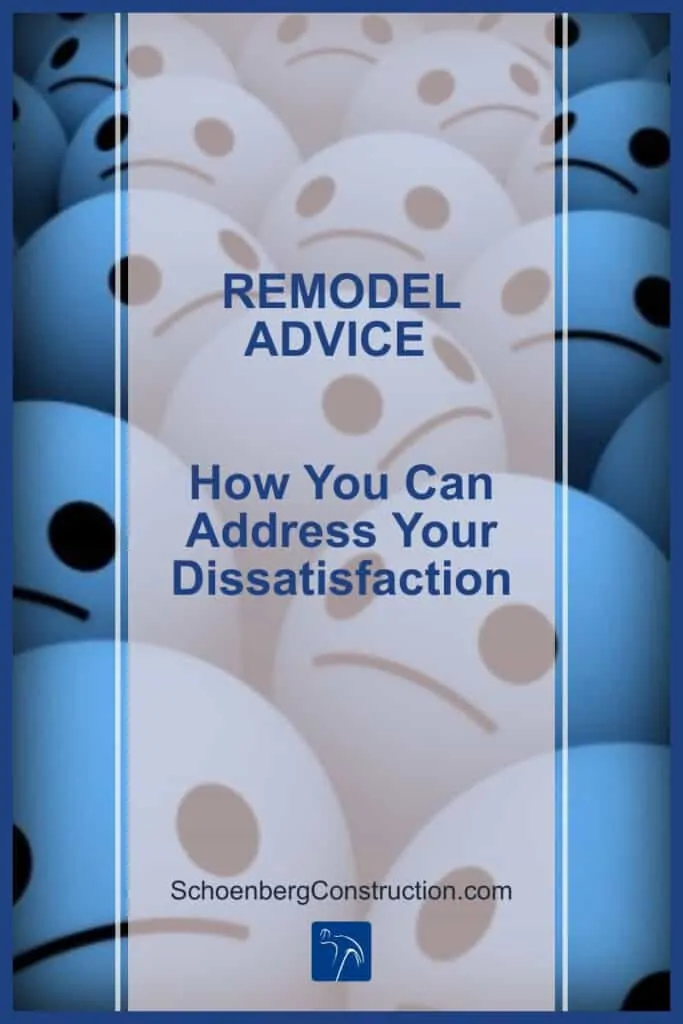 Remodel Advice on Dealing with Project Dissatisfaction
This above scenario is one that some homeowners have to face. And no one likes to deal with confrontation during their remodeling projects.
There is no need to fear expressing your dissatisfaction with the quality of the construction work. If you stay silent you'll pay the price. The ultimate one being you will never be 100% happy with the finished look of your home.
Here is our remodel advice for you.
Any professional contractor worth his weight in salt (aka competent) wants to know if you are dissatisfied.
He or she also wants the opportunity to make things right for you.
The bottom line is this: She wants to fix any issues so you — the homeowner — are 100% happy with the finished work.
How to Convey Your Dissatisfaction to Your Contractor
If you notice that something isn't quite the way you want during one of your inspections of the project, take action. It's vital you follow these three remodel advice steps.
1. Speak up right away.

You must tell your contractor early on that you don't like something. If the new shower-head isn't right, say something. Or, if you think the new kitchen light fixtures hang too low, there's still time to easily correct the problem if you speak up.

If you wait until project completion, it may be too late. Further, addressing the issue could be much more difficult and expensive if your contractor has to redo other work to fix the initial issue.

2. Maintain an understanding demeanor.

You don't like the work and you're worried you'll offend your contractor. Our advice to you, get over it! Then, take productive action.

It's essential you maintain an open and understanding demeanor when you talk about the problems.

Though some issues might be the contractor's fault, bear in mind they may not be. It's possible the elements you're unhappy with may be the result of miscommunication or an unclear project specification.

Your contractor will appreciate your understanding and respect and will very likely give you the same treatment in return.

3. Get changes to the project in writing (even if only by email).

In our experience, construction issues happen, and they do get resolved. Even if your complaint has to do with something that you picked out, be direct.

Indeed, dissatisfaction with a home remodel aspect usually gets resolved quite easily. Often with some changes to the original project specifications.

Be sure to get any changes listed clearly in writing. It's also a good idea to spend a little extra time going over the project adjustments in person. This ensures that both you and the contractor are on the same page moving forward.
A professional contractor will absolutely want to know which part of the remodel you're unhappy with. They will want to find a solution that resolves your dissatisfaction. It may even top your original vision. Now wouldn't that be a wonderful outcome?
Remodel Advice Resources & Links
~~~
You want to know exactly what you will get for your money, and Craig is happy to do so by offering you specific, accurate pricing that fulfills your vision at a price that works for you. He values honesty, integrity, trust, and customer satisfaction and proudly passes these core values on to every one of his clients.
Craig Schoenberg — owner of Schoenberg Construction, Inc of Saint Cloud MN — is one of the top General Contractors in Central Minnesota. He always gives honest, fair bids with no lowball, fake pricing, and there's no sales pressure, ever! He always uses quality materials and never engages in sloppy workmanship. Plus, his company is known as one of the very best construction and remodeling companies in town.
Give him a call today at 320-252-0911 for your no-obligation consultation.
Why Work With Schoenberg Construction
What We Value
Honesty
Integrity
Trust
Satisfaction
What We Do
Specific, Accurate Pricing
Highly Skilled Carpenters
Reliable, Skilled, and Valued Subcontractors
Top, Quality Materials
Unbeatable Customer Service
What You Get
75+ Years of Combined Custom Construction Experience
The Project of Your Dreams for the Price You Were Promised