Creating Your Dream Home: Three Reasons to Worry Less About Resale Value During Your Remodel— Here's something other builders and your realtor might not tell you: You don't really need to worry so much about resale value when you're planning a remodel.
We know, we know… that's a bold statement! However, it's one we stand by. While the resale value of your home is important, it's really not the main factor you should be focusing on.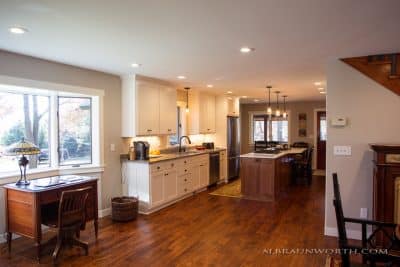 Here are three key reasons that you don't need to prioritize your home's resale value when you're making decisions about your remodeling project.
1. Other Factors Play a Bigger Role in Your Home's Resale Value

First things first—the biggest reason you don't need to worry too much about resale value while remodeling is that other factors will eventually play a much larger role. Resale value is more heavily impacted by things like the value of other homes in your neighborhood, the overall condition of your home, and proximity to things like schools and main road access.
Though a remodel can have an effect on your home's resale value, it is very difficult to predict how it will impact the value and whether or not it will make much of a difference—and it's even harder to predict how much specific features and design choices will change the final price.
2. Your Home's Subjective Value is More Important

Ultimately, your home's subjective value is much more important to consider than its resale value when you're planning a remodel. Your home's subjective value is based on how effectively the property meets your family's needs. With that in mind, it's much easier to predict how the subjective value will change than it is to estimate any changes to the resale value.
To determine your home's current subjective value and to estimate how it will change after the remodel, you simply need to consider how much you enjoy living in your home and how well it meets your practical and logistical needs. Then, imagine how that will change once the remodel is complete.
Will you have more needed space for living, storage, or entertaining? Will you feel calmer and more at peace when your home has a new aesthetic? Will the remodel enable you to continue living in a home that you may have otherwise outgrown in a few years? Your answers to questions like these determine how much your home's subjective value will increase post-remodel.
3. You Need to Consider the Actual Cost of the Remodel

Finally, in most cases, the actual cost of the remodel (and whether or not you can comfortably afford it) will have a much bigger impact on your family's life than any difference in resale value that you may enjoy down the line. Unless you're specifically remodeling in order to flip a house, it's more important to base your financial remodeling decisions on whether or not the cost is worth it to your family than it is attempt to "invest" in a remodel for the sake of resale value.
If you're planning to sell your home in the future, we do recommend that you make smart choices during your remodel—but we also believe that it's more important to ultimately make decisions based on your home's subjective value and on the enjoyment and function your family will get from the completed project.
Craig at Schoenberg Construction is one of the best Remodeling Contractors in St Cloud and Central Minnesota. He always gives honest, fair bids with no lowball, fake pricing. And there's no sales pressure, EVER! He never uses cheap materials and never engages in sloppy workmanship. Plus, his company is known as one of the top construction companies in the Saint Cloud MN area because he always insists on doing every job exactly right.
Give him a call today at 320-252-0911 for your no-obligation consultation.