Four Important Tips to Help You Choose the Best Home Flooring— There's one part of your home that often doesn't get paid as much attention as it deserves—and yet, it's one aspect that can make a huge difference in both the short-term and long-term appearance of your home.
That's right… we're talking about home flooring!
Whether you want tile, hardwood, or carpet, the type of flooring you choose for your home matters more than you might think. Today, we'd like to share a few of our top tips for selecting the best home flooring with you.
4 Tips to Help You Make the Best Home Flooring Choice
1. Consider How Your Flooring Flows from One Room to the Next
As you begin selecting flooring for your home, one of the most important things to consider is how different types of flooring function and look in different rooms. Check out these two photos of a home with an open floor plan below: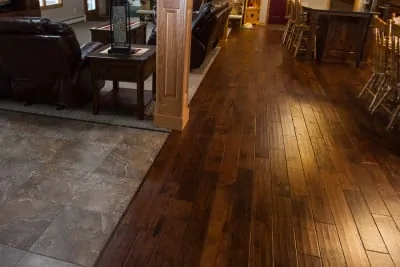 See how each area of the home is clearly defined by a distinct type of flooring? The entryway has practical tile flooring, the living room is denoted clearly with carpeting, and the kitchen is set apart with beautiful hardwood flooring. This type of clear delineation helps to break up the space so that the various areas of the room don't bleed together into one space. For homes that have rooms that flow into one another (instead of being separated by walls), it truly pays to pay close attention to how you're using flooring to break up the space.
2. Choose Your Flooring Carefully
This next tip is an important one no matter which type of flooring you're choosing—select your materials carefully! Flooring is especially hard to pick out because you'll be looking at small samples of something that will cover such a large area of your home. We recommend looking for the largest sample you can find before you choose a particular type of flooring. Then, take it home and look at it in multiple different lighting scenarios before making your final decision
3. Select Flooring That Suits Your Home's Aesthetic
It's amazing how much flooring can really set the tone for the overall aesthetic of a particular room. Check out the photo below to see what we mean:
The mixed woods in this kitchen (visible in the mix-matched white cabinets along the counters and the dark cabinets in the island—along with the light-colored wood used on the island topper!) are echoed in the mixed hues in the wood flooring. In fact, in this instance, it's really the flooring that ties the whole room together and makes everything work. What a beautiful aesthetic choice!
4. Find a Maintenance Option That Works Best for You
Finally, it's also incredibly important to choose flooring that will be easy for you to maintain. All too often, homeowners select flooring that requires more upkeep than they realistically will actually want to maintain. There are plenty of flooring options on the market that are easy to care for and that still look very nice. Before you choose a particular type of flooring, be sure to research what kind of equipment you will need to care for it—and be sure you're ready to commit to it so that you can keep your brand new flooring looking nice for years to come.
~~~
Craig at Schoenberg Construction is one of the best Home Remodeling and Home Improvement Contractors in St Cloud and Central Minnesota. He always gives honest, fair bids with no lowball, fake pricing. And there's no sales pressure, EVER! He never uses cheap materials and never engages in sloppy workmanship. Plus, his company is known as one of the top construction and remodeling companies in the Saint Cloud MN area because he always insists on doing every job exactly right.
Give him a call today at 320-252-0911 for your no-obligation consultation.
Why Work With Schoenberg Construction
What We Value
Honesty
Integrity
Trust
Satisfaction
What We Do
Specific, Accurate Pricing
Highly Skilled Carpenters
Reliable, Skilled, and Valued Subcontractors
Top, Quality Materials
Unbeatable Customer Service
What You Get
75+ Years of Combined Custom Construction Experience
The Project of Your Dreams for the Price You Were Promised