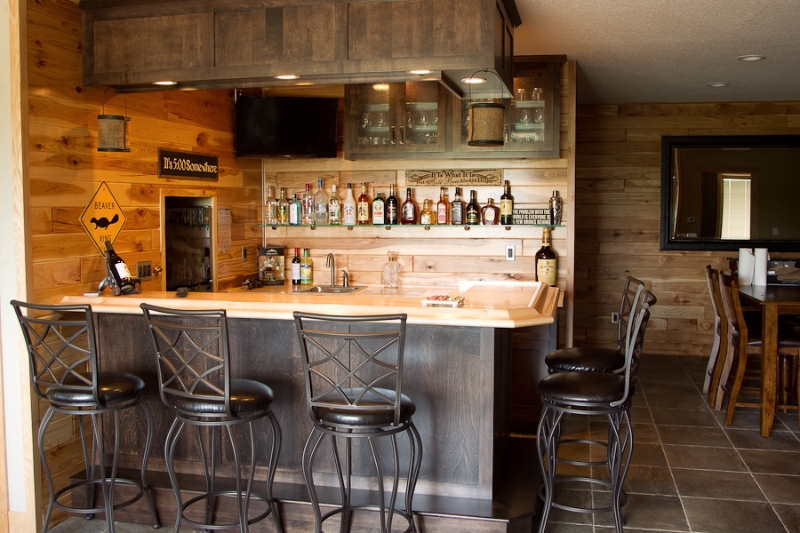 There are a lot of places in your St Cloud home that probably need some attention.  Like a lot of other homeowners your list is growing and the time left to get things taken care of just keeps shrinking.  The basement is one of those spaces that you want to remodeling and add to your list of home improvement ideas and it's a worthy addition, because that space shouldn't be left to doom, gloom and storage.
Upgrading your basement space doesn't have to be a massive home improvement project, it's really as simple as sticking to a few common principles.  Granted, in order to do this your basement needs to be partially finished but that's not difficult either.  If you have an unfinished basement, take the time to contact a general contractor in St Cloud.  After all, you can't decorate exposed plumbing and cement.
Basement Home Improvement Ideas
The first principle to hit on is that you've got to have light, and that's easy to tackle.  Whether the lighting you add is natural or artificial, it can improve the ambiance in your remodeled basement a great deal and most lighting is completely customizable to your taste – especially if you go with recessed or track lighting.  Adding any kind of lightsource that you enjoy is essential when you consider how dark a basement can be, even if it's a bi-level.
If you are lucky enough to get a basement that's not entirely buried, then work with a general contractor in St Cloud to take advantage of that natural light.  Get as many new windows installed as possible so there is not barrier between your newly remodeling living space and the great outdoors – save for the glass of course.  If you're into the whole fish-bowl lifestyle, there are plenty of window treatments that you can use to cover your new windows in order to keep gawkers out and sunlight in.
The next principle is to get some color into your space.  Your new walls are going to need paint, and perhaps the floor as well depending on the route you chose for home improvement in the basement.  Either way, a general contractor can get the right team together to help you get some magnificent color on your walls.  When you do so, aim for bright colors so you can add the right amount of spirit and flare to your basement.  It started out dull and drab – why keep it that way?
Of course any newly remodeled basement in St Cloud need to have the right accessories in order to make it useful.  Sound systems, video games, a pool table, a wet bar, built in book cases.  Whatever your fancy, a general contractor can help transform that boring old storage space into a room (or rooms) that fit the style of everyone in your family.
Basements accumulate a lot of stuff over the years but yours doesn't have to provided you talk your home improvement project and plan for even the worst.  Dedicate a portion of that basement to storage and deck out the rest.  Not only are you planning ahead but you can prevent those storage boxes from slowly invading your comfort space.  Consider your creative option, use your imagination and get with a Saint Cloud MN general contractor to whip your basement into something new.
~~~
Craig at Schoenberg Construction is one of the best Basement Improvement Contractors in St Cloud. Craig always gives honest, fair bids with no lowball, fake pricing, plus there's no sales pressure, EVER.  He never uses cheap materials and never engages in sloppy workmanship, and his company is known as one of the top home renovation companies in the Saint Cloud Minnesota area because he INSISTS on doing every job EXACTLY right.
Give him a call today at 320-252-0911 for your no-obligation consultation.