Discover 5 bath remodel ideas— Bathroom remodeling projects require careful planning and a good deal of time, money, and energy. However, approaching the project carefully and taking it just one step at a time gives you the chance to evaluate your plan continually throughout the process. As you progress through the remodel, you can identify aspects of your plan that need adjusting in order to make the project run as smoothly and efficiently as possible.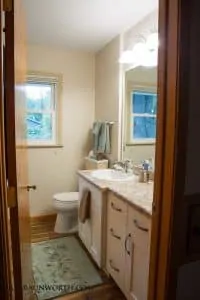 As you work on your bathroom renovation in central MN, pay attention to the following five areas in order to achieve a successful project.
Bath Remodel Ideas
1. Shower and Bathtub
Many homeowners focus heavily on their shower or bathtub area when they begin redesigning their bathrooms. Refinishing the tub or shower is one of the best ways to update the appearance of the room without having to replace the entire structure. However, if you're looking for a bigger change because you're not happy with the look or size of your bathing area, you can choose from a wide variety of options—including luxury features like whirlpools and steam rooms. Ask your Saint Cloud, MN general contractor and home remodeler to help you figure out which option is best for your home according to the space you have available, your preferences, and your budget.
2. Layout
As you consider remodeling your bathroom, it's extremely important to consider the layout of the room and how you're used to using the space you have available. You may be able to improve the efficiency of the room by adjusting things such as the location of electrical outlets in the room or moving a door or window. However, these types of changes cost more and require greater planning, so be sure to think about any layout updates you want to make early on in the bathroom design process.
3. Support
Ask your contractor to examine the supports—the walls and joists—in the room to identify whether or not they need to be replaced or repaired. Because bathrooms are exposed to so much moisture over the years, caulking and sealants can have substantial wear and tear or water damage. It's important to know about these types of repairs while you're still determining your total project budget, so ask your St. Cloud bathroom remodeling company to check it out from the start.
4. Plumbing and Electricity
Though moving plumbing and electrical outlets around requires more work and planning, the extra trouble is worth it for many homeowners. Poorly located electrical outlets and plumbing fixtures can substantially decrease the efficiency of your bathroom because you'll try to compensate for the poor design and may end up losing valuable counter space or storage areas. Before deciding to relocate any plumbing fixtures or outlets, ask a professional home remodeling firm about the best solution for your bathroom.
5. Going Green
Though eco-friendly materials and building tactics can increase the cost of your remodeling project, many homeowners are interested in pursuing projects that take their impact on the environment into consideration. Your Saint Cloud, MN contractor can go over the various options with you and can even help you find small adjustments that have larger effects, such as the use of biodegradable materials. Ask your custom bathroom remodeling builder to explain the implications of environmentally-friendly remodeling projects to you before getting started.
Bath Remodel Ideas Links & Resources
You want to know exactly what you'll get for your money and at Schoenberg Construction we are happy to tell you by offering you specific, accurate pricing that fulfills your vision at a price that works for you. We value honesty, integrity, trust, and customer satisfaction and proudly pass these core values on to every one of our clients.
Are you looking to hire a custom bath remodel expert in central Minnesota area? If so, you need to know that Craig Schoenberg — owner of Schoenberg Construction, Inc of Saint Cloud MN — is one of the best Home Improvement, Remodeling, and General Contractors in Saint Cloud and Central MN. He always gives honest, fair bids with no lowball, fake pricing, and there's no sales pressure, ever! He always uses quality materials and never engages in sloppy workmanship. Plus, his company is known as one of the very best construction and remodeling companies in town.
Give Craig a call today at 320-252-0911 for your no-obligation consultation.
Why Work With Schoenberg Construction
What We Value
Honesty
Integrity
Trust
Satisfaction
What We Do
Specific, Accurate Pricing
Highly Skilled Carpenters
Reliable, Skilled, and Valued Subcontractors
Top, Quality Materials
Unbeatable Customer Service
What You Get
75+ Years of Combined Custom Construction Experience
The Project of Your Dreams for the Price You Were Promised