It's an area of the bathroom we often take for granted but every person in your home will eventually interact with it, and more than likely several times a day. From hard-sole shoes to delicate bare feet, the bathroom floor not only has to stand up to the test of time and foot traffic but the bathroom floor of your St. Cloud home needs to be welcoming and comfortable.
When the remodeling bug catches up to you and you start flipping through bathroom design ideas, keep your floor in mind – especially if it's been a while since that space has seen an update. An inspection might reveal that (depending on the type of floor you've got) you have areas where moisture is easily making its way through to the subfloor.
It could also just be a good time to decide if the new bathroom design you're going to run with matches up with the current floor you have. It's a prime opportunity to take out the old and plug in something new and exciting.
Bathroom Floor Design Options for
Your Next Bath Remodel
If you want to update your bathroom design, including the bathroom floor, then consider the various materials you could opt for.
Hardwood Flooring
There's a lot of beauty and character that can come from mingling the dark undertones of hardwood into your bathroom designs. If this is an option you're leaning for, make sure that the wood is properly treated and sealed – primarily to protect it from moisture buildup and the potential for standing water in the bathroom. If you're the type to prefer dark wood cabinets and a rustic ambiance, hardwood can help you bring life to your new bathroom designs.
Laminate Flooring
For those that want the look and feel of real wood without the price tag, laminate flooring can certainly provide a boost to bathroom design. The manufactured laminate also lends itself to a lot of customization, giving homeowners a lot of room to flex creatively when designing their bathroom space.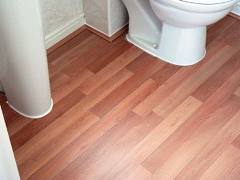 The install manufacture and install methods of quality laminate also give it added strength against moisture – making it an ideal option for areas such as the kitchen or bathroom. Couple that with the fact that it is both sturdy and durable and your bathroom floor can last for years if maintained properly.
Sheet or Tiled Vinyl
If you're looking for simplicity and affordability for the bathroom design of your St. Cloud home, vinyl flooring is a fantastic choice. Not only can you choose from a wide variety of colors but the product is manufactured to be waterproof – adding to the lifespan of your bathroom floor installation.
Not to mention this flooring material can find itself into anyone's budget. Of course, for those who crave more quality products, your floor will carry the look and feel of vinyl flooring. If authenticity isn't an issue, this is a great choice for any homeowner. Provided the flooring is installed properly (sometimes it's best to bring in a professional general contractor in St Cloud) and maintained, it should last for upwards of 12-15 years (as opposed to wood floors that can last well over 50 years)
Ceramic Tiles
Bathroom tiles are one of the sharpest ways to put the appropriate touch on your designs. While ceramic tiles and other forms of manufactured tiles can be a little on the pricey side, they are one of the best investments for any bathroom remodel project.
When properly installed, you've got a waterproof surface that feels great on the feet. It can certainly be a little cold in the wee hours, but any floor without ambient heat (other than carpet) can get cold quickly.
Durability, ease of cleaning, customizable options, design flexibility – ceramic tiles makes it into more bathroom designs than many other materials. This material is an excellent option if you want to keep your home glowing in the realm of modern, bold and elegant.
The right flooring in your bathroom can make your St Cloud home shine, and put you a few steps past the Jones'. Just keep in mind that your renovation and materials should never be based on the price tag, but instead on what they offer you in the long run. A bathroom design that stands that test of time is worth far more to the value of your home than a cheap install potentially requiring replacement before you're ready to move on.
~~~
Craig at Schoenberg Construction is one of the best Home Remodeling Contractors in the greater St Cloud MN area. He always gives honest, fair bids with no lowball, fake pricing. And there's no sales pressure, EVER! He never uses cheap materials and never engages in sloppy workmanship. Plus, his company is known as one of the top construction and remodeling companies in the Saint Cloud MN area because he always insists on doing every job exactly right.
Give him a call today at 320-252-0911 for your no-obligation consultation.
Why Work With Schoenberg Construction
What We Value
Honesty
Integrity
Trust
Satisfaction
What We Do
Specific, Accurate Pricing
Highly Skilled Carpenters
Reliable, Skilled, and Valued Subcontractors
Top, Quality Materials
Unbeatable Customer Service
What You Get
75+ Years of Combined Custom Construction Experience
The Project of Your Dreams for the Price You Were Promised