How to Tell if You're Getting an Honest Construction Estimate? —Preparing to get a bid for a remodeling or custom home project? You might be feeling a little nervous, and that's okay—most homeowners don't really have any idea what a construction project should cost.
When you add that to the fact that there are, unfortunately, a number of shady and unreliable contractors offering bids to unsuspecting homeowners, you get a recipe for concern and distrust.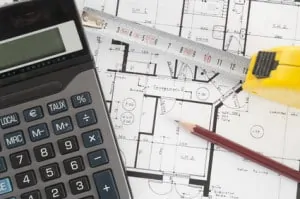 Homeowners don't want to be burned by a dishonest construction company—and it's up to honest contractors to prove to clients that the best remodeling companies really care about the satisfaction of their customers.
Why Getting a Detailed Bid for Your Construction Project Matters
So, how can you tell whether or not a contractor is giving you an honest bid? And how can you determine whether or not it's a fair offer?
According to Craig Schoenberg, owner of Schoenberg Construction, the key is to get as detailed of a bid as possible.
"It's not cheap to remodel these days," Craig said. "A detailed estimate is justifying the cost of what goes into the remodel and telling customers what they're getting."
Craig usually gives customers bids that are at least two or three pages long—and he recommends staying away from remodeling companies that only offer one page of explanation.
"You don't want to just see a one-page estimate because you go in not knowing what you're getting for that amount of money," he said. "Some people just get a one-page estimate that says 'plumbing' or 'electrical,' but in my opinion, you have to explain what they're getting under plumbing."
To get a detailed bid, you should usually expect to wait about two to three weeks.
"I'm sure there are some contractors who could go sit in the truck for an hour and give a prospective customer a range of costs," Craig said. "Once I start on the estimate, it's going to take longer because I have to speak with the plumber sometimes, or talk to an electrician, or get a price on dry-walling, or generate a material list for an addition—and that stuff can take a little while."
Many homeowners get bids from several contractors before making their decision, and Craig thinks this is a good idea. However, you should be careful not to fall into the mindset of the "three-bid myth"—a common piece of poor construction advice that suggests getting three bids and going with the cheapest one.
Instead, Craig says, customers should look for other factors in their bids. Is the contractor licensed and insured? Is he or she a member of local organizations such as the Central MN Builders Association? Be sure that your contractor—and any subcontractors he or she might work with—abides by building codes and industry standards. Once a contractor has cleared those checks, you should look into how detailed the estimate is.
"If someone's being very vague about what they're giving you for a price, I'd be very suspicious of that," Craig said. "Two or three different guys can price things in a different way and it can get tough for the customer…some people exclude flooring or other items and that can obviously affect the bottom price. You've got to compare them and make sure they're apples to apples to be sure it's a fair comparison."
Though many homeowners are understandably reluctant to show one contractor the other bids they've received, Craig does his best to explain to customers what they should be looking for on their bids and how to evaluate the details.
"I'm very focused on what I can do for my customers and carefully explain my estimate to them," he said. "I'll talk to them about other contractors and make sure they compare the bids. I tell them, don't just look at the bottom line. Look at the details of the bid. The bottom line sometimes isn't the actual price if they've excluded multiple items.'"
Craig also believes that honesty during the bidding process sets the tone for the entire project.
"You've got to be able to trust your contractor," he said. "They're coming into your house and remodeling your home and bringing in people you don't know. Building that trust starts from the beginning."
To develop positive relationships with his clients, Craig works hard to be honest with his customers about pricing—even if it means that he loses some customers who aren't able to afford the remodels they wanted.
"Sometimes I don't hear from people again, but a lot do say they appreciate the honesty of my pricing," he said. "There's nothing worse than being misled about a project and all of the sudden the price starts going up…I'd rather be pricing a little bit higher and then come in under budget at the end."
~~~
Want to remodel your Saint Cloud home and get the biggest return on your investment?
Craig at Schoenberg Construction is one of the best home remodeling experts in Central MN. He always gives honest, fair bids with no lowball, fake pricing and there's no sales pressure, EVER. Craig never uses cheap materials and never engages in sloppy workmanship, and his company is known as one of the top remodel companies in the St Cloud MN area because he INSISTS on doing every job EXACTLY right!
Give Craig a call today at 320-252-0911 or send him an email to claim your no-obligation consultation.