If you need interior design tips, then welcome. We have some for you.
Are you looking to make the most out of limited space in your home? Don't worry if adding on more square feet is out of the question—there are still plenty of ways you can maximize the space you have simply by making a few strategic décor choices.
Check out our top seven interior design tips for making small spaces look and feel bigger below.
Interior Design Tips for Homeowners: 7 Tricks to Make Small Spaces Appear Larger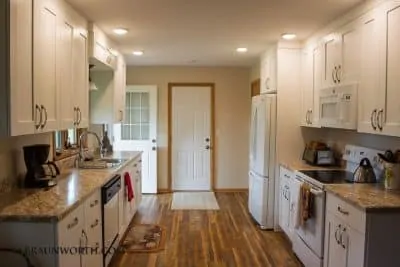 1. Light Colors Open Up a Room

Dark colors are very stylish and can make a room feel more intimate and cozy, but they also absorb light and make the room look smaller.
Instead, use fresh, light, neutral shades on your walls, ceiling, and floors to keep the room looking bright and spacious.
2. Draw the Eye Upward Whenever Possible
You can also make a room look larger by creating the illusion of taller ceilings. To do this, you'll want to make strategic interior design choices that draw the eye upward.
Try painting your ceiling an accent shade that's a little lighter than the color of your walls—or choose curtains or wall art with some vertical lines.
You can also place decorative accent pieces on top of cabinets to draw the eye upward (as long as you don't overdo it to the point that the room looks cluttered!).
3. Make the Room Look Bigger—By Using Bigger Furniture!
This interior design tip might seem a little counterintuitive, but it really works. You can make a room appear larger by choosing fewer, bigger pieces of furniture instead of filling the room up with several smaller pieces.
Picture your living room with a single, large sectional couch and a statement coffee table. Then, picture it again—this time with a smaller couch, a loveseat, an accent chair or two, a regular coffee table, and a small console table.
In the first scenario, the larger furniture actually makes the room feel more spacious because there are fewer pieces fighting for attention and there is more empty space to walk around.
4. Choose Multi-Purpose Furniture
Multi-purpose furniture is another great way to make the most of a room with limited space!
Look for pieces that serve as both storage and as furniture to truly maximize your space. Consider ottomans or coffee tables with built-in storage—as well as small accent tables that have drawers and shelves instead of simple console tables with lots of wasted space.
5. Use Mirrors Strategically
Using mirrors to make a small space look bigger is a classic interior design tip that you've probably already heard—but it works so well that we'd be remiss if we didn't mention it here again!
Mirrors reflect light and thus give the illusion of additional space—particularly when you can position multiple mirrors across from one another or place a mirror across from a window.
If you don't have room to try one of these styles, simply place a large mirror on a wall behind a console table or a chest of drawers. Anchored partially behind the furniture, the mirror can give the illusion that there's another whole space just beyond.
6. Pull Furniture Away from the Wall
This tip is a simple one, but it works incredibly well—instead of putting furniture directly against the wall, simply pull it away by just a few inches.
When everything is pushed flush against the wall, the room can look smaller and more cramped because it's clear that space is at a high premium. But when you instead pull the furniture out just a little bit, everything has more breathing room and appears to be more spacious.
7. Keep Things Matching, Simple, and Clean
Finally, you can also make a small room look larger simply by coordinating your décor and keeping things matching, simple, and clean wherever possible.
Reducing visual clutter and simplifying your design will make it so that visitors don't have their attention drawn in a bunch of different directions all at once. With a simple focal point in the room and plenty of empty space, the room will appear larger and more welcoming.
These simple interior design tips are some of the most effective ways to open up the look and feel of a small room in your home—and best of all, you can integrate them into your home without having to invest a ton of money or make major renovations!
Design Links & Resources
~~~
You want to know exactly what you will get for your money, and Craig is happy to do so by offering you specific, accurate pricing that fulfills your vision at a price that works for you. He values honesty, integrity, trust, and customer satisfaction and proudly passes these core values on to every one of his clients.
Craig Schoenberg — owner of Schoenberg Construction, Inc of Saint Cloud MN — is one of the top General Contractors in Central Minnesota. He always gives honest, fair bids with no lowball, fake pricing, and there's no sales pressure, ever! He always uses quality materials and never engages in sloppy workmanship. Plus, his company is known as one of the very best construction and remodeling companies in town.
Give him a call today at 320-252-0911 for your no-obligation consultation.