Bathroom Renovations for Small Spaces— Renovating a bathroom is exciting, but it can be a difficult task. A bathroom is typically one of the smallest yet most frequently used rooms in the home—which means that it's especially important to keep your design tasteful, simple, and functional.
Most bathrooms suffer from a lack of style, space, or storage but your new bathroom doesn't have to. This brief guide is full of creative and resourceful ways to make sure that your new bathroom has it all.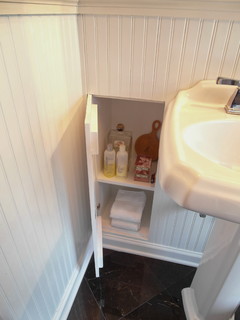 Inspiring Bathroom Styles and Designs
Designing your bathroom's style is always a fun part of the renovation process. First, it's important to choose which type of look you're interested in—modern, shabby chic, rustic, contemporary, masculine, or anything that speaks to your design sense.
From there, you can select a color scheme. Try to choose a palette or one main color with several accent hues. Next, you'll select accessories and décor to bring out the room's look. Hunt for pieces that combine both function and style, such as woven baskets in a rustic bathroom or mirrored serving trays in a vintage bathroom.
For more stylish ideas and a closer look at décor inspiration, see our article on bathroom design ideas.
Consider the Storage in Bathroom Renovations
You will want to introduce storage and style into your renovation plans, especially for small bathrooms.
If you're not able to expand the size of your bathroom, you can still renovate it to house more storage options.
From bath towels to dental floss to cotton balls, there are all sorts of odds and ends that need to find a home within the bathroom. Consider planning one of these storage solutions into your bathroom renovation project:
Wall Cabinet or Wall Shelving
For owners of small bathrooms, the walls can be prime storage real estate. Affix a cabinet or series of shelves to the walls for storing towels, toiletries, and small appliances like hairdryers and curling irons.
Vanity Niches
If you don't have much room in a small bathroom, consider adding shelving in small niches behind the vanity. Though most people use a large mirror in this area, you can add more functionality to the room by using a smaller mirror with custom-built shelves on either side.
Armoire
Custom armoires offer plenty of storage space designed exactly for your needs. While a substantial piece of furniture might make the space look a little smaller, the armoire is an elegant and convenient way to store everything in one place.
Create the Illusion of Space
After you've created storage solutions and chosen a general décor theme for your new bathroom, use these tips to create the illusion of space. You might not be able to expand the room's square footage, but you can make the bathroom look and feel larger with these simple tricks.
Lighten the Room
If you're decorating a small bathroom, stick to light, neutral colors on the walls. Add in a few bright accent colors with accessories and décor, but keep the room's basic design light and airy. Recessed lighting in dark corners can also make the room appear larger.
Play with Mirrors
You'll undoubtedly have a mirror above the sink, but why not add one on a side wall or near the door? Multiple mirrors play off of one another to create the illusion of more square footage. Mirrors in various sizes also add style and function, creating an interesting design element that is simultaneously practical.
Open the Shower
Try opening the shower curtain in your existing bathroom—does the room look larger? Though you might not want to leave the shower curtain open at all times, you can create the same effect by using a clear shower curtain or translucent shower doors in your new bathroom. Frosted glass offers privacy while still making the bathroom feel open and spacious.
~~~
Want to remodel your bathroom and get the biggest bang for your buck?
Craig at Schoenberg Construction is one of the best Saint Cloud, MN bathroom remodeling contractors. He always gives honest, fair bids with no lowball, fake pricing. Craig never uses cheap materials and never engages in sloppy workmanship, and his company is known as one of the top remodel companies in the Saint Cloud, MN area because he insists on doing every job exactly right.
Give him a call today at 320-252-0911 or send him an email to claim your no-obligation and no-sales-pressure home improvement consultation.