Do you have an old, outdated office or commercial space that could use a major update? It may be time to consider a professional remodel!
Though it can be tough to imagine what kinds of changes could be made in your office or building, the possibilities are truly endless. Just take a look at the huge renovation that we did for St. Cloud Foot and Ankle, a local medical pain specialist.
This is what the office looked like when we were finished—and to get an idea of what an incredible project this was, you only need to check out the before and after images below: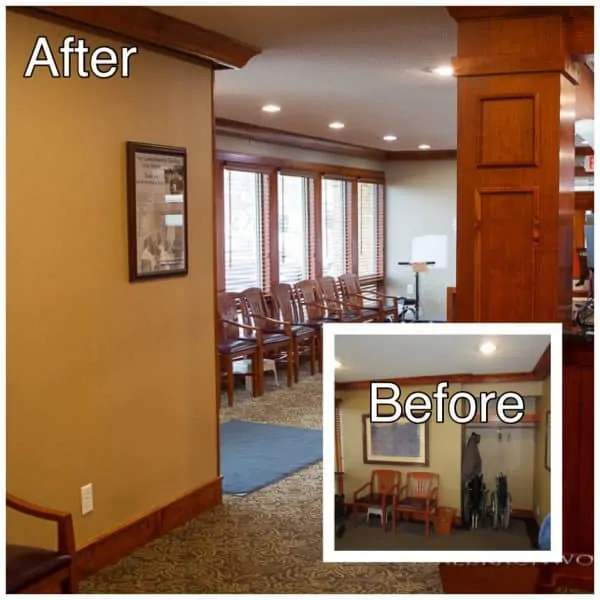 Can you believe how different the office looks after the remodel? These rooms went from a generic medical office and waiting room to an upscale, classy-looking medical facility.
The newly remodeled office is warm and inviting versus the old space that was dreary and drab. To achieve this look, we worked in lots of warm colors all throughout the space—including the new wall color and moldings, the updated windows looking to the outside, and, of course, the beautiful statement counters and shelving.
We also added this convenient area for patients to browse and try on specialized footwear:
We revitalized the check-in and appointment area in keeping with the warm tones of the rest of the office (check out the subtle privacy partitions between each section of the counter here, as well as the beautiful statement carpet!):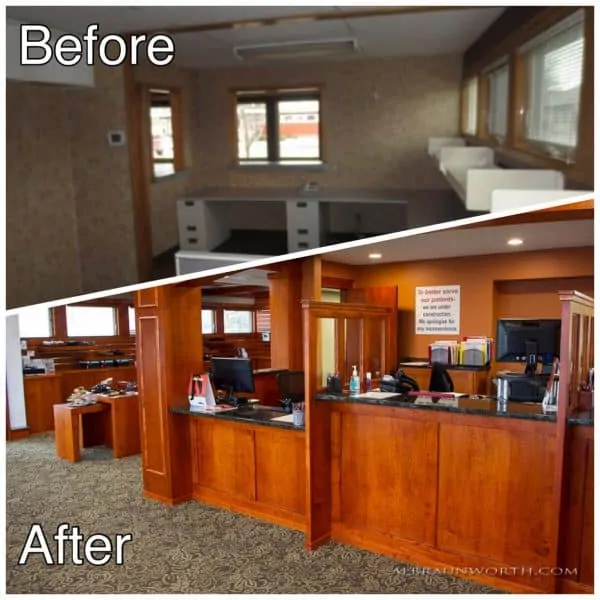 And finally, we also updated the back office space so that the staff had a beautiful environment to work in as well!
With this fresh new look and welcoming, warm environment, we just know that St. Cloud Foot and Ankle patients and staff members will feel more comfortable and at ease each time they step in the door—and that's the power that a major remodel can have on your clients and your staff.
You want to know exactly what you'll get for your money and at Schoenberg Construction we are happy to tell you by offering you specific, accurate pricing that fulfills your vision at a price that works for you. We value honesty, integrity, trust, and customer satisfaction and proudly pass these core values on to every one of our clients.
Craig Schoenberg — owner of Schoenberg Construction, Inc of Saint Cloud MN — is one of the best Light Commerical Contractors in St Cloud and Central Minnesota. He always gives honest, fair bids with no lowball, fake pricing, and there's no sales pressure, ever! He always uses quality materials and never engages in sloppy workmanship. Plus, his company is known as one of the very best construction and remodeling companies in town.
Give Craig a call today at 320-252-0911 for your no-obligation consultation.