Three Types of Custom Cabinets to Consider for Your New Home— When you're buying a new home, it's tough to find a space that has all the features you need—great location, plenty of space, and a design you love. Fortunately, if you can find a fantastic home that has most of the qualities you're looking for, you can easily make up for the rest with a little bit of simple remodeling and new design. One of our very favorite ways to personalize a new home is by designing, building, and installing custom cabinets.
Custom built cabinets can make a huge impact both functionally and aesthetically in any room in your home. In the photos below, we'll show you just a few of the ways that some of our clients were able to use custom cabinets to add more storage space, extra functionality, and a beautiful, personalized aesthetic to their brand new homes.
Custom Cabinets Pictures
1. Bathroom Custom Cabinets
We love both of these beautiful custom bathroom cabinets with built-in sinks: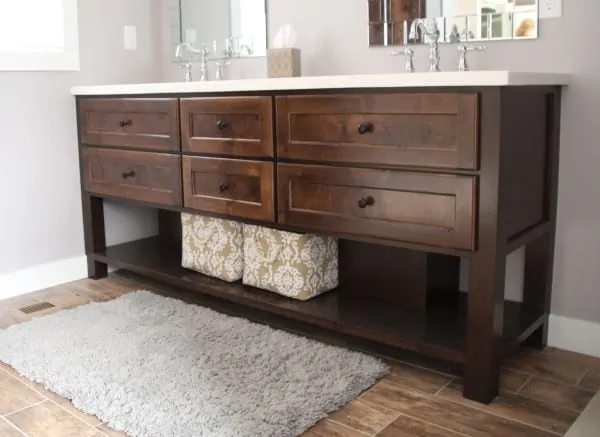 The first is a lovely wide cabinet with his and hers sinks—and it includes plenty of drawer space for each person, as well as two shared drawers and a long shelf for extra storage! In the second photo, we created a custom cabinet with built-in sink, wide drawers, and shelving that sits perfectly in the space the homeowner had in this bathroom between the wall and the toilet. Each of these custom solutions suited the homeowner's needs and aesthetic preferences exactly, making them convenient and functional choices for the homes.
2. Kitchen Cabinets
The full custom cabinets we designed in this kitchen were a beautiful and incredibly practical solution for the homeowner. Check out the photos: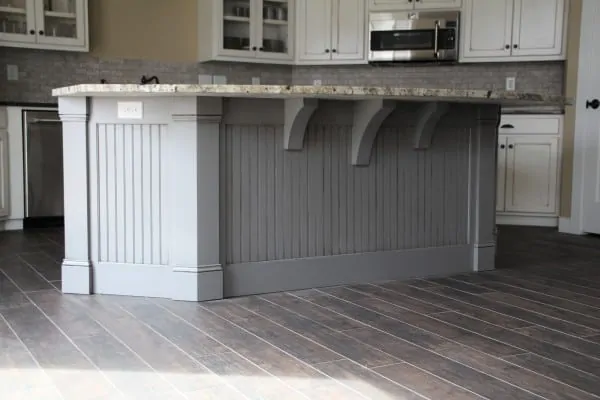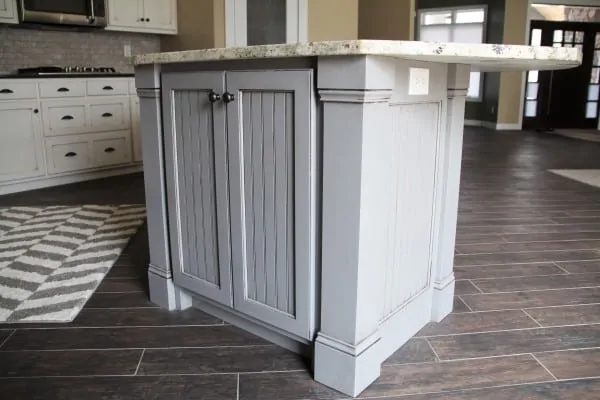 First of all, we love the design of this gorgeous, modern kitchen—the light colors used throughout give the space an open, airy feel! But what's even better than the beautiful design is the incredible amount of storage space these custom cabinets offer. From the spacious wall of custom cabinetry with cabinets, drawers, shelves, and cupboards galore to the extra built-in doors on the inside of the kitchen's island, there's plenty of space here for everything the homeowners could possibly want to use in their new custom kitchen.
3. Bar and Recreational Room Cabinets
Custom cabinets can make a huge difference in your new home's kitchen or bathrooms—but one of our favorite things of all to do with custom cabinets is to design a whole new space. Check out the photos below for an example of an incredible project we did: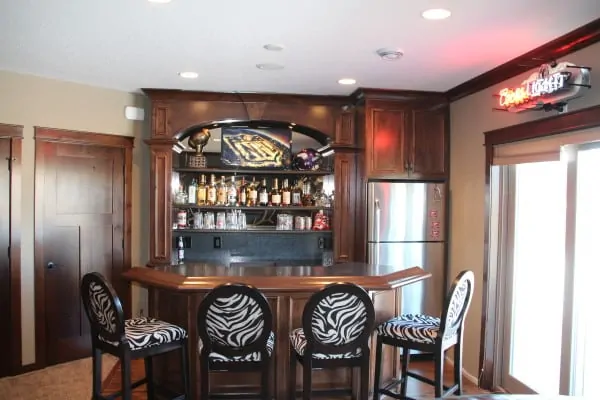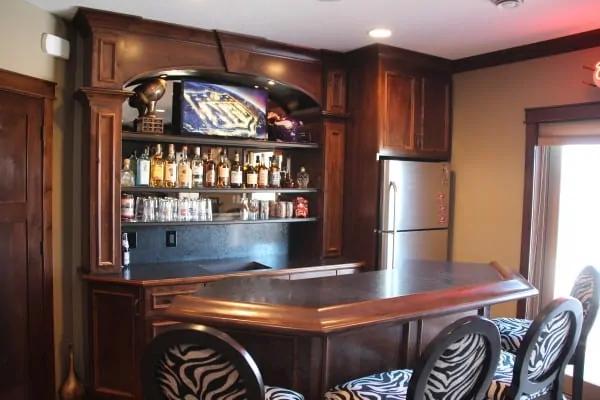 With this project, we got to create custom cabinets to design a full bar area in a homeowner's new space! If you're moving into a new home and there's a space you're not quite sure what to do with, why not turn it into a home bar with a simple custom cabinet design? Of course, that's not the only thing you can do with custom cabinets! Turn that empty space into a play area for your kids (complete with lots of cubbies for toy and book storage) or into an arts and crafts room (complete with cabinets and drawers for all your supplies). When you have the flexibility to design exactly what you want, the possibilities are truly endless!
Instead of wasting time and energy reorganizing your life to make the existing cabinets in your new home work for you, consider starting fresh with custom-built cabinets. Our team at Schoenberg Construction makes it easy for you to get the home design you've always dreamed of by creating, building, and installing a custom solution that is designed to meet your exact preferences and needs.
Custom Cabinets Link & Resources
You want to know exactly what you'll get for your money and at Schoenberg Construction we are happy to tell you by offering you specific, accurate pricing that fulfills your vision at a price that works for you. We value honesty, integrity, trust, and customer satisfaction and proudly pass these core values on to every one of our clients.
Craig Schoenberg — owner of Schoenberg Construction, Inc of Saint Cloud MN — is one of the top General Contractors in Saint Cloud MN. He always gives honest, fair bids with no lowball, fake pricing, and there's no sales pressure, ever! He always uses quality materials and never engages in sloppy workmanship. Plus, his company is known as one of the very best construction and remodeling companies in town.
Give Craig a call today at 320-252-0911 for your no-obligation consultation.
Why Work With Schoenberg Construction
What We Value
Honesty
Integrity
Trust
Satisfaction
What We Do
Specific, Accurate Pricing
Highly Skilled Carpenters
Reliable, Skilled, and Valued Subcontractors
Top, Quality Materials
Unbeatable Customer Service
What You Get
75+ Years of Combined Custom Construction Experience
The Project of Your Dreams for the Price You Were Promised