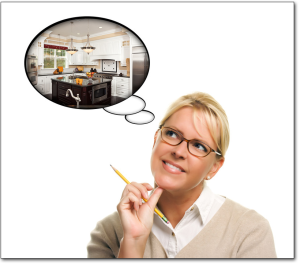 Kitchen remodeling is one of the best ways you can increase the value of your home.  By keeping a house up to date you add value, but one of the greatest benefits from a remodel project is the enjoyment you'll gain from it. Just imagine yourself in your dream kitchen. Feels wonderful, right?
Remodeling is a big job and needs a lot of care and proper planning. Here are few of the most important steps to follow for your kitchen remodeling project.
Kitchen Remodeling Construction
6 Considerations
# 1 – What Do I Want From My Kitchen?
You should have a very sure and detailed idea of exactly what you want to change in your kitchen. Make a list of all the features that you want to include. Right from things as basic as the look and feel of the place, to its utility and the options you need to have in your kitchen. Unless you have a definite thought and conceptualization about how your kitchen remodeling should turn out, it is very easy to lose your way and go overboard, and end up with something that you didn't want (and had to pay for!).
Consideration # 2 – How Is It All Going To Fit In?
A planned floor map and layout of your kitchen is essential. Plan and space out the elements such that everything is within reach and yet not cluttered. With everything that you want in your plan there should still be enough space in the kitchen for at least two people to be able to move about comfortably without obstructing each other. It would be a good idea to come up with a sketch of what exactly you want. (A good general contractor can help you with this step)
Consideration # 3 – Should I Ask Someone About It?
It would be a great idea to consult someone who has either remodeled their kitchen or a professional who has ideas and experience in this field. Show them your sketch and talk to them about what you want. They can help in clearing many hurdles, and may even be able to foresee some of them, thus making sure that you are not trapped by the unexpected halfway through the job.
Consideration # 4 – Where Should I Buy All My Stuff?
Most home improvement stores are acceptable sources for your refurbishing needs. However, for the best options and variety it would be advisable to choose a proper material supplier — we suggest Mathew Hall Lumber. Be sure to check out pricing on different brands and the features they offer. It would also be a great idea to look online for ideas and inspirations.
Consideration # 5 – Should I Attempt The Build Myself?
As most materials come with detailed manuals, do-it-yourself remodeling can be done. However, where complications such as plumbing and gas fittings are involved, it is best to invest in professional help. Not only are they more experienced and efficient, but they can also deliver a better end product than a layman. They also offer warranties and guarantees.  Your final remodeling results will be much cleaner, neater and quicker if you hire a professional builder.
Consideration # 6 – What to Do With the Old Stuff?
Upon the completion of your remodel project you will be left with a lot of working equipment that you don't need any more. Instead of throwing it out, you could put it up for sale online or through a garage sale. Some things can even be reused and you do not need to buy a new faucet if you are remodeling your kitchen unless you want a different look.
To remodel or not to remodel your kitchen (or bath, basement, great room)? Only you know that answer.  But if you're looking for some help in your remodeling decision making process, why not call a St Cloud General Contractor for some help and guidance. You'll be glad you did.
Craig at Schoenberg Construction is one of the best Kitchen Remodeling Construction Contractors in St Cloud. Craig always gives honest, fair bids with no lowball, fake pricing, plus there's no sales pressure, EVER.  He never uses cheap materials and never engages in sloppy workmanship, and his company is known as one of the top home renovation companies in the Saint Cloud Minnesota area because he INSISTS on doing every job EXACTLY right.
Give him a call today at 320-252-0911 for your no-obligation consultation.
~~~
Written by Jordon Browning