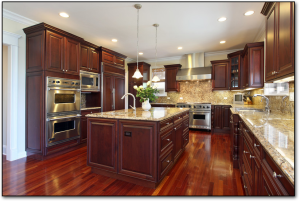 Most real estate experts will tell you that remodeling your kitchen is one of the best investments you can make in your home. In fact, according to experts, you can recoup up to 70 percent of the remodel costs when you sell your home.
Of course, you should remodel your home with an eye toward what can come back to you as an investment AND toward the pleasure and satisfaction a remodel will bring you now. That's why kitchen remodel ideas are so personal and individual. While you want to make changes that will reap rewards at resell time, you also want to end up with a kitchen that's built with yours and your family's needs in mind.
Kitchen remodel ideas run the gamut from flooring and cabinets options and choices to design elements and décor selections. These choices can make your kitchen remodel decisions seem overwhelming, but if you work through your choices one by one you will find that making decisions will be easier and more enjoyable.
Kitchen Remodel Ideas to Help You Make Choices & Decisions
Family Versus Formal Kitchen
This might simplify a big decision, but in general there are two kinds of kitchens (and many different choices within these categories). You might have a kitchen that has many design elements in it specific for children or a family, or you might choose a more formal kitchen or one more suited to a "true" cook.
This isn't to say that a family kitchen can't also be a cook's kitchen or a formal kitchen, or that a formal kitchen can't also be family friendly, but if you narrow down this choice first you'll find that other remodeling decisions come more easily.
If kitchen remodel ideas lead you down the 'family kitchen' path, you might make decisions about counter height, finishes and other elements that suit this family-friendly ideal. If you don't entertain the family much, or don't have children and don't plan to have any, you might decide that an oversized island, for example, won't get used. Therefore you'd prefer to give that space to a wine cooler.
You can quickly see how making these initial decisions can help you to clarify your design plans.
Specificity
Kitchen remodel ideas range from the easy and inexpensive to the complicated and expensive. Most people find their kitchen remodel ideas falls somewhere in between. Be specific in your plans so you can narrow down a price point and zero in on the choices that matter the most.
Very hot right is the green kitchen. These kitchens might include sustainable floors, energy-efficient appliances, and even countertops fashioned from green materials. You might choose low-flow nozzles at the sink or a trash compactor.
If you decide that your kitchen is truly a lived-in space in the home, you might choose to design a live-in kitchen, a hot trend that provides a whole new idea for those designing their new cooking space. A live-in kitchen takes advantage of the reality that many times when we entertain, the whole crew ends up in our kitchen, or that the kids come home from school, share a snack in the kitchen and then stick around to do homework, help with dinner and play games.
Designing a live-in kitchen takes advantage of all these things; you might design a multi-level island to accommodate both kids doing homework and you making dinner, or you might create a comfy eat-in kitchen that features plush and comfy furniture.
Where to get Kitchen Remodel Ideas
Knowing you want to remodel your kitchen and having the ideas to do it are two different things. That is, often we know we want to make changes and we might have an idea of what we want to do but not a clue about what exactly to do or how to implement those changes.
If you need ideas, these days you have many options. Television shows that feature home decorating ideas always receive good ratings, and there are many to choose from. Best of all, most of the television shows also have websites that allow you to read more about the specific techniques shown on the programs and that highlight specific design options.
Kitchen remodel and design magazines are also ideal for the homeowner looking for kitchen remodel ideas. These magazines can be kept on hand for reference and can help if you can't quite explain to a contractor or an interior designer exactly what you want.
~~~
Craig at Schoenberg Construction is one of the best Kitchen Remodeling Contractors in St Cloud. Craig always gives honest, fair bids with no lowball, fake pricing, plus there's no sales pressure, EVER.  He never uses cheap materials and never engages in sloppy workmanship, and his company is known as one of the top home renovation companies in the Saint Cloud Minnesota area because he INSISTS on doing every job EXACTLY right.
Give him a call today at 320-252-0911 for your no-obligation consultation.