Bathroom remodel costs are a major factor in the equation when deciding whether or not to remodel your bathroom. Pondering bathroom remodel costs before you begin your project is a legitimate and wise starting point for any homeowner.
Because any remodeling project in your home is an investment, sometimes your remodeling work can cost a great deal of money while other times it can be done somewhat frugally.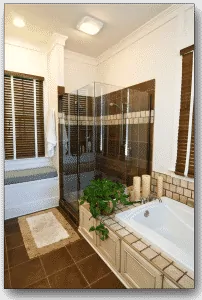 What matters most is that you have a plan before you begin your bathroom remodeling project, that you are clear about your remodeling budget, and that you're willing to be flexible.
Most estimates these days peg bathroom remodel costs at anywhere between $5,000 and $30,000. Much depends on what you decide to include in the remodel, what kind of materials you choose and who does the job for you.
A St. Cloud general contractor can give you a good estimate of your bathroom remodel costs based on your current bathroom, what ideas you have for a new bathroom and what your budget will allow. But before you call a contractor, check out these three great remodel planning tips to help you make informed remodeling decisions for your bathroom.
Bathroom Remodel Costs
3 Tips to Help You Stay on Budget
Tip #1 — Have a Plan
Before you can begin the remodeling process, it's important that you have a good idea about what you want to do. To get clear on your remodeling wants and desires just go through your bathroom and make a list of everything you would like to do from the floor to the cabinets, the tub to the tile, and even include décor elements. Make a complete list of ideas you have for that room. It's possible you'll have to let go of some of your ideas in order to keep the project on budget, but it's important that you have a wish list to begin.
As you go through and make a plan for the room and make your hopeful list, think about things like what kind of color scheme you would like in the bathroom. Do you want a light and bright space or do you want something that's a bit darker and cozier? Do you want to go with high-end materials or are you thinking you might buy some stock cabinets? Your decisions will be shaped by a number of factors including whether or not this is a master bathroom or a guest bathroom and by the size of the space you are working with.
Once you have an idea of what you want, go back through the list and mark the items you are flexible about. If you want a new bathtub but you're willing to be flexible, you might choose instead to have the tub and tile resurfaced. You can impact overall bathroom remodel costs by being flexible. Calling a Saint Cloud MN General Contractor and simply saying you want a bath remodel won't – literally – get the job done. You must have a good vision to begin the conversation about your remodeling ideas, so keep re-working the process until your vision is at least somewhat clear to you. This way you'll be able to communicate your bathroom remodel vision successfully to others.
Tip #2 — Setting a Target Budget

You might decide you can spend somewhere between $5,000 and $7,000 on your bathroom remodeling project or somewhere between $15,000 and $20,000. When you set your budget, be realistic. If you are trying to remodel a large master bathroom and you have a large list of things that you want to do including adding heated floors and custom cabinets but your budget is fairly low, clearly you will have to make some changes.
You don't have to know exact bathroom remodel costs when you set your budget but it is important that you know what is high end and what is low end when you set your budget so you can get a feel for how realistic your ideas are.
Tip #3 — Be Flexible
Once you have your plan and your budget you can head to St. Cloud and talk with a general contractor who can help you refine and firm up your plans. Once you give the green light to a bathroom remodel, you also need to be flexible. The costs can change based on who is supplying a particular product, shipping costs, and a number of other factors.
It's important that as your bathroom remodel costs fluctuate up or down, you are willing to adjust to the changes as they come. No contractor — a good one anyhow — would design a remodeling project and plan to implement one that's going to cost $25,000 when you have made it clear that your budget is $10,000. On the other hand your bathroom remodeling project probably won't come in exactly at $10,000 either, and you need to be willing to move with the changes.
Bathroom remodel costs aren't scary as long as you know what you want, have an idea of how much you can spend and are willing to make changes when necessary. The end result just might be the bathroom of your dreams.
~~~
Craig at Schoenberg Construction is one of the best Bath Remodel Contractors in Saint Cloud MN. He always gives honest, fair bids with no lowball, fake pricing. And there's no sales pressure, EVER! He never uses cheap materials and never engages in sloppy workmanship. Plus, his company is known as one of the top construction and remodeling companies in the Saint Cloud MN area because he always insists on doing every job exactly right.
Give him a call today at 320-252-0911 for your no-obligation consultation.
Why Work With Schoenberg Construction
What We Value
Honesty
Integrity
Trust
Satisfaction
What We Do
Specific, Accurate Pricing
Highly Skilled Carpenters
Reliable, Skilled, and Valued Subcontractors
Top, Quality Materials
Unbeatable Customer Service
What You Get
75+ Years of Combined Custom Construction Experience
The Project of Your Dreams for the Price You Were Promised