Home Construction Tips to Avoid Costly Mistakes— When you decide to build a new home, it's important that you know how to avoid costly mistakes. Building a new home is exciting but it can also be overwhelming; it should never be an exercise in passivity.
There are all kinds of decisions that you need to make when constructing a new house and if you don't make those decisions, the builder will have to make them for you. When that happens, you may not get what you thought you'd get. The solution? Follow these new home construction tips, and you'll have a much better chance of getting the house you dream of!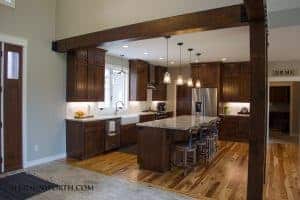 5 New Home Construction Tips
Tip #1: Understanding Your Builders Contract
Your building contract is associated with a large amount of money. Signing the contract does not mean you relinquish your basic legal rights so be sure that you know what those are. Read the contract and make sure you understand it. Communicate in writing with the building contractor. That includes additions and retractions.
Tip #2: How to Save on Your Building Costs
When deciding on components related to your house, remember that what might sound like a minimal amount when quoted per item can be a huge amount over the entire project. For example, let's say you are thinking about adding brick. You are quoted $20 a thousand more for brick. When there are 10,000 bricks it is $200 more but if it's 100,000 bricks its $2000 more.
Don't exchange solid construction for glitz. Always look for the best construction. For example, if the floors are bouncy because of the joist installation, adding the top of the line soaker tub isn't going to fix that. You just can't beat quality construction by a qualified Saint Cloud MN builder.
Remember that the cost per square foot you have been quoted applies whether the space is usable or not so make sure you get the most out of that square footage cost.
Tip # 3: Be Flexible
You may have a vision of what it is you want from your home but you should also know that things don't always go according to plan. You should look at both sides and decide if it's worth fighting for. Pick your battles.
Construction isn't perfect and there are factors like the weather, site conditions, and human error that account for imperfection.
If you demand absolute perfection you are going to be disappointed. Errors happen. However, if those errors drastically affect the outcome of your new home then the mistakes need to be corrected.
Tip # 4: Keep Good Records
When changes are made get documentation such as change orders, or a written record such as an email at the very least. When there are discussions or disputes record them. This can keep things fresh when you are looking back at a later date.
Don't leave anything to chance. Follow up on all verbal dialogue (and note in your documentation), approve changes, and request receipts.
The more energy you put into planning and designing your home in the early stages the less trouble and hassle you'll run into as the construction moves forward. The bottom line is this: The more dialogue you have with your Saint Cloud MN general contractor before the building starts the better!
Tip # 5: Stay Professional
Stay professional when dealing with the builder and sub-trades. They are working for you and you have a right to expect. You aren't trying to make new friends so while being cordial is fine at the end of the day stick to business.
Make sure you ask the right questions and if you don't like the answer don't accept it. Demand change. After all, it is you who is paying the builder.
~~~
You want to know exactly what you'll get for your money and at Schoenberg Construction we are happy to tell you by offering you specific, accurate pricing that fulfills your vision at a price that works for you. We value honesty, integrity, trust, and customer satisfaction and proudly pass these core values on to every one of our clients.
Are you looking to hire a custom new home contractor in the St Cloud MN area? If so, you need to know that Craig Schoenberg — owner of Schoenberg Construction, Inc of Saint Cloud MN — is one of the best New Construction Builders in Saint Cloud and Central MN. He always gives honest, fair bids with no lowball, fake pricing, and there's no sales pressure, ever! He always uses quality materials and never engages in sloppy workmanship. Plus, his company is known as one of the very best construction and remodeling companies in town.
Give Craig a call today at 320-252-0911 for your no-obligation consultation.
Why Work With Schoenberg Construction
What We Value
Honesty
Integrity
Trust
Satisfaction
What We Do
Specific, Accurate Pricing
Highly Skilled Carpenters
Reliable, Skilled, and Valued Subcontractors
Top, Quality Materials
Unbeatable Customer Service
What You Get
75+ Years of Combined Custom Construction Experience
The Project of Your Dreams for the Price You Were Promised