Home remodeling is a popular way to improve the look of a house and to increase its overall worth. It's also a great way to give your home a fresh, new look and to fall in love with it all over again!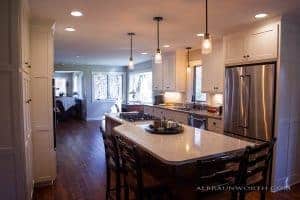 Your remodel should be an exciting and joyful time for you and your family, but the process might seem a little overwhelming if you don't plan ahead for it properly. Get informed and make the best decisions you can. You'll be really glad that you did!
Five Tips to Help You Simplify the Home Remodel Process
These five steps will simplify the remodeling process and ensure that you have a stress-free experience.
1. Find a Contractor You Trust
Though some people will suggest that you choose your central MN general contractor based on the company that provides the lowest bid, it's much more important to choose a contractor you can trust.
Your contractor is the strategist and manager for your remodeling project, and he or she will act as a guide throughout the process. Choose a contractor who you can turn to with questions and concerns. The right contractor will provide you with a level of personalized service and will continue working until you're satisfied with the finished job.
2. Research What You Want
Some homeowners run into trouble during the remodeling process because they weren't really sure of what they wanted ahead of time. Before getting started, research what you want and develop a picture of your ideal home. While you should be willing to revise your plan throughout the project, a well-developed image of what you want will guide you and inform your decisions during the remodel.
It's also a great idea to learn everything you can about the possibilities of a remodel. As you look at other finished projects and construction materials, you may find the perfect way to transform your home.
3. Create a Feasible Timeline
One of the best ways to take the stress away from the experience of a remodel is to allow enough time for the project. Some aspects of the home improvement process will probably take longer than you expect, so plan extra time into your schedule. While you don't want to rush the job and take away from the quality of the work, it's also important to work with a contractor who will commit to deadlines that suit your schedule.
4. Manage Your Budget
As you develop your budget for the remodeling process, look for ways to invest in the things you care about. If you're able to reuse components from your home, you'll have more funds available for fresh materials in other areas. Additionally, keep the overall value of your home in mind. Whether or not you're planning on selling your home in the near future, it's always a good idea to choose great foundational materials that will last.
5. Prepare for the Unexpected
Finally, be sure to prepare for the unexpected during your remodel. Even the most experienced contractor might be unable to predict what kind of damage is lying underneath the foundation of your walls and flooring. Allow extra room in your budget and your timeline for unexpected repairs that need to be made. When you plan ahead for additional items in your remodeling project, you'll feel prepared and ready to handle whatever comes your way.
~~~
Craig at Schoenberg Construction is one of the best remodelers in Central Minnesota. He always gives honest, fair bids with no lowball, fake pricing. And there's no sales pressure, EVER! He never uses cheap materials and never engages in sloppy workmanship. Plus, his company is known as one of the top construction and remodeling companies in the Saint Cloud MN area because he always insists on doing every job exactly right.
Give him a call today at 320-252-0911 for your no-obligation consultation.
Why Work With Schoenberg Construction
What We Value
Honesty
Integrity
Trust
Satisfaction
What We Do
Specific, Accurate Pricing
Highly Skilled Carpenters
Reliable, Skilled, and Valued Subcontractors
Top, Quality Materials
Unbeatable Customer Service
What You Get
75+ Years of Combined Custom Construction Experience
The Project of Your Dreams for the Price You Were Promised