Remodel or Move? How to Decide If a Home Remodel is Right for You

Are you unsatisfied with your current home? Whether you're interested in having more space or you need different surroundings, you might be thinking about moving or starting a St. Cloud remodel. Though moving and remodeling are both big decisions, remodeling can sometimes be a little simpler and more affordable than selling your home and buying a new one.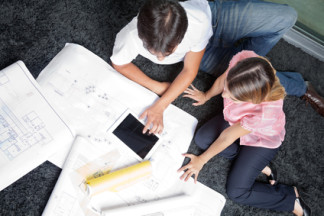 To help you decide which path is right for you, we've compiled a list of the most common scenarios St Cloud homeowners face.
When to Remodel
You love your current location. If you love the area and neighborhood you're living in, but you're simply unhappy with your home, you should consider remodeling. A remodel for your St. Cloud home could entirely transform the space so that you have the features you've always dreamed about without having to leave your favorite neighbors or have your kids change schools.
You're planning to stay in your current home for at least five more years. Are you set on moving in a few years but feeling pressured to stay until your kids have graduated or until you reach a particular income level? Remodeling could be the choice for you. St. Cloud remodels have two clear benefits for homeowners: you'll increase the value of your home so that you can sell it for more when you are ready, and your whole family will enjoy the space more in the meantime.
You're tired of the space you're in. If you're simply tired of the space you're in and wishing you had a roomier kitchen, nicer bathrooms, or more room for storage, consider remodeling. A professional St. Cloud remodeling contractor can give your home a full facelift without you having to go through the trouble of moving.
When to Move
You wish you lived in a different neighborhood. When you're unhappy with your neighborhood, there's not much a remodel can do. If you've been putting up with an extremely long commute or worrying about high crime rates, it's probably a good time to move somewhere else.
You need a larger yard. If you need more space outside for your dog to roam around or for your kids to play, consider moving to a bigger property. Though a contractor can recommend ways to make your existing space more usable, there are many homes where the yard space is simply as big as it's going to get.
And Lastly…
Here's the reason many of you were waiting for: you simply won't want a larger home. We listed this one separately because if you're interested in getting more space, you could consider remodeling or moving.
You can obviously get more space by moving to a larger home, but a remodel can be just as effective. Your St. Cloud remodeling contractor can help you find ways to use your existing rooms more efficiently by opening up your living room, adding counters to your kitchen, or redesigning your bathroom. If the rooms are already being used well, you can also consider finishing your basement or adding a room addition on to the existing structure.
~~~
Craig at Schoenberg Construction is one of the best Home Remodel Contractors in St Cloud and Central MN. He always gives honest, fair bids with no lowball, fake pricing. There's no sales pressure, EVER. And, Craig and his staff never use cheap materials or engage in sloppy workmanship. Plus, his company is known as one of the top remodel providers in the Saint Cloud Minnesota area because Craig always INSISTS on doing every job EXACTLY right!
Give him a call today at 320-252-0911 for your no-obligation consultation.