If you are considering a bathroom construction project, you might not know where to start. A St. Cloud general contractor can certainly help you with some plans, but it's helpful if you understand right out of the gate what a remodel is, how to decide if it's the right time for a remodel, and how to make a plan.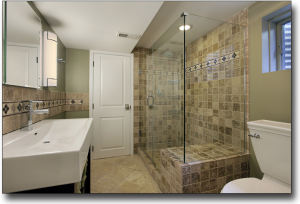 You might think of a bathroom remodel as a complete overhaul of the bathroom, but a bathroom remodel can be as simple as changing a few fixtures, updating the toilet, and resurfacing tile. A St. Cloud general contractor can be called in for small jobs or larger jobs.
These days, people consider updating their homes an essential task in order to maintain the greater value of their house. A bathroom construction project is one way to improve a home's value and might take many forms. Let's consider a few.
Bathroom Construction — What is it? Let's Consider Some Options
You can do a complete remodel that includes the removal of the tub in favor of a large shower, new toilet, or even new flooring and cabinets.
You can choose a partial remodel that's designed to update your existing bathroom with new fixtures, a fresh coat of paint, perhaps a new toilet, and new floors.
You might do a small update that includes new cabinets or new shower doors and that's designed to bring your space into current times.
You might choose to do a major overhaul that expands the bathroom, adds a sauna, and creates new functional and indulgent spaces.
As you can see, a bathroom remodel can be as personalized and unique as you want. Any update that provides a fundamental change to the look of the bathroom qualifies as a remodel.
How do you decide whether to undertake a bathroom construction project?
The decision of whether or not to remodel is a highly personal one. It's an expense, to be sure, and it can inconvenience you somewhat. The inconvenience isn't as great as a kitchen remodel — and Schoenberg Construction is well versed at keeping your level of stress low — but some people factor in some level of inconvenience when considering whether or not to proceed with a remodel.
But beyond these issues, there are others. You might need to consider before you start your bathroom construction project:
How long do you plan to stay in the house? According to Kohler (the fixture people), you can recoup up to 70 percent of a bathroom remodel when selling your house. So even if you plan to move soon, this investment is likely a good one.
Can you afford it? Bathroom remodels run the gamut from the very simple to the highly indulgent. Once you set a budget, you will need to determine what features and elements you can get for that budget. You might need to make some cuts or you might find you can upgrade your fixtures or flooring. The bottom line is a bathroom remodel is doable on nearly any budget, so long as you are flexible.
Deciding to give your bathroom an overhaul is fun but most people won't decide to proceed with a bathroom remodel until they have some idea of what it is that they want. What is motivating you to make changes in your bathroom? Why? What do you like and dislike about it? What ideas do you have ideas in mind for the kinds of changes you want?
Making a Bath Remodeling Plan
Making a plan for your project is one of the most anticipated and yet difficult parts of a bathroom remodel. There are many things to consider, many decisions to make. There are, however, a few things that can help you get started:
Write down everything you want to do to your bathroom. What is it about your bathroom that makes you think it needs help? Do you want new floors? A new tub? Do you want to make the bathroom bigger, differently shaped? Write everything down so you can work from a master list.
Consider your budget. There's that word again. But we do mean it. Your budget is an essential component of the planning. It's not the only component, however, because a bathroom remodel can be made as indulgent or bare-bones as you like and you'll still improve things, but consider your budget first.
Get help. Call in a professional St Cloud MN General Contractor for advice or an architect if you have big plans. Get some professional advice before you firm up a plan. In no time, with a bit of work and some careful planning, you might have the bathroom of your dreams.
Bath Construction Links & Resources
~~~
Craig at Schoenberg Construction is one of the best Home Improvement Contractors in St Cloud. Craig always gives honest, fair bids with no lowball, fake pricing, plus there's no sales pressure, EVER. He never uses cheap materials and never engages in sloppy workmanship, and his company is known as one of the top home renovation companies in the Saint Cloud Minnesota area because he INSISTS on doing every job EXACTLY right.
Give him a call today at 320-252-0911 for your no-obligation consultation.